With the holidays just around the corner, many are looking for inspiration to create more personalized gifts for friends and loved ones. If you don't have the time to paint your next masterpiece by Christmas, there still are plenty of options to get creative and add your own spin to a custom gift. Here are our favorite ways to get crafty and spread holiday cheer with Noun Project icons.
Icons on Anything with Zazzle Create
Zazzle has an easy-to-use tool that lets you create designs from scratch. Best of all, it uses Noun Project's Icon API so you can search for icons from our database and add them to you design, along with other graphic elements like text and color fills.
Once you click "Start Creating," you can select your blank-slate product from a dazzling of everything from socks and t-shirts to furniture, kitchenware, and accessories.
When you've got your product selected, click "Icons" on the left-hand toolbar to search our database and simply click the ones you like to add them to your canvas. The Create tool makes it simple and intuitive to resize, rearrange, and recolor all the elements of your design until they're just right. Don't forget to preview a sample of your product before you check out!
Level Up Your Wrapping Paper with an Icon Pattern
Sites like Zazzle also allow you to print your own rolls of custom wrapping paper — a great way to add a personal touch to an otherwise generic holiday staple.
If you want to kick your designs up a notch from the drag-and-drop creator tools, read our digital pattern-making tutorial on how to use Adobe Illustrator to make a rich repeating pattern of Noun Project icons and your own colors. "Live Paint" in Illustrator makes it easy to recolor your artwork and arrange the pattern to your liking — and later export it to the dimensions you wish.
Just be sure your final exported art (in PNG or JPEG format) is a high enough resolution to not get pixelated. For example, an image exported at 150 DPI should be 4500px high by 9000px wide to print clearly on Zazzle's 30″-wide roll of wrapping paper.
Easy Print-At-Home Crafts for the Family
A sturdy card stock is all you need to print more durable gifts and let the kids run wild with simple paper crafts that use icons. Here are a few ideas that can you can whip up on a simple program like Google Slides or Docs to print at home (hint: use the Noun Project add-on to drag and drop icons right into your workspace, with unlimited icon usage when you subscribe to NounPro!)
Print your own icon gift tags
Use this Google Slides template to print your own decorative gift tags with holiday art. The Noun Project add-on for Google lets you search for icons and drag-and-drop them straight into your window without leaving your workflow. You can add colors, adjust the text and orientation, and simply print, cut-out, and hole-punch at home!
Cut out & color ornaments and Christmas scenes
Any combination of icons can be easily added to Google Slides to build your own scene that can be printed and colored in (check out our previous tutorial about making your own mandala coloring book with icons!). Printing a page of Christmas ornament icons on heavier card stock gives you something the kids can color in that's sturdy enough to decorate with. You can also color and cut out scenic elements like trees, mountains, and animals to make your own winter scene.
Simple print-at-home Gift Boxes
Check out our related tutorial on how to make gift boxes using a simple template you can print, cut out, fold and glue in to place at home.
Turn Your Favorite Icon Into a Cross-Stitch Ornament
The holiday season is the perfect time to dabble in some new domestic arts and crafts. You can find a good old-fashioned cross-stitch ornament kit online or at your neighborhood crafting store.
The simplicity of solid-colored Noun Project icons lends them terrifically to a simple cross-stitch with just a couple quick hacks to get them into a square grid (or pixel grid) format.
Use an easy online tool like Pic2Pat to upload a PNG icon from your computer and have it automatically generate pixel-grid versions of it to the desired dimensions. Note that different resolutions and color variations are available for your selection.
For greater artistic control, watch this tutorial on how you can use Illustrator to "pixelate" your design using a grid system to the size you want — and you can even alter the colors with the Live Paint tool. Want to simply try out a cool digital effect on Noun Project icons? Check out this tutorial on how to make simple icons look like a cross-stitch.
Show Off Your Holiday Spirit with Inkbox
Temporary tattoo masters Inkbox offer another create-your-own-design tool loaded with Noun Project icons — but this time, your body is the canvas. Use the custom Inkbox tool to make your own temporary tattoo at the size you want. Clicking "Designs" in the upper-left corner of your tool bar will once again bring you to the Noun Project API to search our extensive database of over 3 million icons to express exactly what you want.
Best of all, these sturdier tats are waterproof, last for two weeks, and look more realistic than your run-of-the-mill temp tats. Gift a friend or loved one their own try-it-til-you-buy-it tattoo experience — or find your next conversation-starter for those holiday visits with family.
Send a Holiday Greeting with Adobe Creative Cloud Express
Adobe Creative Cloud Express is the tool that lets you create stunning graphics instantly from a vast array of customizable templates. You can create everything from print-at-home cards, to digital email greetings, to animated Instagram stories — all with our Noun Project API built in so you can add icons directly to whatever template you're working from.
Once you're logged in to Adobe Creative Cloud Express, you can select your preferred output from pre-designed templates to a custom format.
Within each one, you can scroll through an extensive library of templates by fellow designers that allow you to quickly and easily add photos, edit text, adjust colors and effects, and add Noun Project icons to save you the trouble of making artwork by hand. Within your post editing pane, simply find the "Add" button with the plus sign in the upper right corner, then select "Icon." You'll be able to search for whatever icon you please and adjust the color, position, and angle within your canvas.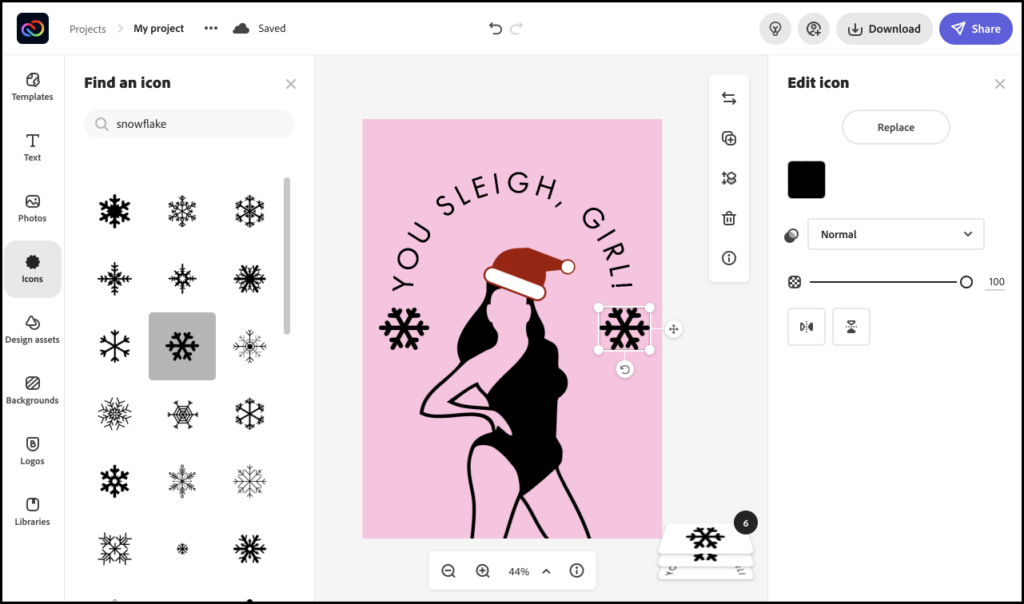 Adobe Creative Cloud Express makes it easy to swiftly put a design together and experiment with graphics without the guesswork. Once you have all your visual and text elements the way you like them, hit "Download" in the upper right and select the export format you want for sharing digitally or printing at home.
---