Note: This competition is closed as of 5:00 PM PST on October 21st, 2022. Stay tuned for future competitions!
This Halloween season, something spooky is afoot at Noun Project headquarters!
Find and download a series of 13 cursed icons with suspicious-looking tags, and you could win spook-tacular prizes including a year of NounPro and a $100 Amazon gift card.
How to Play
1. Search icons on Noun Project based on a series of clues, which are hidden in the icon tags.
You'll be given a series of Halloween-themed trivia questions, starting at the bottom of this post.
Your answer to each question will be your next icon keyword search.
As you look through your icon search results, keep your eyes peeled for tags that look suspiciously long. These are the clues whose answers will be your next icon search!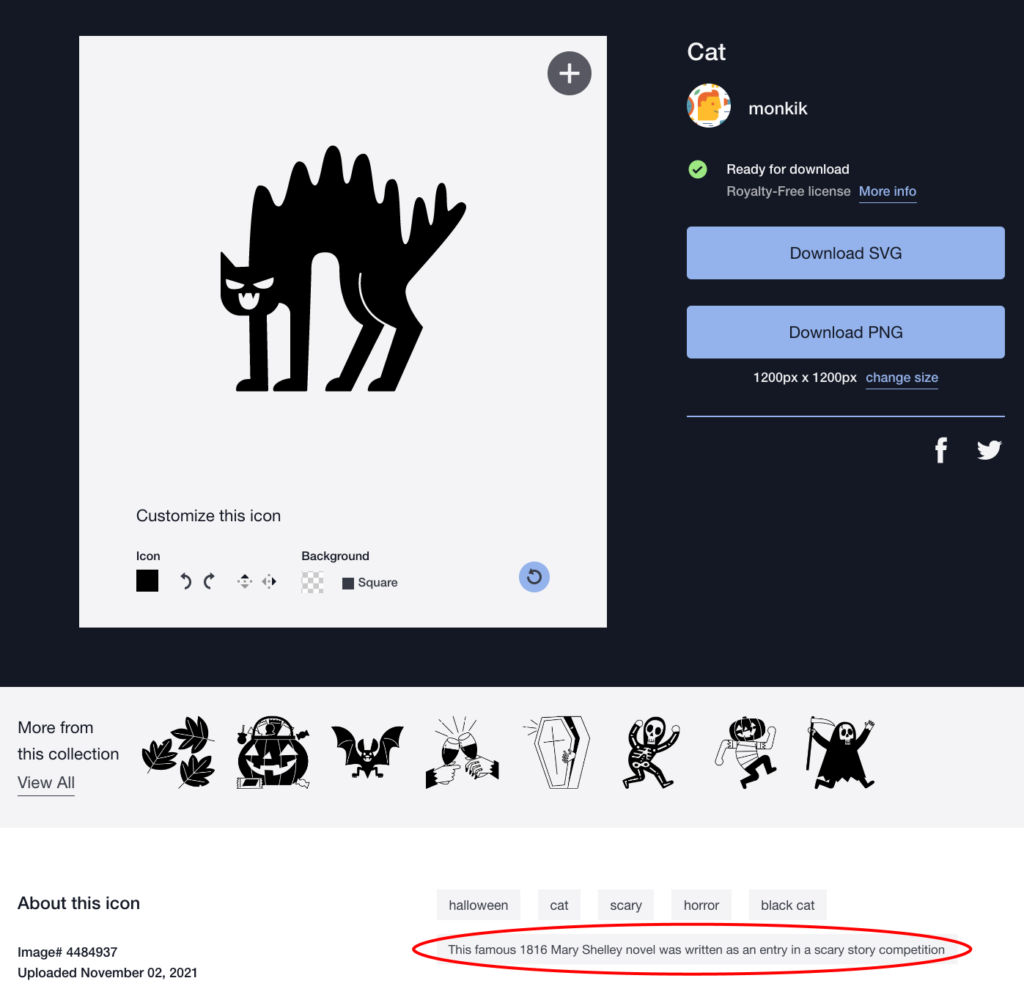 2. Download every icon you find that has a clue within its tags, and place them in order in a document.
Download these icons from the site in PNG format.
You can use a Word Doc, Powerpoint Slide, or even Photoshop file to paste all of your icons #1-13.
Want to use a template? Feel free to make a copy of our Google Slides "Goody Bag" and paste all your icons there!
3. Email us your document to enter.
After collecting all the icons, send us a PDF, PNG, or JPEG of your file by emailing it to info@thenounproject.com with the subject line "Trick or Treat!".
All complete entries will be entered into a draw to win NounPro subscriptions and one $100 Amazon gift card.
Competition Details
Competition runs from 9:00 AM (PST) October 13th to 5:00 PM (PST) October 21st, 2022
3 Runners-up will be entered into a draw to win a year of Noun Pro.
1 lucky winner chosen by random draw will also win a $100 Amazon Gift card!
Entries must be emailed to info@thenounproject.com by 5:00 PM PST on October 21st, 2022 to qualify.
Ready to get started?
Let the hunt begin!
Your first clue:
This ancient Celtic pagan festival predates "All Hallow's Eve" – and merged with other traditions to later become the modern Halloween.