There's power in a well-designed restaurant menu. It can seal the deal on a positive first impression, along with the restaurant environment and quality of food. Whether you're planning to open up doors to a new restaurant or looking to update your existing menu, you're in the right place.
We've compiled some of the very best menu design examples below, as well as basic menu design tips to help you get started. After you've finished reading, be sure to check out our icon collection to add personalized elements to your menu design.
5 Creative Menu Design Ideas
It's easy to fall into the rut of a basic menu layout, but don't be afraid of adding icons, fun typefaces and design accents to spice it up. We hope the creative menu design examples below will spark some creativity.
Mama Fried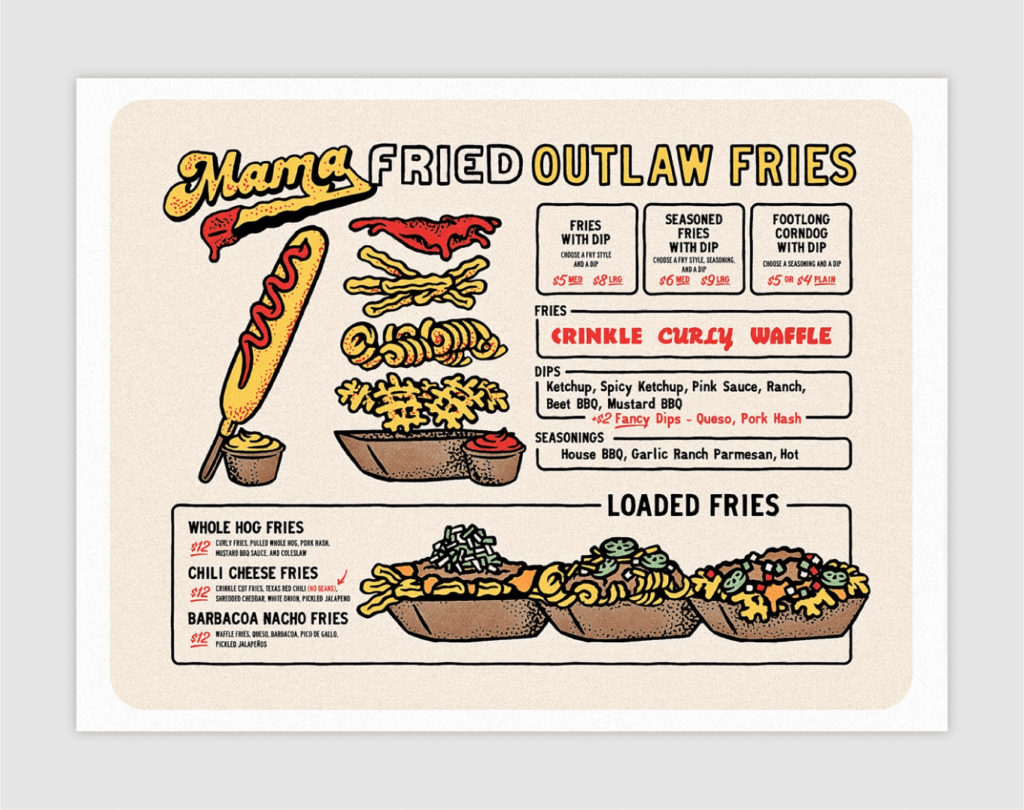 We're digging this basket fry menu created by Zachary Wieland. Its beautiful illustrative designs and use of bright primary colors prove the perfect hierarchy to keep your eyes scanning the menu from top to bottom.
Menu layout elements:
Use of primary colors
Unique illustrations
White space
Now that you've seen one example, you'll probably want to see them all! Check out some more great creative menu examples below.
More examples:
4 Modern Menu Design Ideas
If you're yearning for a more modern but still eye-catching menu design, don't worry. We've compiled some notable contemporary-style menu examples below that will be sure to make a statement.
The Founders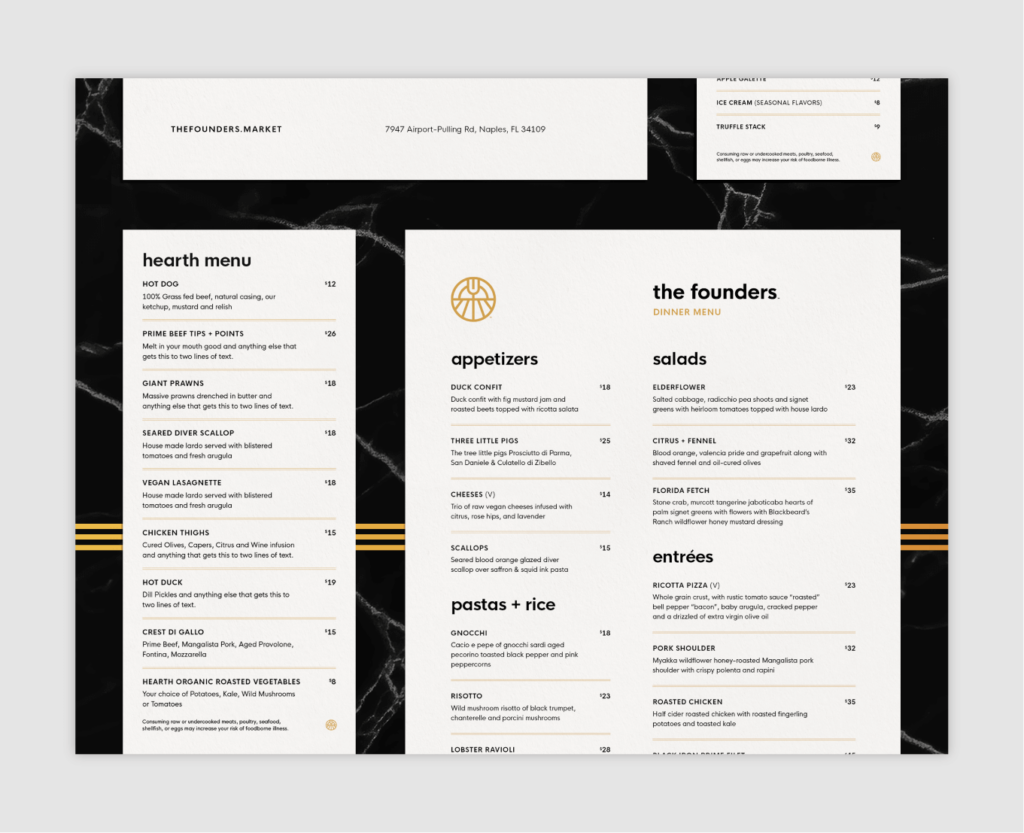 Nothing says elegance more than a bit of classic gold detailing. This dinner menu by Freelance Studio maintains a simple top-to-bottom hierarchical structure, which looks great with a simplified menu. Not only that, but it uses a font style that pairs well with the design style and is easy to read. 
Menu layout elements:
Modern typeface
Luxurious color combination
Classic menu hierarchy
We love the modern menu design examples we included below — from simple cafe style to a taqueria bar.
More examples:
4 Menu Heading Ideas
A key element of a restaurant menu is the menu heading. This is typically where the restaurant logo or name lives. It can be simple, but it's also a great opportunity to include design accents that add to the overall look of the menu without taking it over. Below we included some easy menu heading ideas to get you started.
Flavio's Burger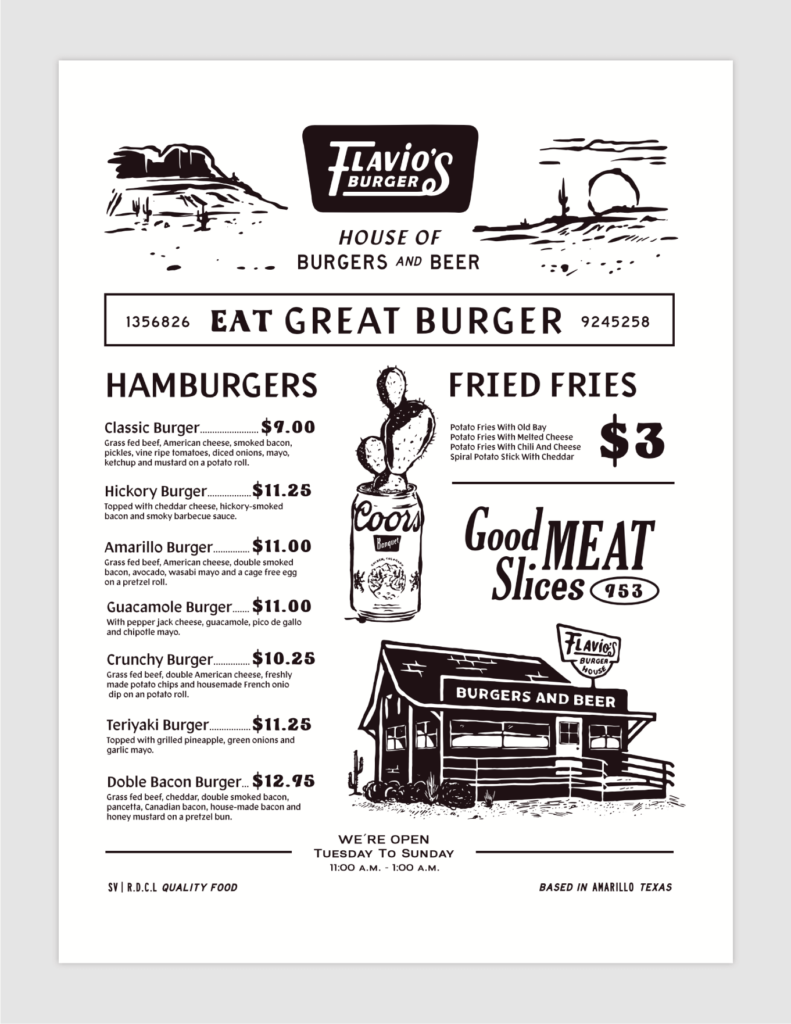 When it comes to a menu header, no need to overthink it. Just add some illustrative details, like Radical Design Company did for this burger house menu. You'll be able to take up some page space while maintaining the brand's look.
Menu layout elements:
Use of illustration
Unique graphic design style
Use of white space
Check out some examples we pulled below that play around with various menu heading styles.
More examples:
4 Fancy Menu Ideas
If your restaurant is high-end or has a sophisticated environment, you may opt for a more luxurious menu style. Check out some of our favorite fancy menu design ideas below.
Ambrosia Cafe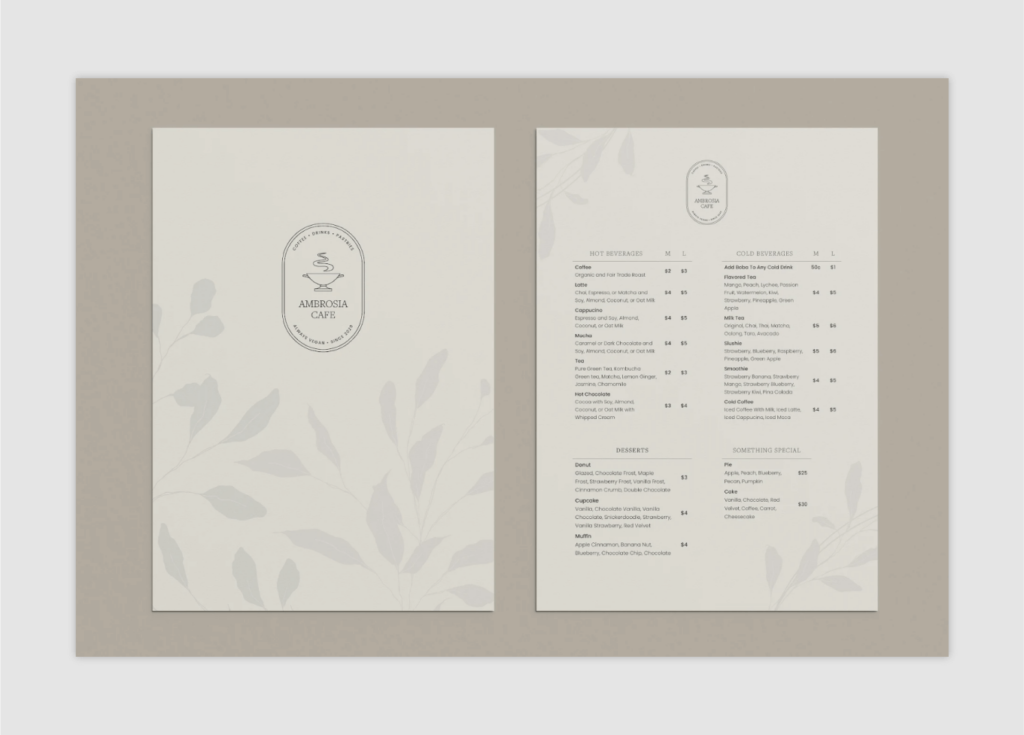 A "fancy" menu doesn't require a bunch of glitz and glam. You can still keep it classy with a neutral approach, like the menu above. The muted plant leaves background design pairs nicely with the simple menu hierarchy. Plus, we think the teacup in the logo is adorable.
Menu layout elements:
Calming color combination
Use of white space
Limited menu selection
Skim through more glamorous menu design examples below.
More examples:
4 Unique Menu Designs
Your menu can go beyond just a piece of paper — from interactive digital menus to physical displays. Check out some fresh new takes on a classic restaurant menu.
Liverpool House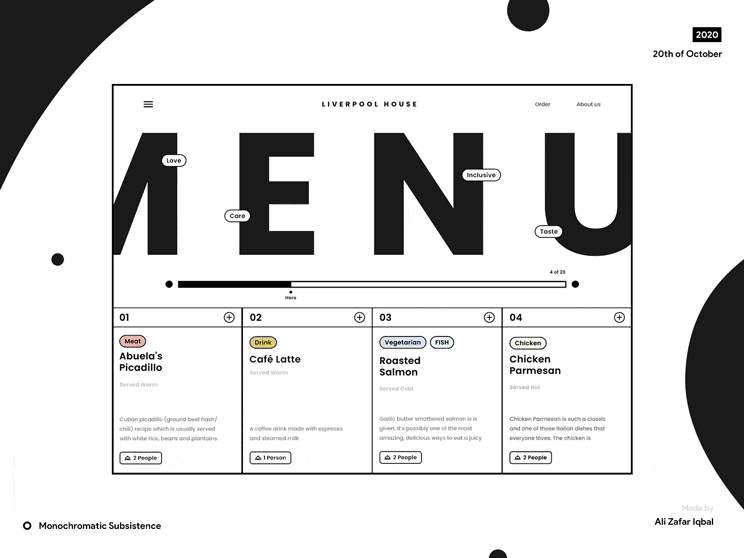 Following the COVID-19 pandemic, the use of paperless menus skyrocketed. Customers just need to scan a QR code with their phone to view a menu like the one above. We love this interactive menu with its unique ordering layout and use of labels to mark portion sizes, types of meat, categories of food, etc.
Menu layout elements:
Categorical elements
Use of white space
Monochromatic design
Interested in seeing some more unique menu design ideas? Check out some standout examples below.
More examples:
Menu Layout Basics
Now that you've seen some great menu design examples to ignite your creative spark, here are some more pointers to follow when creating your menu design:
Match the brand: You want your menu to match your restaurant's environment and brand aesthetic. Make sure the design reflects your cuisine and restaurant style, such as a small coffee shop versus a five-star restaurant. A coffee shop may use more trendy and lively designs, while a sophisticated restaurant will require a more refined look.
Limited selection: Make sure your menu is easy to glance through by limiting the number of items on the menu. Make it simple enough for the customer to understand, but with enough detail to make it stand out.
Use the power of white space: Along with limiting your dish options, lean on white space to keep the layout balanced and easy to navigate. Use the right size to avoid the menu's copy from looking squished.
Use understandable icons: Use icons to mark food preferences like gluten-free, vegan, vegetarian, etc. For more icon examples, check out our icon collection.
Use photos only when necessary: Most menus don't include photos; however, you may choose to include several high-resolution images of your dishes on your menu. Make sure to limit the number of photos to avoid making the menu design too busy and difficult to scan through.
Use appetizing colors: Choose a good color combination that matches the brand identity, but is also appealing to the eye. We recommend using a lighter color for the background, and darker, bolder colors as the font and illustration colors.
Enhance your design with free icons
Ready to create your restaurant menu? Check out our icon collection for design inspiration, as well as our favorite graphic design styles to discover more great visual creations.