Color can be the first thing an individual sees when they discover a new brand or creative design. Colors evoke emotions and play with our senses, and can change how we perceive something.
If you're in the beginning stages of creating a brand identity, you may feel overwhelmed with picking the right colors. That's why we've put together this comprehensive list of good color combinations, and included some color theory basics to know as you start the creative process.
Whether you're just playing around with color combinations or looking to update your brand's look, try testing out different colors with our color picker within our icon collection.
Understanding the Color Wheel
Before jumping into color combinations, it's important to understand the basics of color theory and how different colors work when paired together. The color wheel is evenly balanced with warm-toned colors, like orange and yellow, and cool-toned colors, like green and blue.
Colors are typically associated with different emotions and feelings. Warm colors can connect to warmth, playfulness and joy. Cool colors can connect to relaxation, calmness and peace. These colors fall under three basic categories, as described below.
Primary colors: yellow, red and blue
Secondary colors: green, orange and violet
Tertiary colors: yellow-green, blue-green, blue-purple, red-purple, red-orange, yellow-orange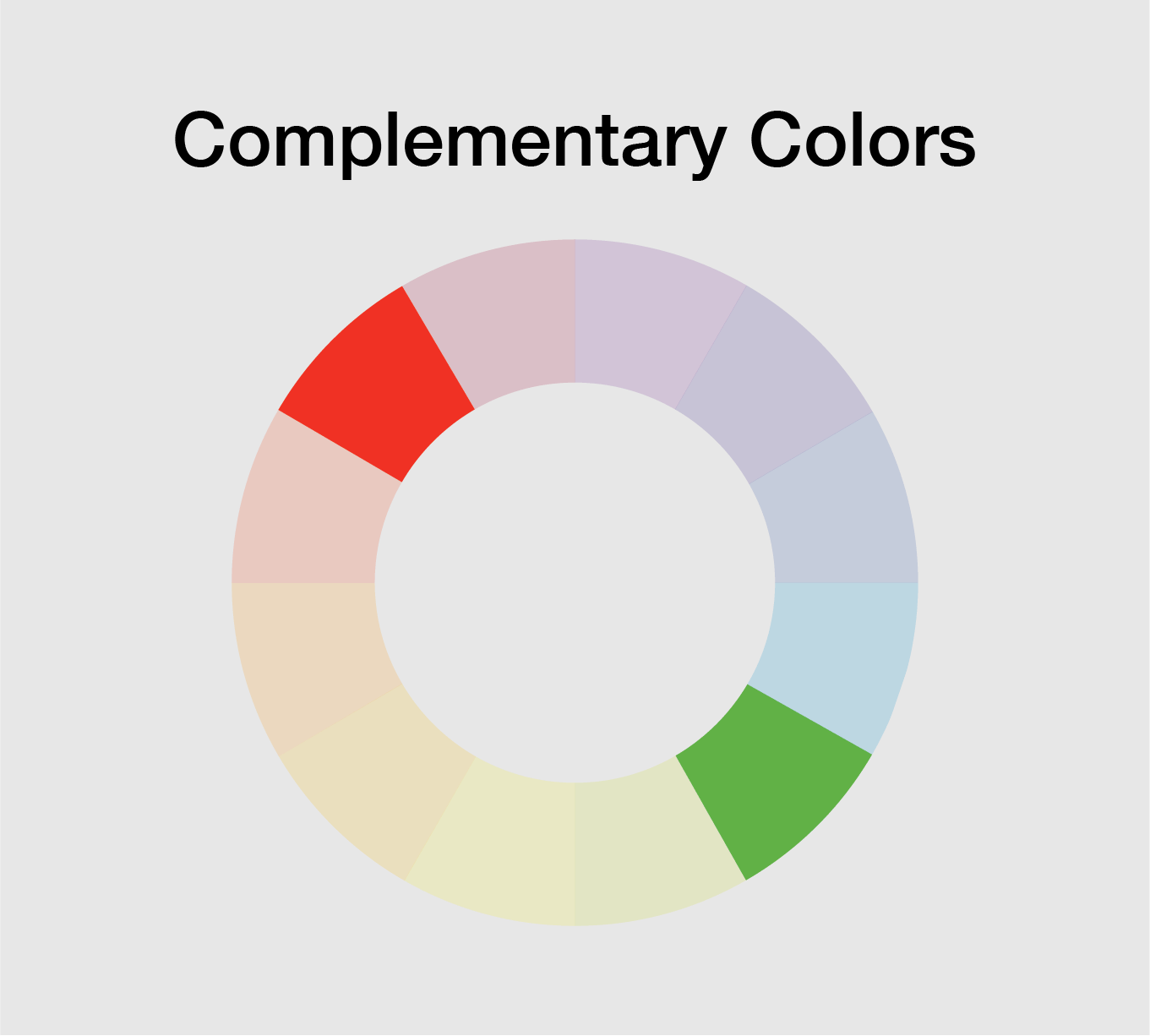 The color wheel can also be divided up into different types of combinations: complementary, analogous and triadic. Each combination type can evoke different feelings and ideas. When choosing your color combination for a brand logo, it's important that the colors you choose relate to the brand's message, product and values.
Complementary Colors
Complementary colors sit opposite of each other on the color wheel. They provide a striking contrast and can make an eye-catching design. Complementary color combinations include orange and blue, and red and green.
Analogous Colors
Analogous colors sit beside one another on the color wheel. Typically, one color is dominant, while the two to three other others are accent colors. Together, they can create a balanced and harmonious look. An analogous color combination example is blue, blue-violet and violet.
Triadic Colors
Triadic colors are evenly spaced apart on the color wheel and tend to be vivid in color. If you're looking for a color combination that is bold and rich, a triadic color combo will do the trick. An example is orange, green and blue-purple.
Enhance your design with free icons
41 Best Color Combos To Create Visual Masterpieces
Now for the fun part: deciding on your favorite color combinations. Below we rounded up our go-to color combos, from two-color combinations to four-color combinations, along with their assigned hex codes.
Two-color Combinations
Although it's just two colors, the right combination can make a large impact on your illustrative designs. Check out some of our combination recommendations below.
1. Yellow and Navy Blue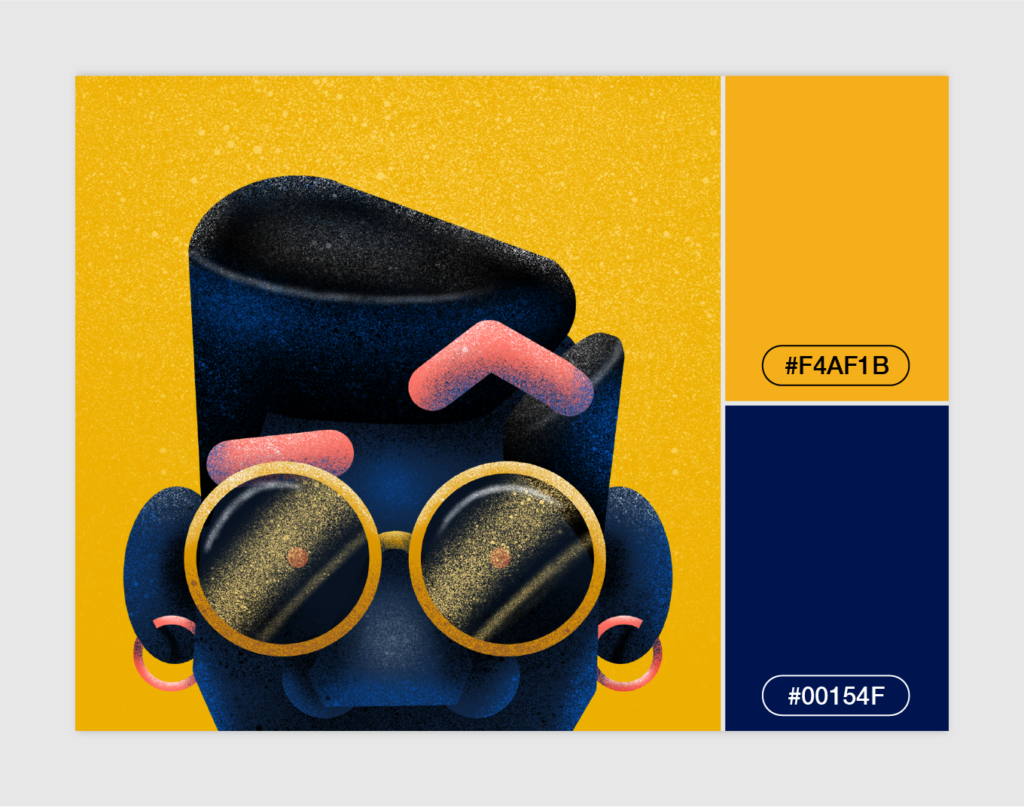 This combination has just enough pop of color to make it stand out, but the calming effect of the navy blue helps to balance it out.
Hex Codes: #f4af1b and #00154f
2. Off-white and Cherry Red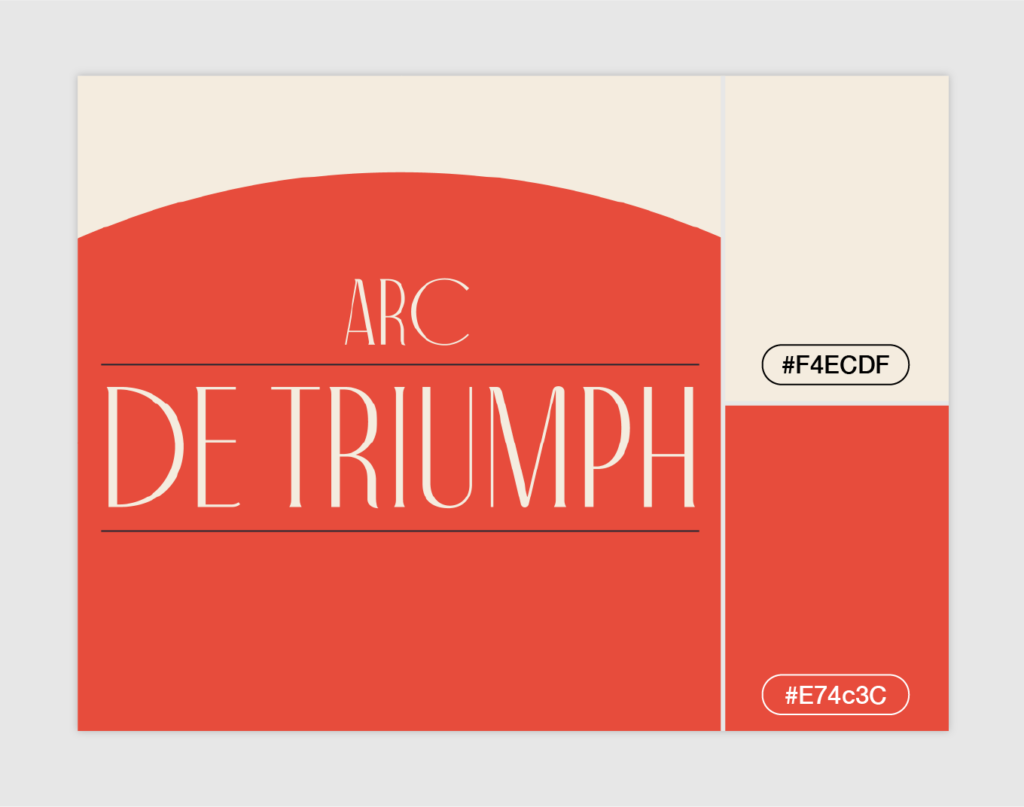 This is a classic color pairing, and it makes sense why so many brands and companies use it for their visual design assets. The cherry red overlaid on top of the soft creamy white allows the bright red to pop. It really is the cherry on top of your future brand's look.
Hex Codes: #f4ecdf and #e74c3c
3. Dark Cerulean and Warm Orange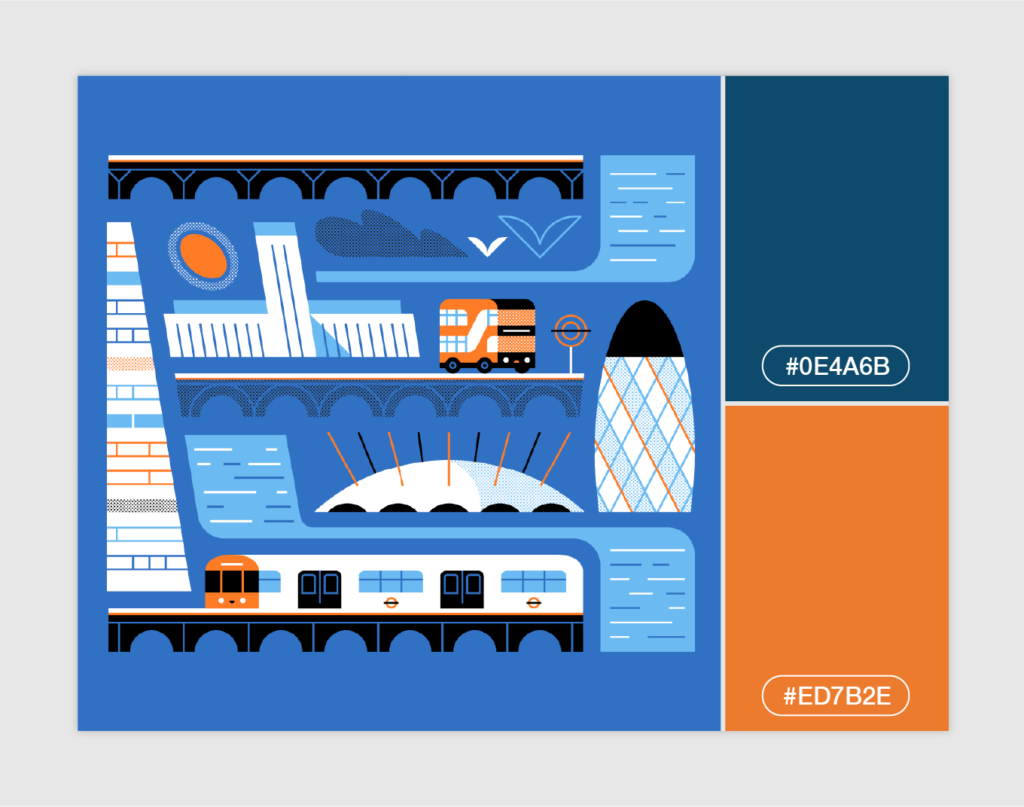 This might be an unexpected combination of shades, but their richness and boldness work well together. If you want to make a strong statement with your design, dark cerulean and warm orange is a great choice.
Hex Codes: #0e4a6b and #ed7b2e
Looking for a couple neutral options or thinking about staying on the bright color track? Check out some top-notch two-color combinations below.
4. Neon lime green (#a8c66c) and bright lavender (#bf94e4)
5. Gray-blue (#7393b3) and black (#000000)
6. Violet (#5c3c92) and turquoise (#039fbe)
7. Forest green (#25f2d) and moss green (#97bc62ff)
8. Mustard yellow (#f4af1b) and black (#000000)
9. Blue iris (#fa4fcf) and royal blue (#4169e1)
10. White smoke (#f5f5f5) and ziggurat blue (#86b8b7)
11. Rajah orange (#fbab60) and black (#000000)
12. Purple (#df6589ff) and rose pink (#3c1053ff)
13. Cream (#fffdd0) and toffee brown (#a58362)
14. Peach (#ffddcc) and blue-purple (#4e3883)
15. Purple (#61316d) and gold (#ffaf45)
Three-color Combinations
A three-color combination is a good option if you're looking for a dominant color with a pairing of accent colors. Check out some of our favorite trio combos below.
16. Seafoam, Navy Blue and Salmon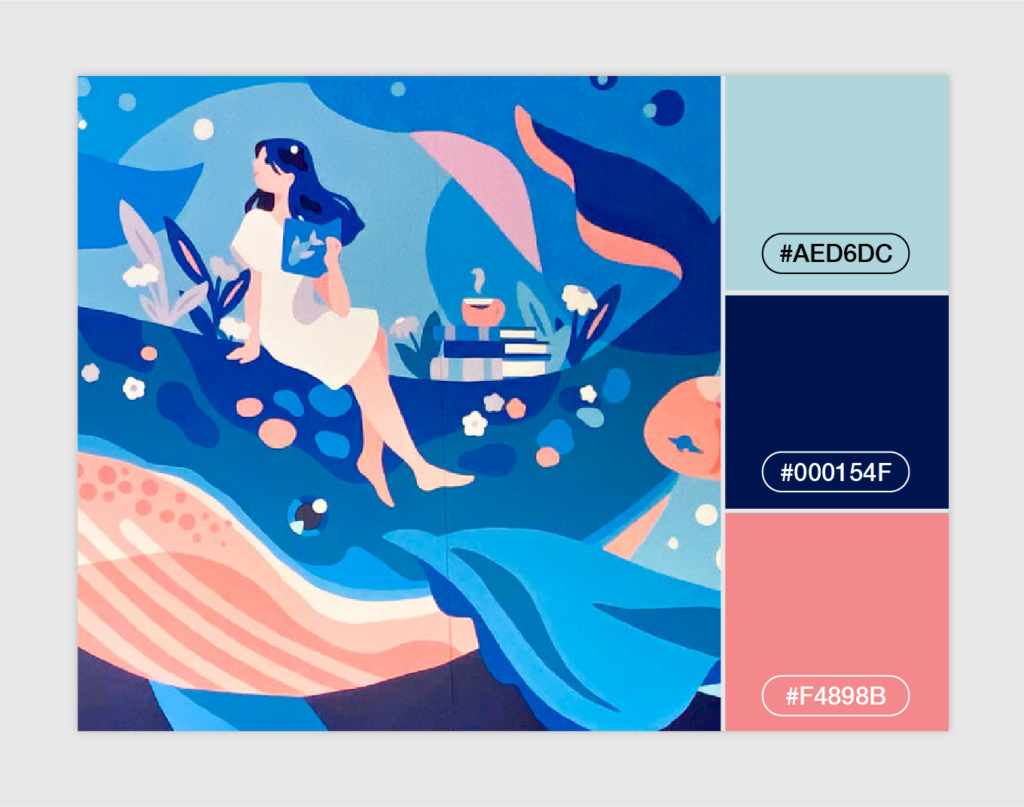 If you're looking for the perfect beachy combo, these colors give off an ocean shore vibe perfect for any coastal-themed brand or design.
Hex Codes: #aed6dc, #00154f, and #f4898b
17. White, Celery Green and Wasabi Green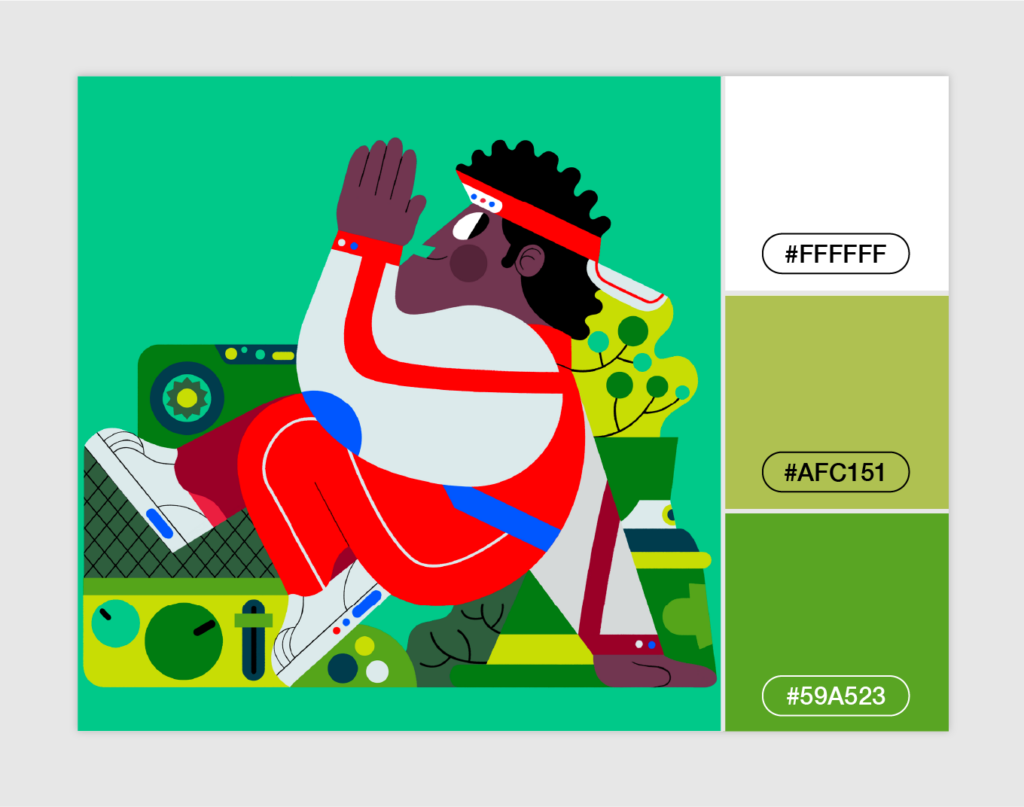 We love this fresh and leafy color combination. You can use the two green shades as your primary colors, while the white can highlight the design and lighten up the look.
Hex Codes: #ffffff, #afc151, and #59a523
18. Blue, Indigo and Maroon
This trio of rich colors is ideal for a brand that values trust and reliability. If your company provides services like tech help, this combination is fitting.
Hex Codes: #1e2761, #7a2048 and #5b0e2d
These are just a few of our approved picks, but keep scrolling to see some more great three-color combinations.
19. Salmon (#f4898b), rust red (#aa4024) and warm yellow (#f9a041)
20. Beige (#ddc3a5), tan (#e0a96d), and black-brown (#201e20)
21. Gum leaf green (#a7beae), light olive (#e7e8d1) and rust red (#b85042)
22. Peach (#ffddcc) , salmon (#f4898b) and teal (#008080)
23. Magenta (#d9138a), cyan (#12a4d9), and yellow (#e2d810)
24. Turquoise (#039fbe), mustard yellow (#f4af1b) and black (#000000)
25. Tan, beige (#f5f5dc) and olive green (#808000)
26. Olive green (#808000), forest green (#2c5f2d) and yellow-green (#e1dd72)
27. Warm yellow (#fcc729), scarlet (#b85042) and plum (#64395f)
28. Plum (#64395f), hippie pink (#a8455f) and copper (#e18f66)
29. Persian red (#d1342f), cobalt blue (#0043af) and dark tangerine (#faa91e)
30. Earthy green (#6f6127), sunset orange (#e45d29) and carrot orange (#f68d23)
Four-color Combinations
Four colors create a full palette, which is great if you plan to incorporate the colors throughout your marketing assets and web design. Below are some of our first-in-line color schemes.
31. Teal, Salmon, Dark Turquoise and Yellow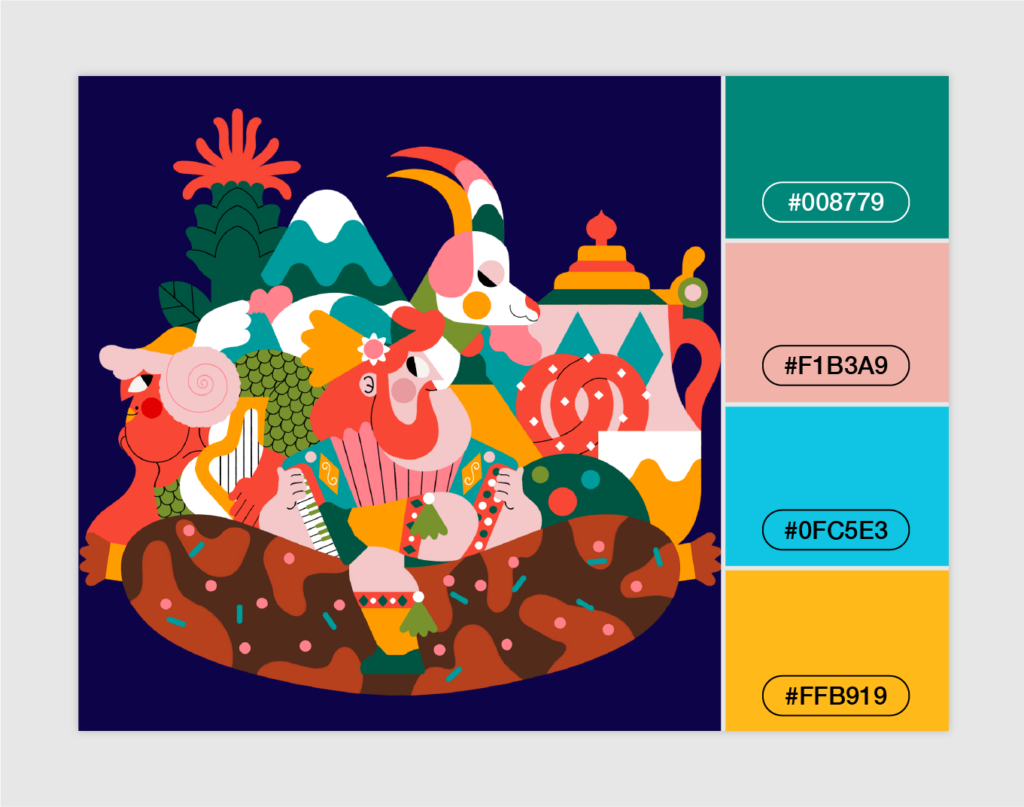 If you need a vibrant and bold color palette, this is a fun one. The blueish hues paired with the inviting yellow and bright salmon oddly work well together. Illustration work that involves bright colors or a brand looking to appeal to a younger audience may enjoy this combination of colors.
Hex Codes: #008779, #f1b3a9, #0fc5e3 and #ffb919
32. Light Sea Green, Pine Green, Cerulean and Sapphire Blue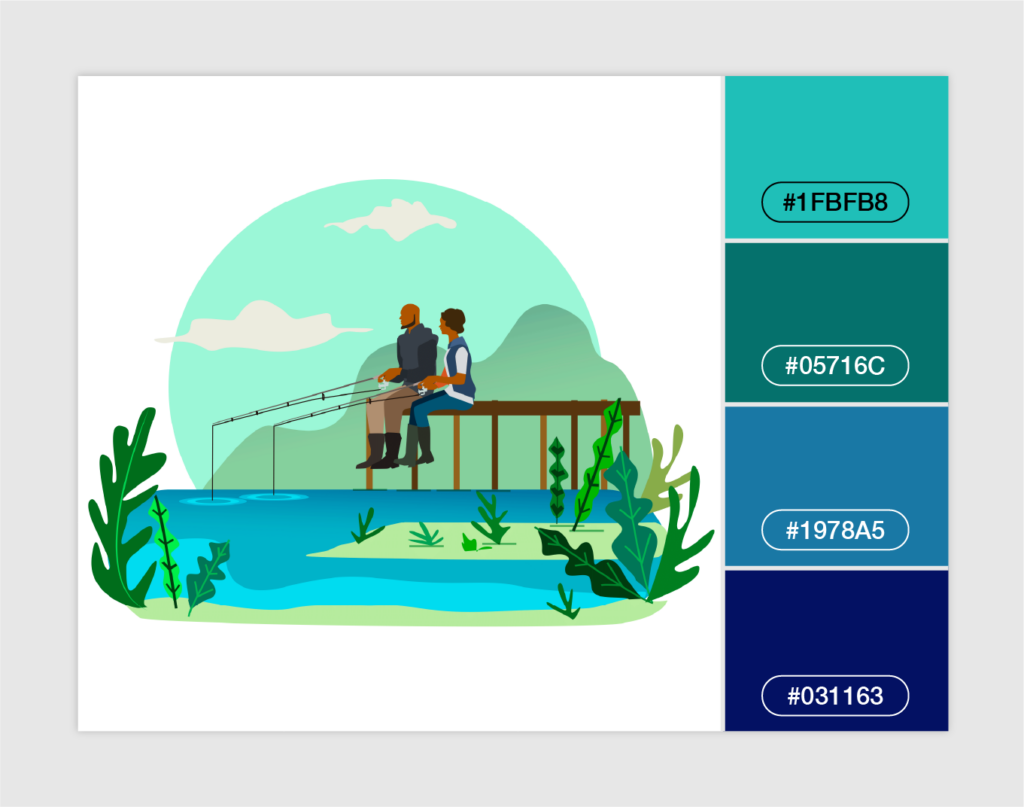 Who doesn't love some cool-toned blues and greens? This analogous color scheme works well for any design, especially if you need a simple look for a webpage or social media campaign.
Hex Codes: #1fbfb8, #05716c, #1978a5, #031163
33. Lunar Green, Desert Brown, Cashmere and Linen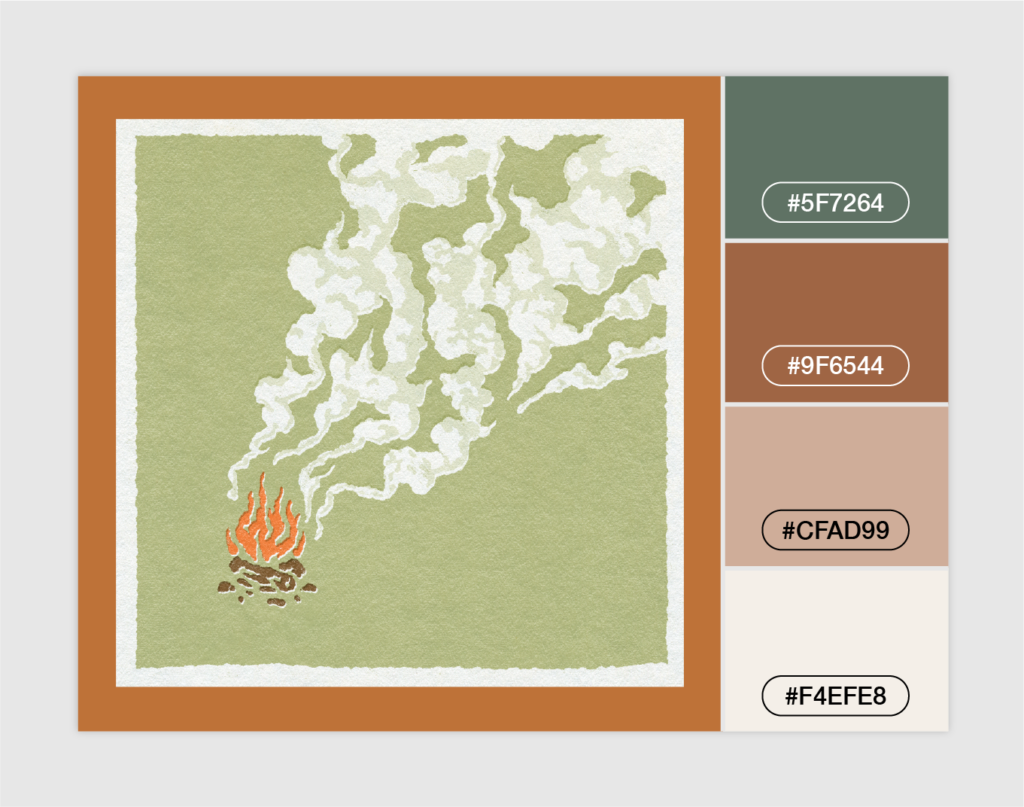 If you're looking for a combination that is earthy and warm, you'll enjoy this color palette. The brown hues against the calming green are perfect for those wanting a subtle, organic look.
Hex Codes: #5f7264, #9f6544, #cfad99 and #f4efe8
Looking for some more fun options? Check out the list below for more four-color combinations.
34. Dark violet (#320d3e), sepia (#ffd79d), hot pink (#ed335f) and fuchsia (#d902ee)
35. Black (#000000), dark gray (#444444), bright orange (#ffa500) and white (#ffffff)
36. Mustard yellow (#f4af1b), orange-red (#ff4500), periwinkle (#ccccff) and black (#000000)
37. Teal-blue (#367588), ruby red (#e0115f), mustard yellow (#f4af1b) and grassy green (#567d46)
38. Nandor green (#51624F), light green (#aebea1), seafoam (#a2b4ac) and beeswax (e6d5aa)
39. Mustard yellow (#f4af1b), peach (#ffddcc), scarlet (#b85042) and forest green (#228b22)
40. Dark olive green (#808000), mossy green (#97bc62ff), light green (#c7dc88), and blue-green (#088f8f)
41. Off-white (#faf9f6), sand (#d4c6bd), mauve-pink (#d6b785) and blue-gray (#3d5361)
How To Choose the Right Colors for Your Brand
When you're picking out your color palette for your brand, make sure it reflects the brand's core message, values and the product or services you're offering. Below are a few tips to help you discover which colors are right for your brand design.
Identify your brand values: When creating a brand identity, you need to establish a core message or a set of standards that you want your company to strive for and represent. Once you've established this, you'll have a better understanding of your brand's values, which should be reflected in your brand design.
Research color meanings: All colors can symbolize a particular emotion or feeling. For example, blue represents loyalty and trust, whereas green represents growth or nature. You may choose to have your brand colors align with your values.
Look at competitor color palettes: It's important to keep an eye on competitor color schemes and designs to avoid duplicating the same look. You want your brand to stand out from the crowd, not sit back and look like everyone else.
Choose a palette and test it out: Choose a couple of your favorite color schemes and test them with your logo design. You may want to have a couple pairs of eyes on the logo to receive feedback.
Ready to start creating your brand? Check out our icon collection for logo inspiration and our photo collection for marketing assets. If you need some more creative ideas, browse through our guides on graphic design styles and infographic examples.