Infographics are a great way to present complicated information in a condensed and simplified format. They are used for different purposes, but can be the icing on the cake you may need for your next marketing campaign or blog post.
We rounded up the best infographic examples to inspire your next visual endeavor. You can either choose to read through the piece or select one of the categories below to find the right infographic styles for you.
Once you've found your favorites, remember to browse Noun Project for millions of icons to include in your next infographic.
Table of Contents:
7 Data Visualization Infographic Examples
Data visualizations use illustrations to describe figures in a more accessible manner. These can be pie charts, graphs and maps. Here are some of our favorite data visualization infographic examples:
1. Global GDP 2021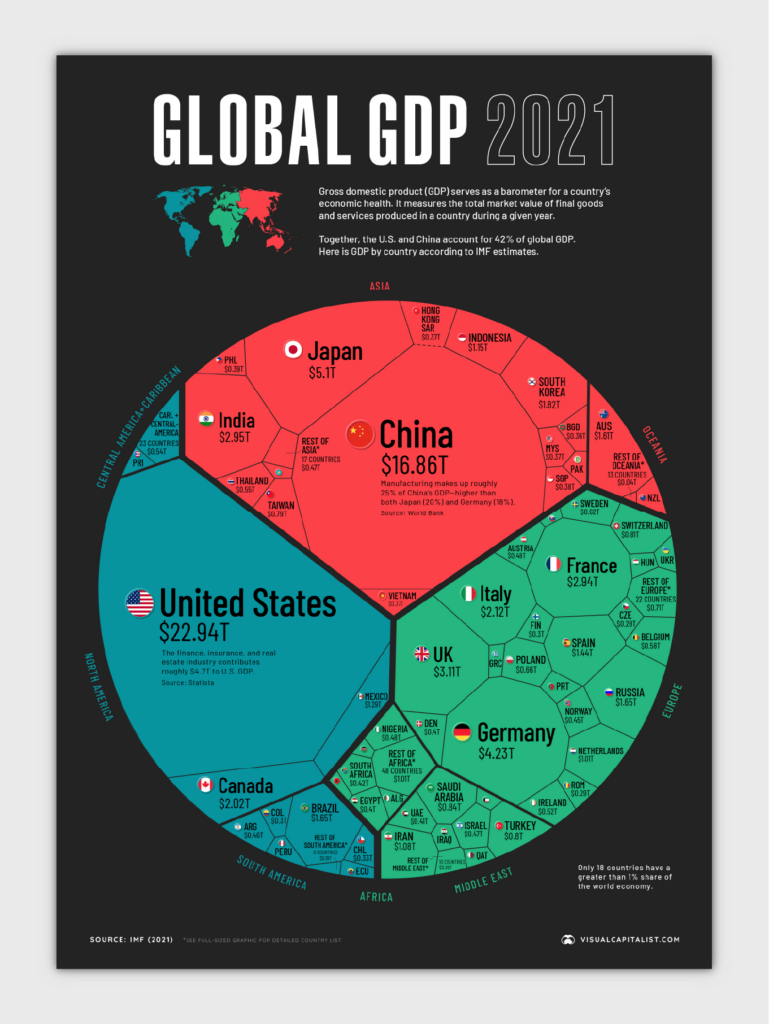 If you're in the global economic sector, you may like this detailed data visualization. Visual Capitalist created this infographic that breaks down the global economy in 2021 that is both understandable and eye-catching.
Why we like it:
Unique design style using a Voronoi pattern
Minimal copy
Complementary color palette
2. Can Data Die?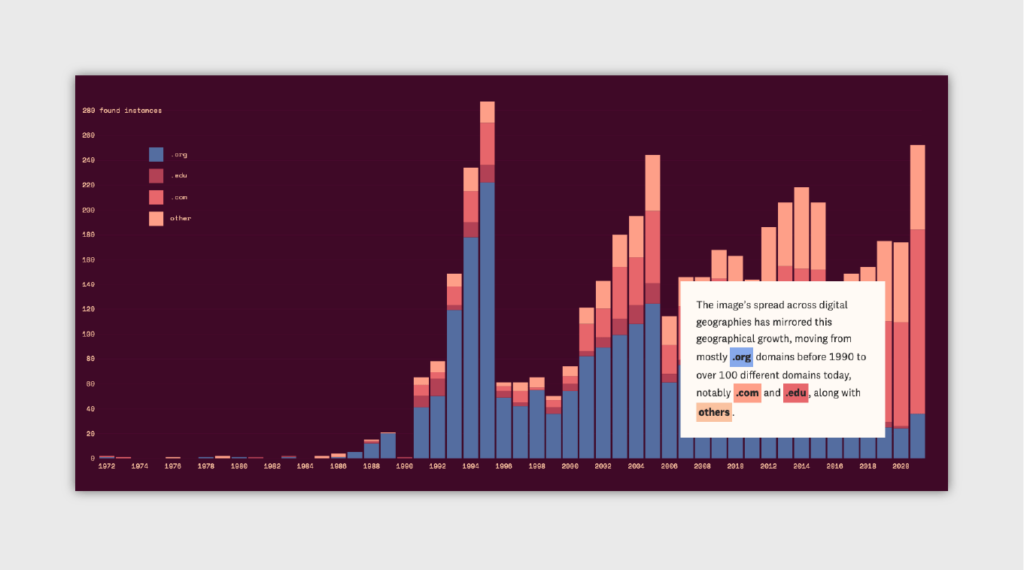 This infographic is a fascinating example of displaying information with a non-stagnant approach. The Pudding created this visual page that explains how pieces of data can live on the internet without ever truly dying.
Why we like it:
Unique storytelling
Interactive graphics
Complementary color palette
3. Space Wars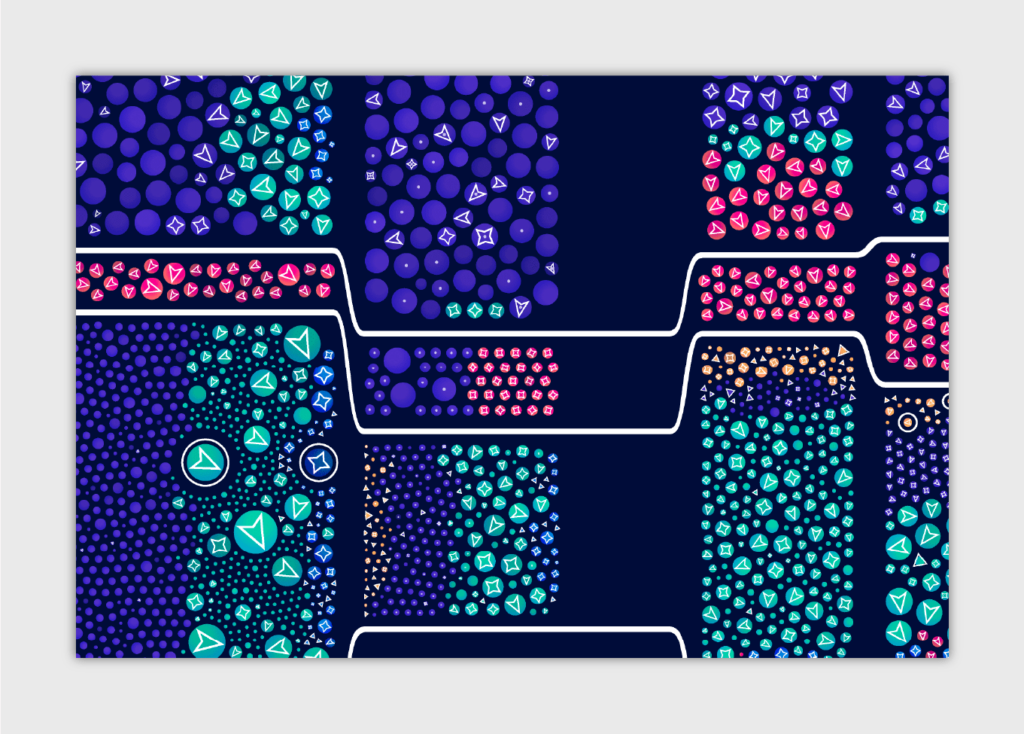 If you're a fan of orbital space objects, this data visualization may pique your interest. Nadieh Bremer created this visual of all the active satellites in space. She used design elements like dot size, color and shades to help the reader understand the chart.
Why we like it:
Analogous color palette
Simple textual elements and legends
Visually appealing format
4. What Are Push Notifications?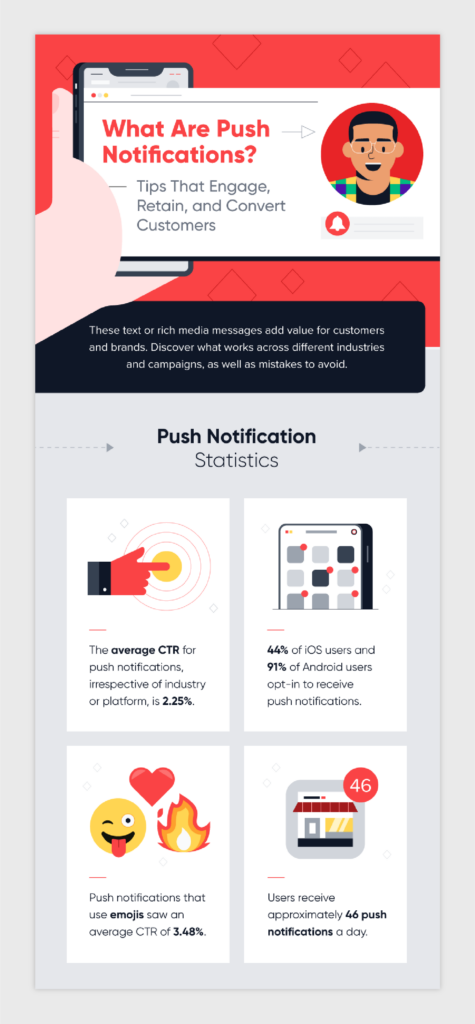 This infographic has icons galore — with brightly colored icons representing statistics and even popular emojis. Our favorites are the clock pie charts used to display usage percentages.
Why we like it:
Use of icons
Vibrant color scheme
Unique data visuals
5. 17 Surprising Coupon Statistics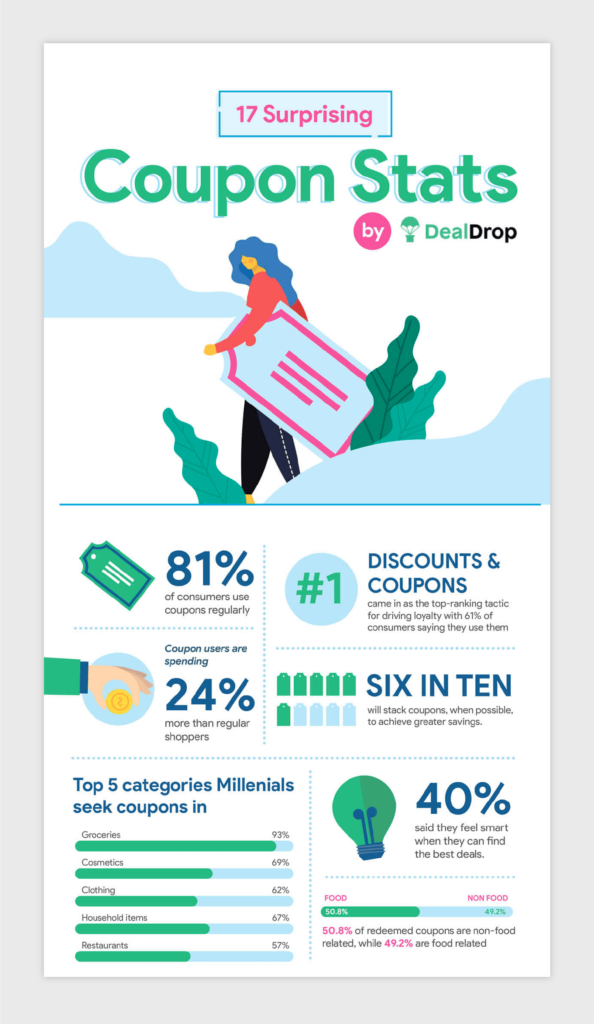 This infographic doesn't use a large visualization for its data. Instead, it uses smaller components, like a bar chart, to display its information. It also uses different text sizes to point out important coupon statistics.
Why we like it:
Analogous color scheme
Large text
Use of mini data visualizations
6. American Underwear Hygiene Habits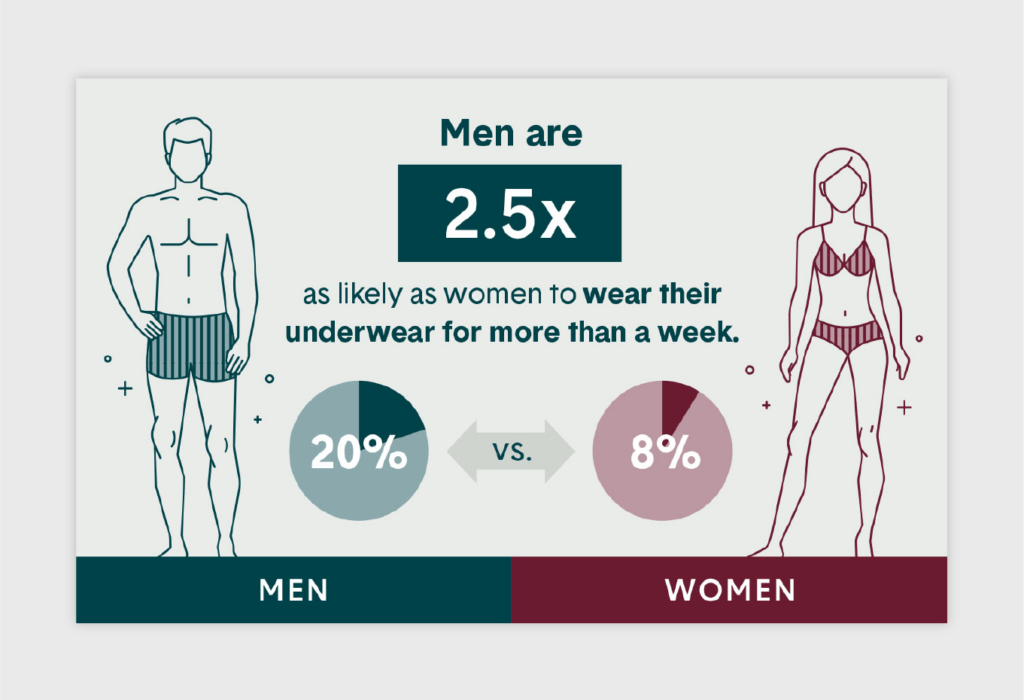 This infographic by Tommy John breaks up the text throughout its partner blog post, but uses smart ways to display statistics gathered from a hygiene habits study.
Why we like it:
Multi-use application for post images
Complementary color scheme
Simple icons
7. Female Cybersecurity Leaders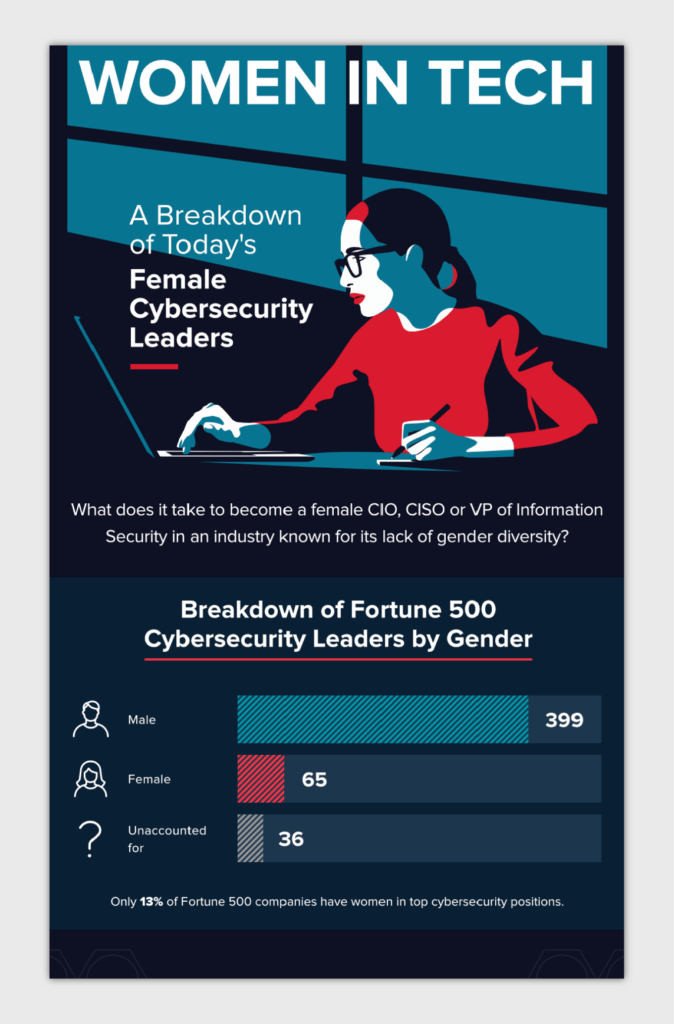 This infographic by Varonis displays statistical data and information to spread awareness of the lack of gender diversity in the cybersecurity field. It uses bar and pie charts to illustrate data.
Why we like it:
Uses charts to illustrate data
Focuses on a trending topic
Rich color palette
4 Flowchart Infographic Examples
Flowchart infographics typically show a process from start to finish. This can include anything from an instructional step-by-step process to a decision-making chart. Check out some of the very best flowchart infographic examples below:
8. Illustrated Guide to Popsicles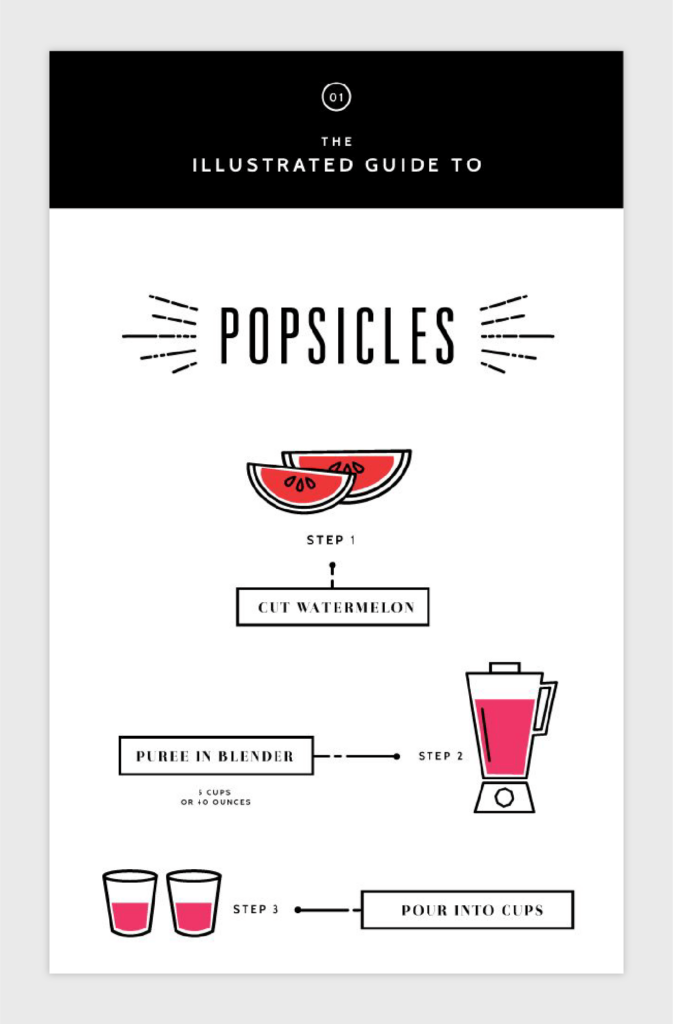 Flowchart infographics don't need to be overdone with design and color to explain a process successfully. This step-by-step guide to creating popsicles by Eva Black is a great example of using color only when necessary and using minimal copy to let the icons shine.
Why we like it:
Minimal copy
Minimal color, but detailed icons
Delightful typography
9. What's the Best Time to Work Out?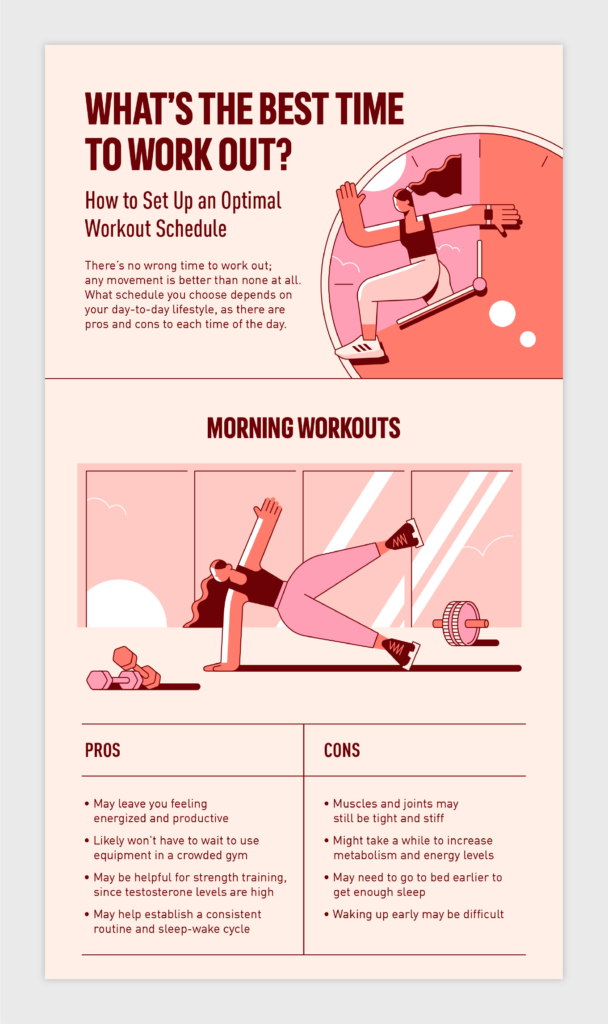 This fun infographic by Adidas is all about the best times to work out — including a great example of a decision flowchart to help narrow down your ideal workout time.
Why we like it:
Uses a decision tree
Vibrant color palette
Simple typography
10. What Is Your Business Communication Style?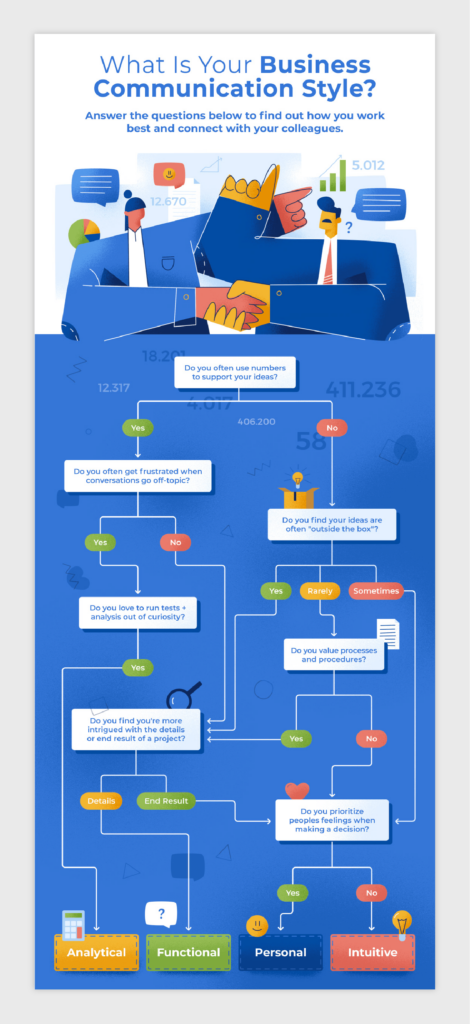 Here's another example of a great decision flowchart for understanding your business communication style. This one uses more than just yes and no answers to make the flowchart more interesting to run through.
Why we like it:
Uses a unique decision flowchart
Complementary color palette
Abstract illustration style
11. What's Your Money Love Language?

Here's our last decision-style flowchart, but certainly not least. This infographic example by Mint helps the user understand their money love language with simple yes or no answers. It also gives tips and things to avoid once you know your particular love language.
Why we like it:
User-friendly decision chart
Provides tips for each language type
Simple but effective icons
2 Geographic Infographic Examples
Using a geographic infographic is a great way to display locational or demographic data, such as a heat map or globe. Check out a couple of our favorite geographic infographic examples below:
12. Water Footprint Project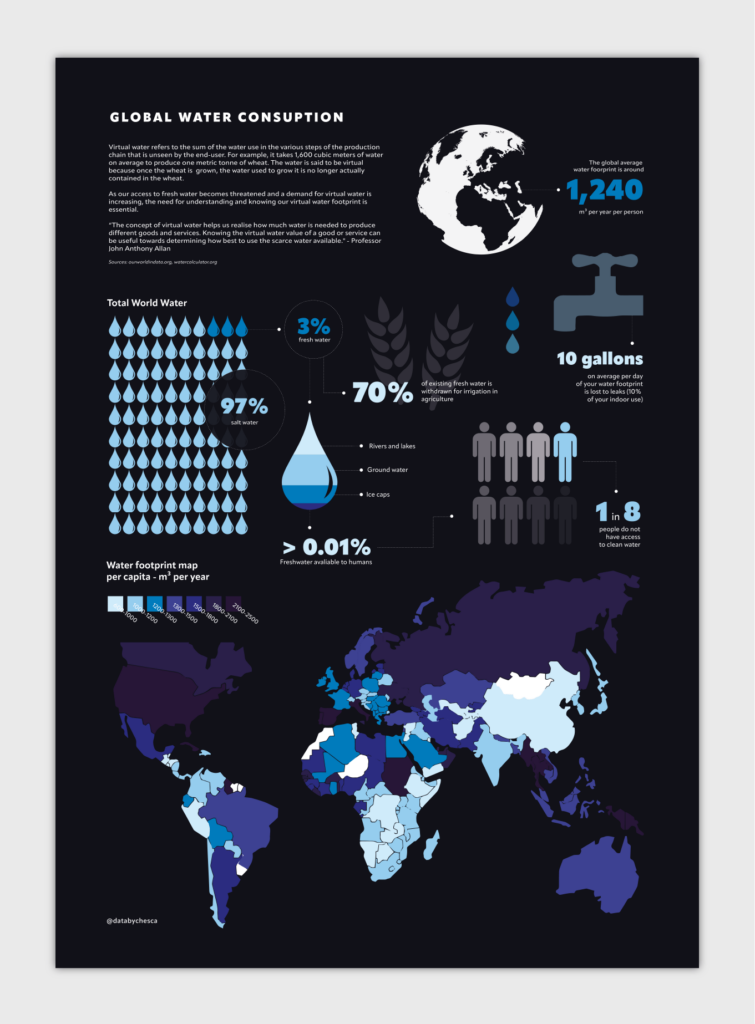 This is a great example of using a heat map as one component of a larger visual piece. Chesca Kirkland created this infographic to display global water consumption, using specific data points and background information to convey her message.
Why we like it:
Engaging hierarchy
Harmonious color scheme
High-quality icons
13. The World's Favorite TV Shows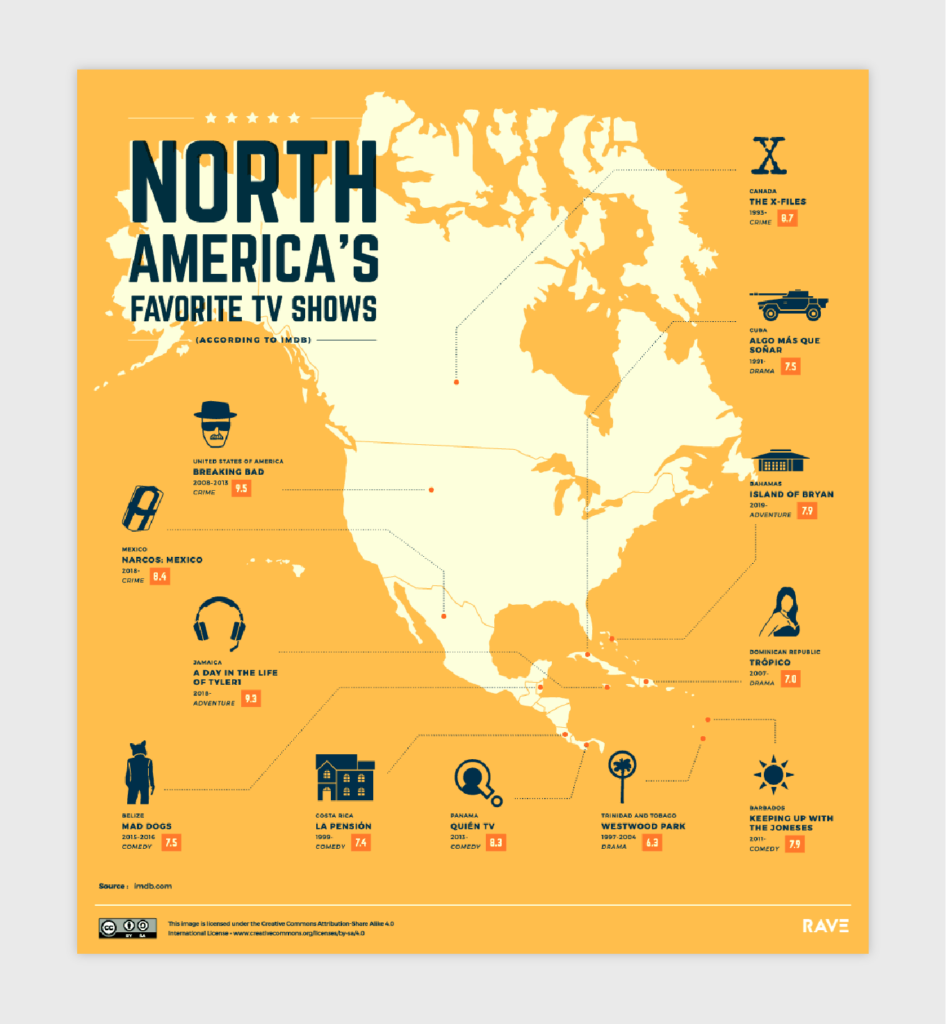 If you're a TV fanatic, this infographic may be up your alley. Although it's busy with imagery, this infographic from Rave Reviews utilizes recognizable icons to represent favorite TV shows across the world.
Why we like it:
Simple color palette
Unique iconography
Easy to understand
6 Interactive Infographic Examples
Interactive infographics use animations or navigational user interfaces. Although they can take more time to create, the result can be more powerful than a standard infographic. Here are several examples of well-thought-out interactive infographics:
14. 13 Reasons Why Your Brain Craves Infographics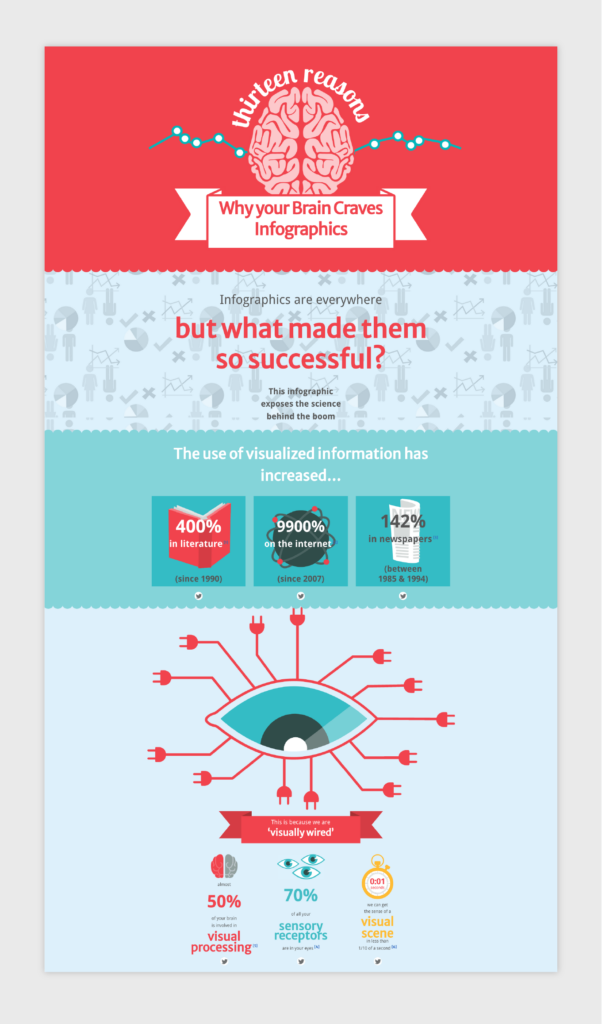 We love this infographic for a couple of reasons. NeoMam Studios created this interactive to illustrate why our brains enjoy infographics — from stunning animated visuals to easy-to-understand statistics. It also utilizes the power of spacing and maintains a simple hierarchy for the eyes to follow down.
Why we like it:
Easy-to-follow hierarchy
Attention-grabbing animations
Great use of space
15. 42 North American Butterflies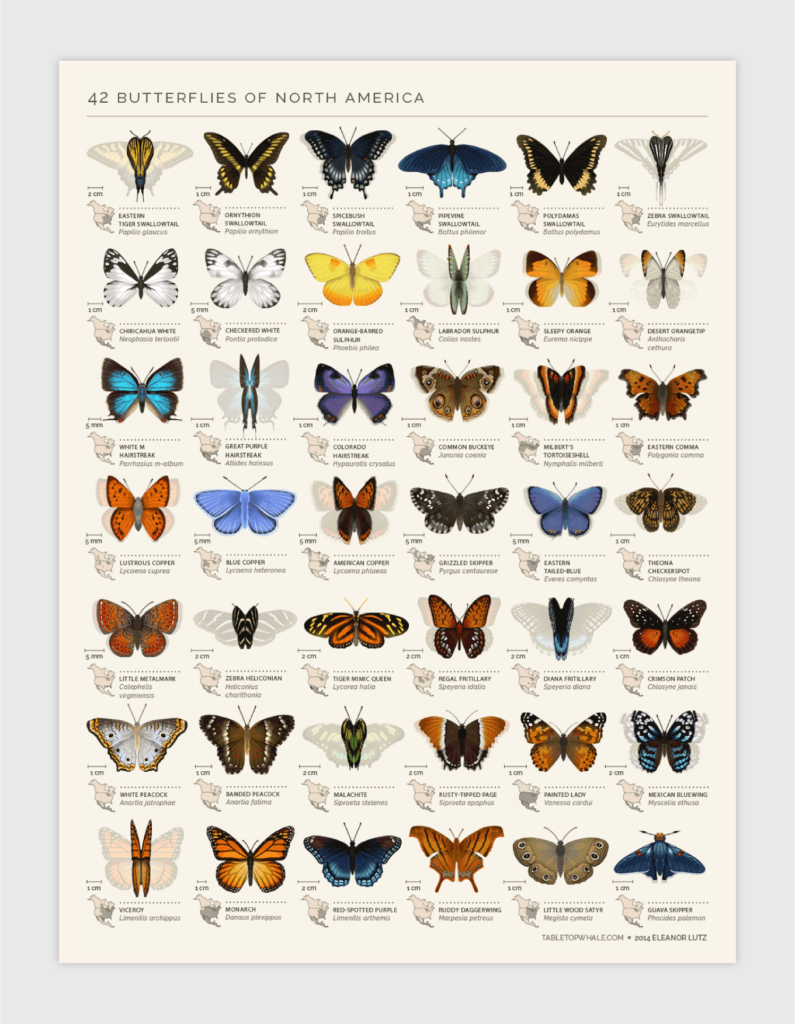 This beautifully detailed piece catches the reader's eye with movement and color. Created by Tabletop Whale, this infographic of 42 North American butterflies is nothing short of impressive.
Why we like it:
Eye-catching movement
Intricate illustrative detail
Vibrant colors
16. Landing Page Best Practices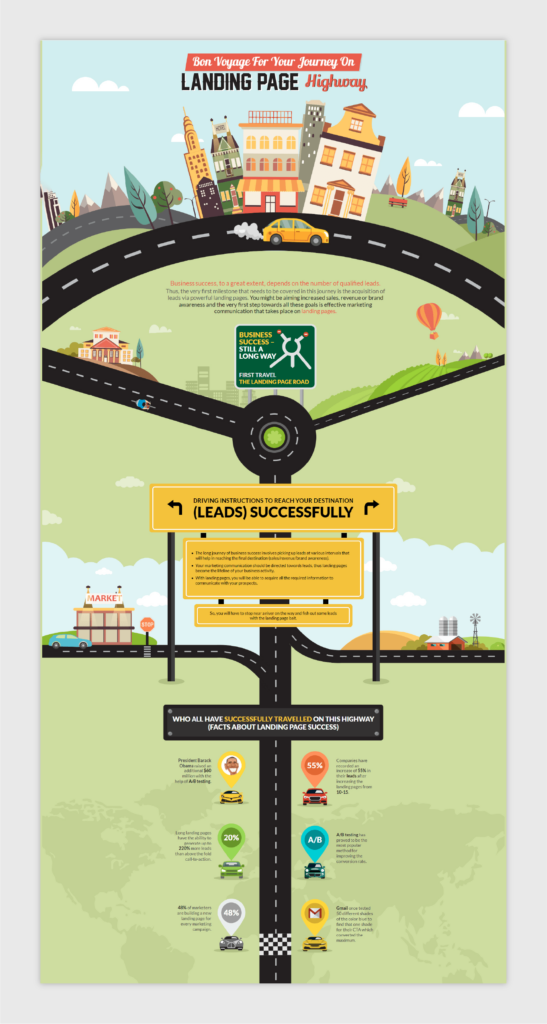 This full-page interactive is a great example of how to create simple but effective movement. Email Uplers created this infographic to explain best practices for a website's landing page. It uses a mix of illustrations, text and uncomplicated movement to create a well-put-together infographic.
Why we like it:
The order of elements is easy to follow
Balance of text and visual
Vivid color scheme
17. The Benefits of Yoga
This impressive infographic uses both calming colors and movement to display various yoga poses for seniors to enjoy. Our favorite animation to check out is the tumbling waterfall.
Why we like it:
Rich complementary colors
Smooth animated movements
Minimal text fluff
18. How To Build a Human
Designer Eleanor Lutz uses a looping infinity effect with her animated graphic to capture the viewer's interest. She also includes a legend that helps the viewer understand the timeline of the animation and what each of the components represent.
Why we like it:
Primary color scheme
Unique design effect
Well researched
19. How To Use Augmented Reality Apps in Your Home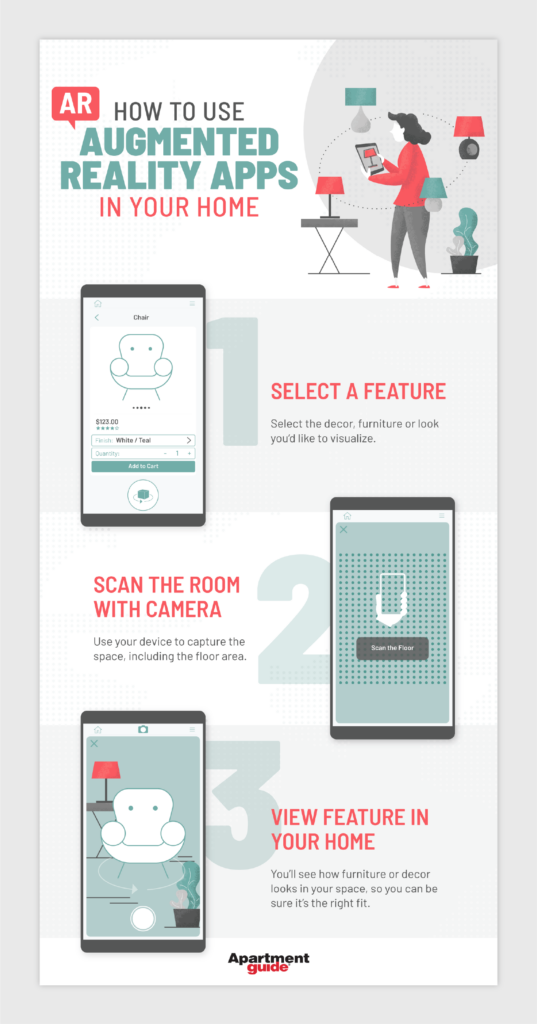 With a trending topic like augmented reality, this is a neat animated infographic that showcases how to use it in your home with three simple steps. This infographic isn't long in size or full of copy, which allows the visuals to stay in the spotlight.
Why we like it:
Muted color scheme
Straightforward animation
Use of spacing and subtly
4 Comparison Infographic Examples
Comparison infographics normally feature two or more products, companies or periods, and compare and contrast important data points and facts. They can be both simple or complex in design. Here are some comparison infographic examples to spark inspiration:
20. Smiling Your Way to a Happier Life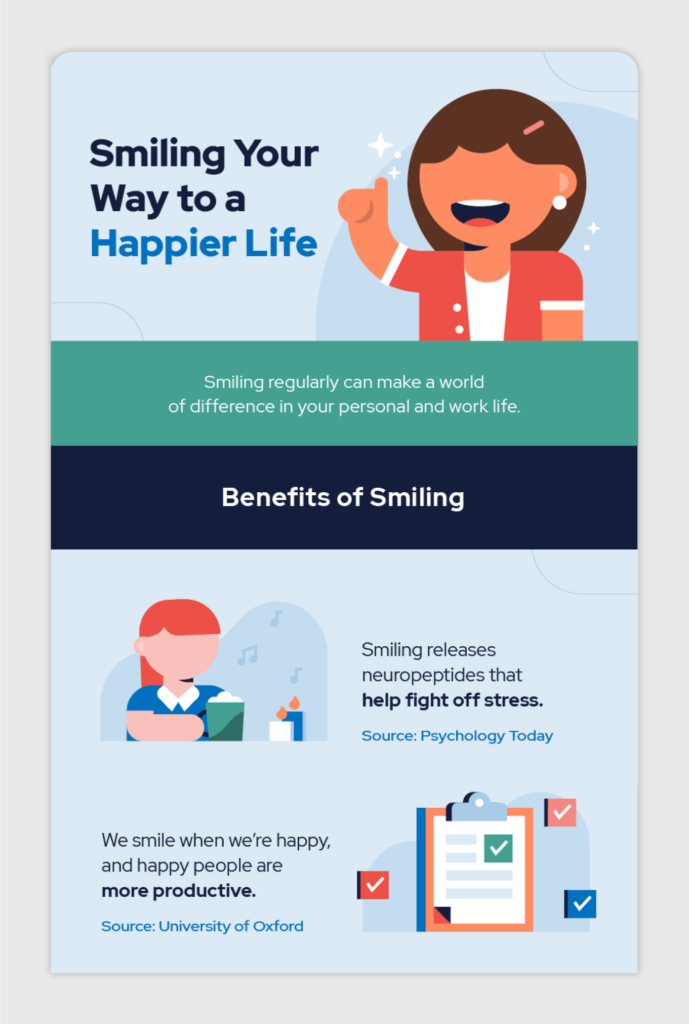 This comparative visual explores the pros and cons of investing in dentures and implants. It also uses many varying icons throughout its illustrations.
Why we like it:
Use of icons
Unique design
Complementary color scheme
21. Macarons vs. Macaroons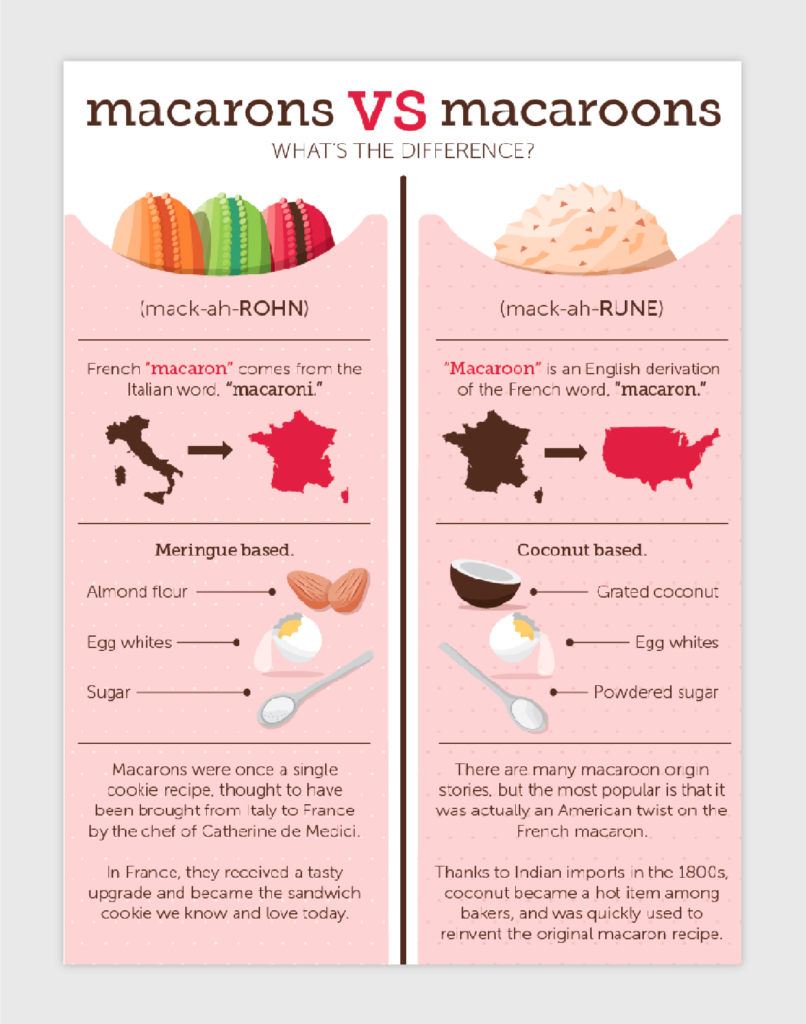 This infographic is for the foodie in you, as it compares two types of delicious but different treats. It uses a basic format to compare and contrast the differences between the two desserts, but its delightful coloring and illustration work make it a great comparative example.
Why we like it:
Prismatic color scheme
Good copy-to-illustration ratio
Up-down hierarchy of elements
22. Price/Range Comparison of Electric Cars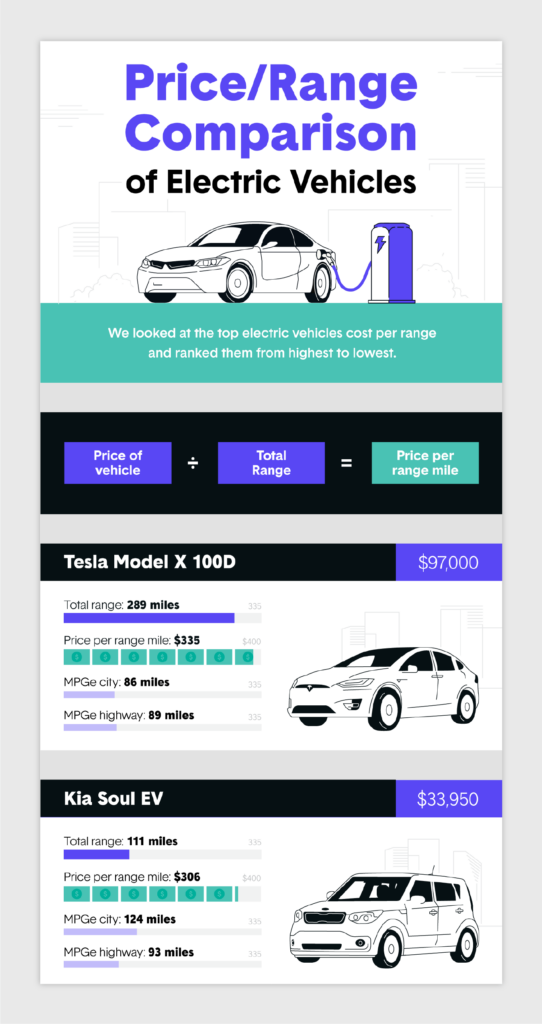 Instead of comparing two different products, this infographic compares 12. It uses individual bar charts for each type of electric car, but with its synonymous colors and order, it's still easy to understand.
Why we like it:
Detailed illustrations
Unique display of information
23. iOS vs. Android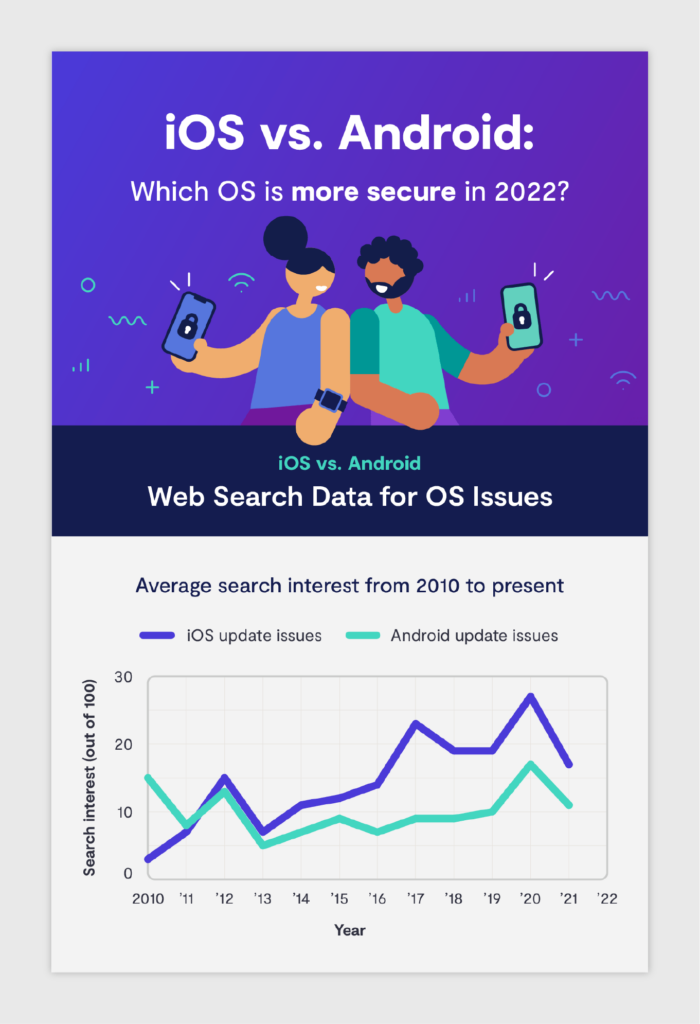 Our favorite part of this Clario infographic is the OS vulnerability scale, which compares the level of security for different OSes created by Apple and Android. It makes information that could be difficult to understand simple.
Why we like it:
Analogous color scheme
Varying uses of graphs
4 Timeline Infographic Examples
These types of infographics display data and information in a time progression format. Here are a couple of examples that use timelines as the base of their infographics:
24. 50 Years, 50 Toys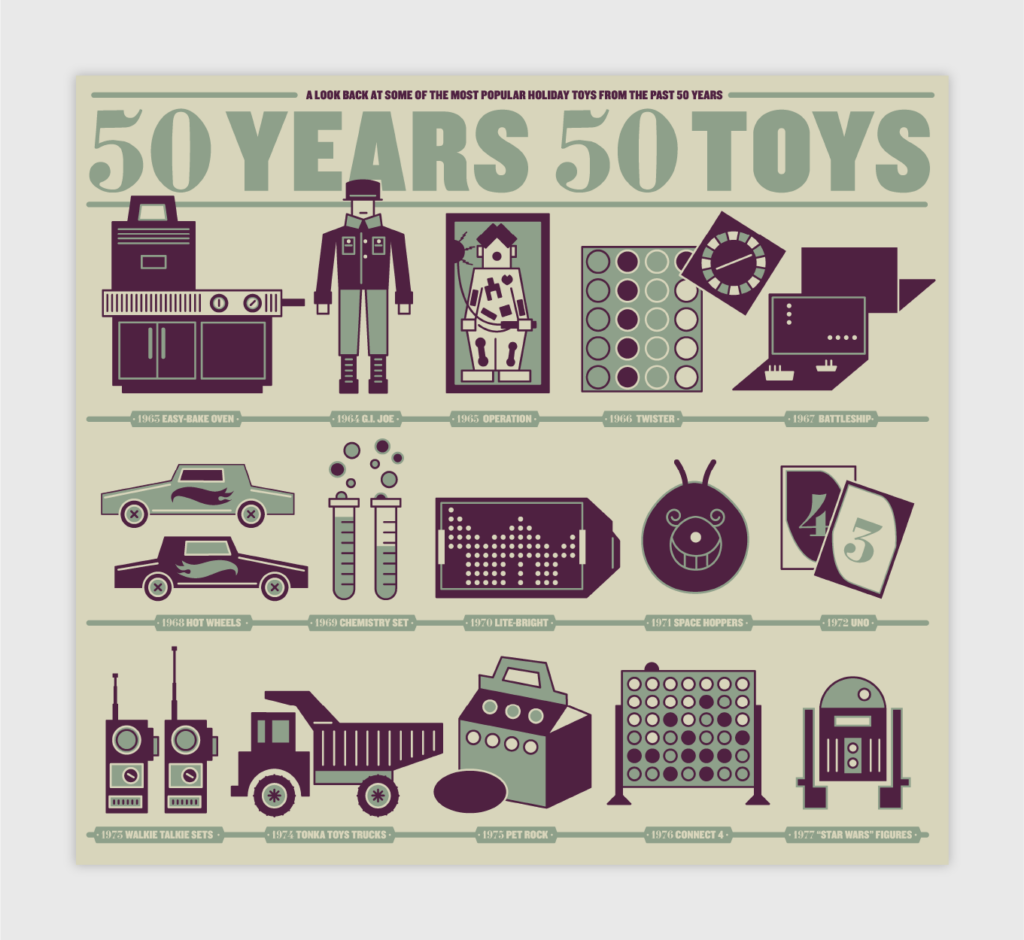 Although this infographic is a couple of years old, it's a good portrayal of how to allow your illustrations to do all the talking. This timeline runs through 50 years of toys efficiently while avoiding being overwhelming to the eye.
Why we like it:
Minimal copy
Harmonious illustrations
Sepia color palette
25. The Best-Selling Car Model Every Year Since 1978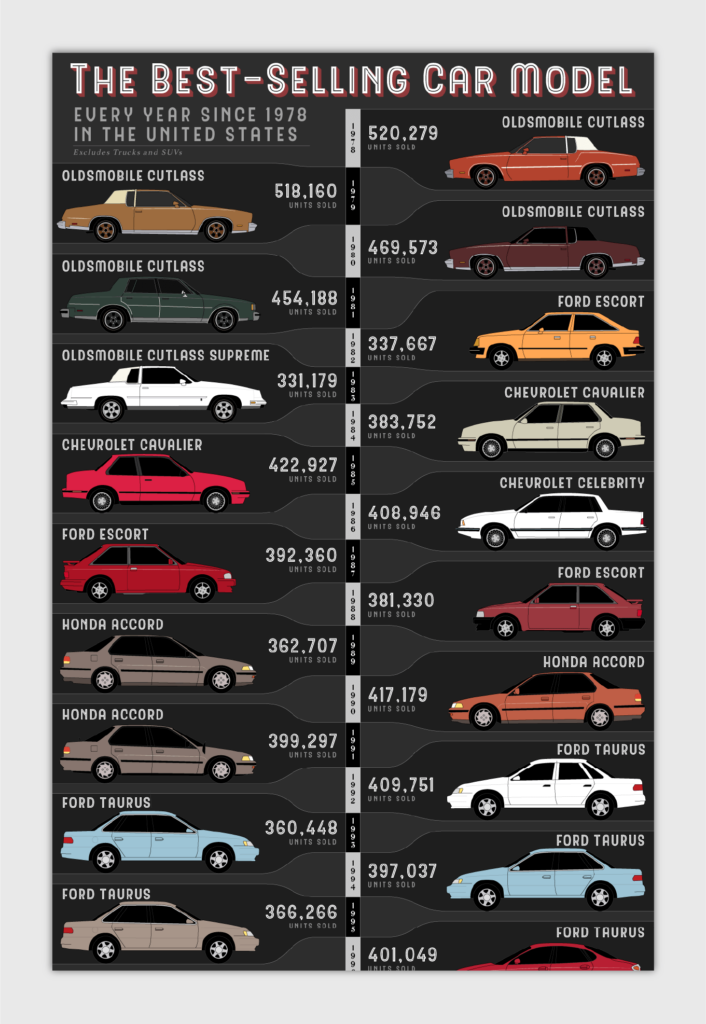 If you're looking for a vertical timeline example, check out this one. This infographic by Alan's Factory Outlet showcases the best-selling cars in the United States over 40 years. Just like the one above, it focuses on the design elements of the timeline and car models, rather than heavy text.
Why we like it:
Easy-to-follow layout
Minimal copy
Impressive illustrations
26. COVID-19 Timeline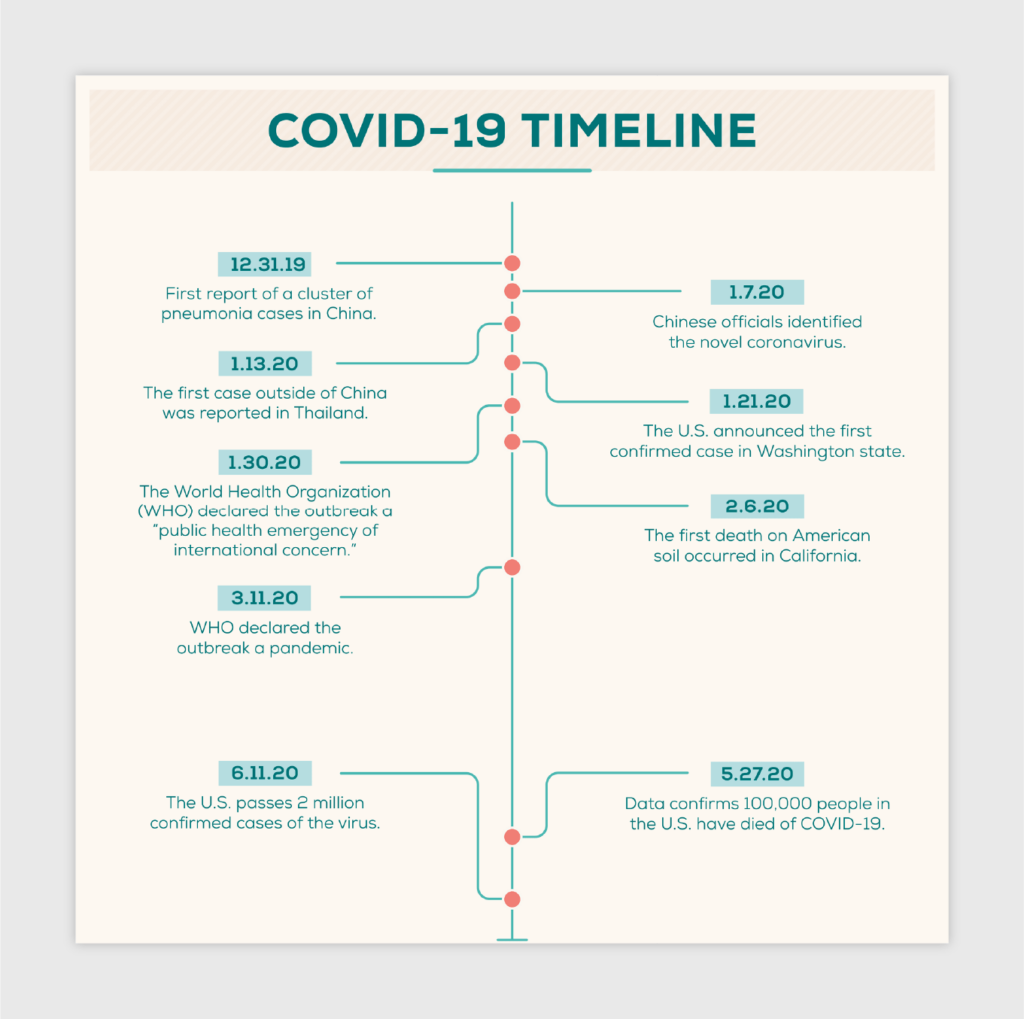 So much can happen even in a span of one year. Although this infographic only spans two years, it uses a simple design to mark important dates and chunks of time.
Why we like it:
Simple design format
Uses design characters to mark missing chunks of time
Complementary color palette
27. A Timeline of Minimalism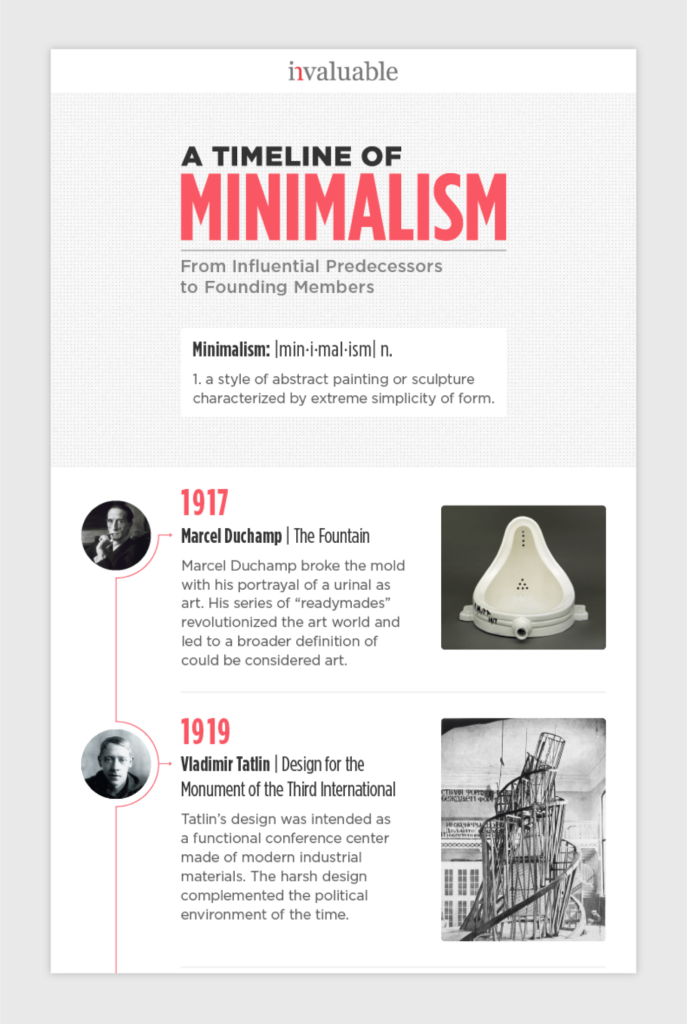 This infographic follows a top-to-bottom format for its timeline while using pictures and minimal text to display important information. If you like your timelines to be simple yet appealing, use this one for future inspiration.
Why we like it:
Use of photographs
Minimal copy
13 Informational Infographic Examples
Most infographics can fall under this category, as they rely more on text versus illustrations to describe information. They also use icons and color palettes to make the information more interesting and visually appealing. We limited the list below to just a few of our top contenders.
28. 9 Productivity Mistakes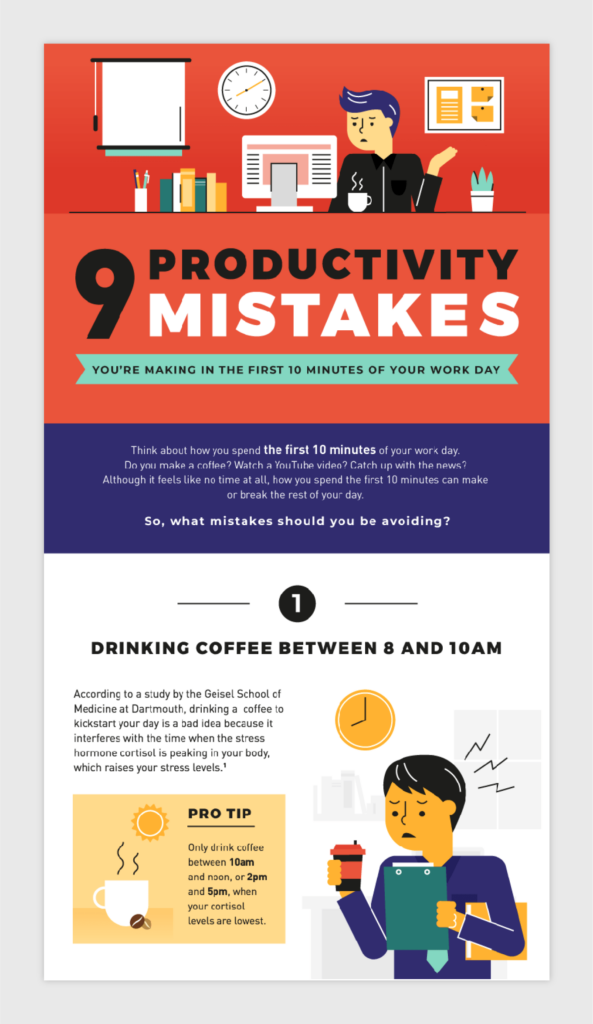 Popular informational infographics are roundups of a certain number of points, tips and techniques for the viewer to learn. This infographic on productivity mistakes to avoid in your workday uses a top-down hierarchy to organize its information. It also includes actionable tips for the reader.
Why we like it:
Top-down hierarchy
Playful color palette
Balance of illustration and copy
29. The Magnificent Multitude of Beer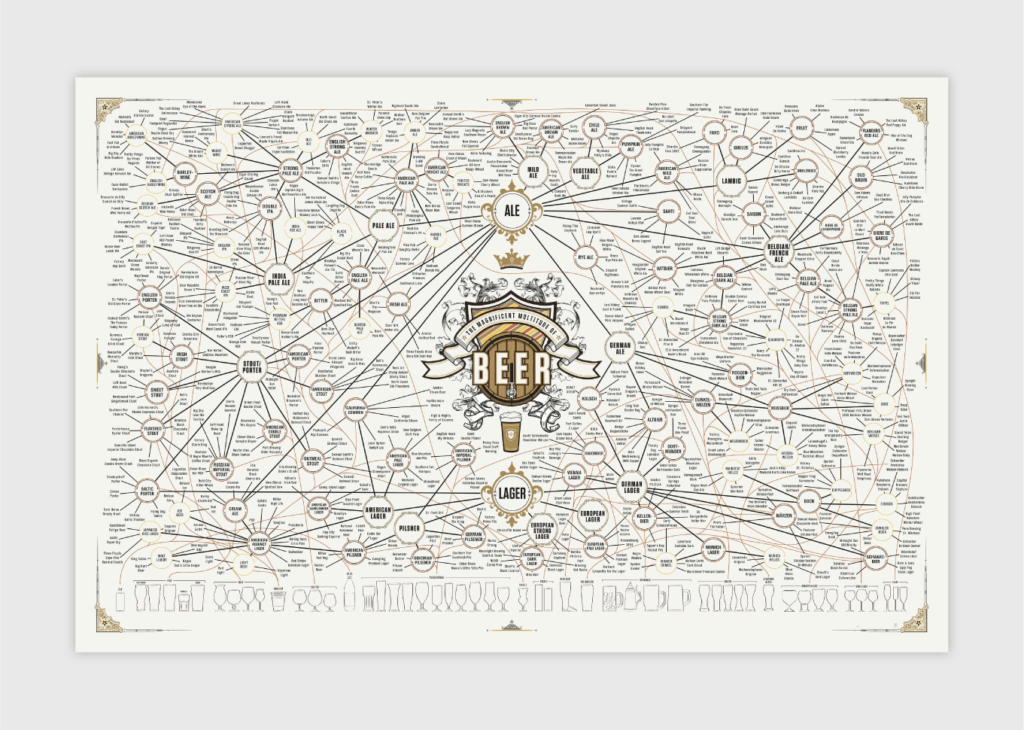 Although this infographic isn't quick to wander through, it gets a pass for its incredible amount of detail and intricacy. This Pop Chart visual uses a bubble diagram format to organize types of beer and popular beer brands. This piece also receives bonus points for including a key for easier navigation.
Why we like it:
Elegant coloring
Bubble diagram design
Attractive typography
30. 30 Shots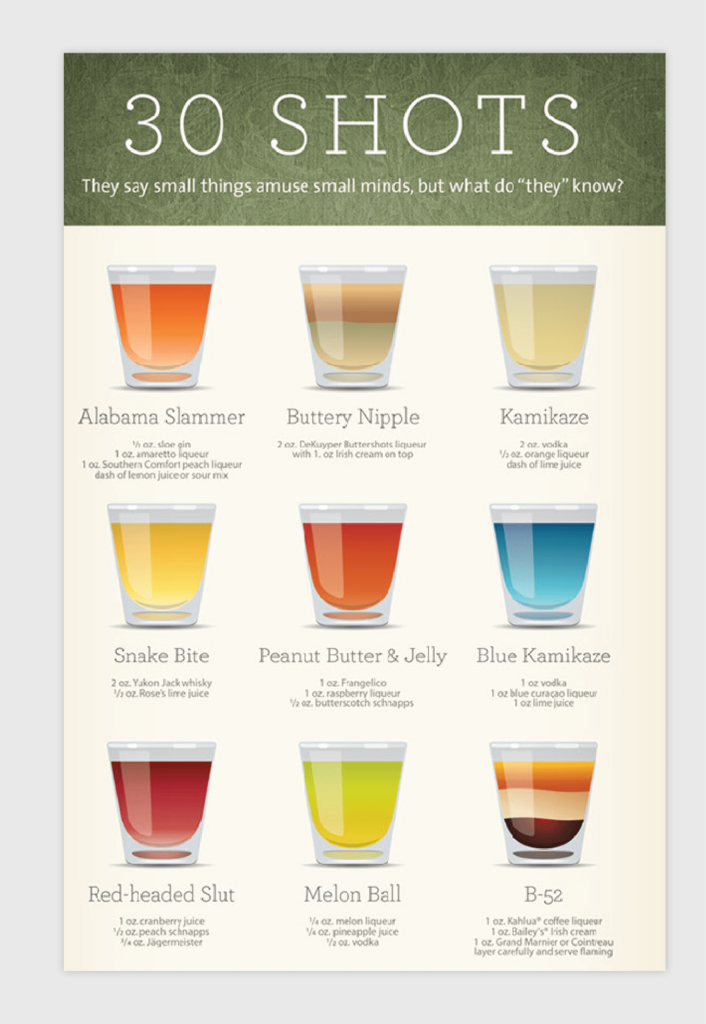 This infographic is a great example of making your imagery the focus, as it demonstrates how to create 30 different shots with a few simple ingredients. The color gradients in the drinks also make them more enticing for the viewer to try out.
Why we like it:
Minimal copy
Great use of space
Appetizing color scheme
31. 15 Career Lessons From Successful Founders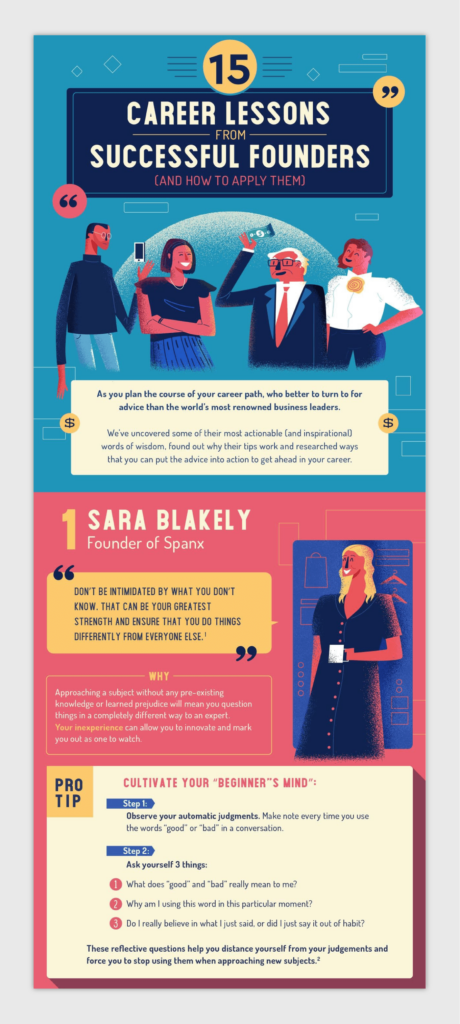 Profile style, like the one above, is another popular infographic format. This infographic illustrates tips and lessons learned by recognizable business leaders with abstract design.
Why we like it:
Abstract illustrations
Soothing color palette
Up-down hierarchy
32. Staying Happy and Healthy at Work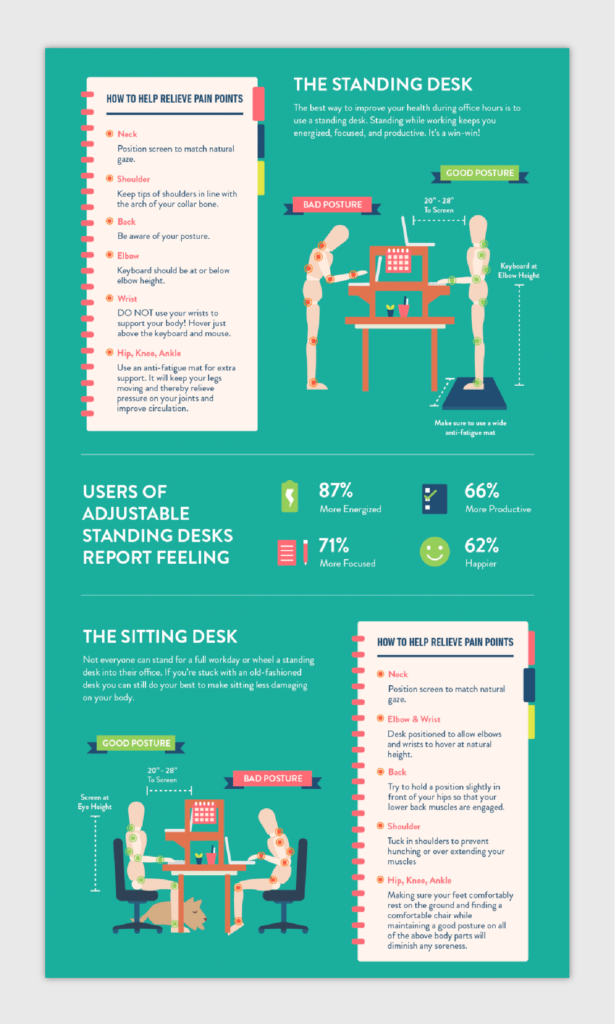 This infographic by Ultimate Mats uses inanimate objects, like wooden joint models, to demonstrate different types of posture. It also uses red and green, which are symbolic colors, to indicate things you should or shouldn't do.
Why we like it:
Unique design elements
Icon use
Balance of statistics and tips
33. 10 Ways Sleep Can Help You Live Longer
This is an example of organizing tips and statistics in a more interesting way than using a listicle. This Bestow infographic uses a left-right format to display copy with paired illustrations.
Why we like it:
Secondary color scheme
Balanced order of elements
34. How To Cut Fruit Like a Pro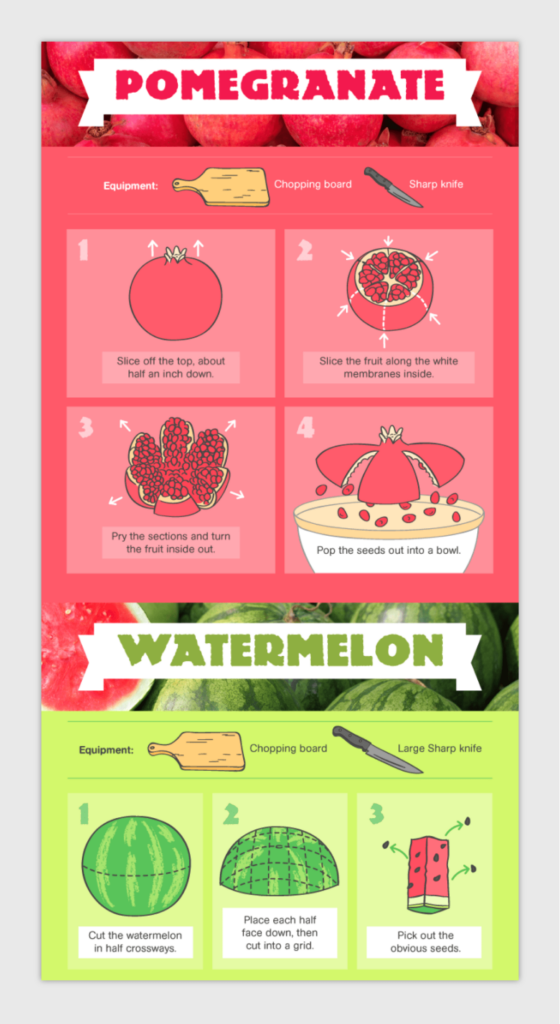 This mouth-watering visual uses color and unique drawing techniques to explain how to cut different types of fruit. This infographic does a great job of keeping the processes easy to understand by using minimal and detailed visuals.
Why we like it:
Vivid color palette
Minimal copy
Unique flowchart design
35. 8 Home Floor Plans From Cult TV Shows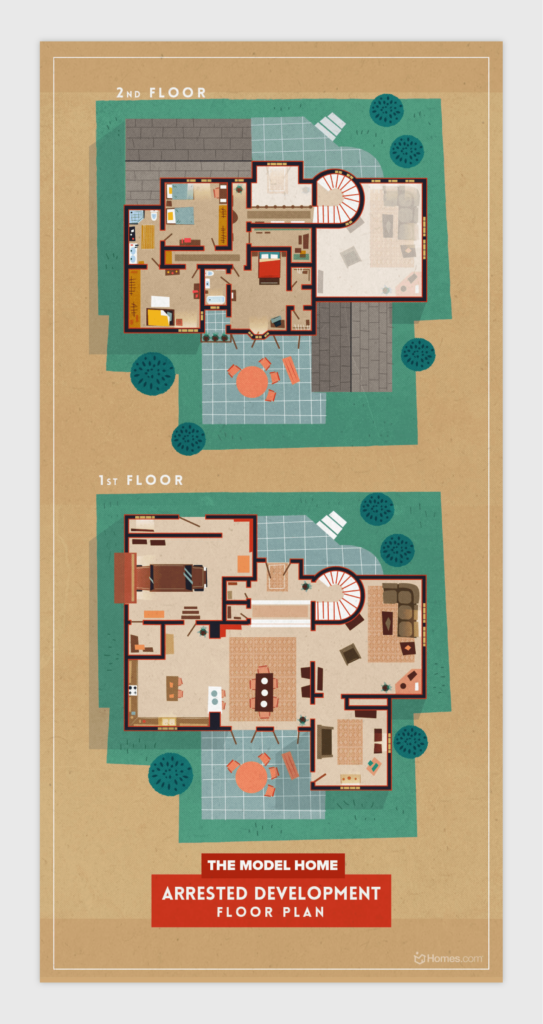 What about infographics that barely use text? Here is a fun example of an infographic that uncovers the home floor plans of popular television shows. Although there isn't much data involved, this is a unique asset that's sure to be shareable amongst fans and friends alike.
Why we like it:
Unique format
Beautiful design
Minimal copy
36. 13 Cake And Wine Pairings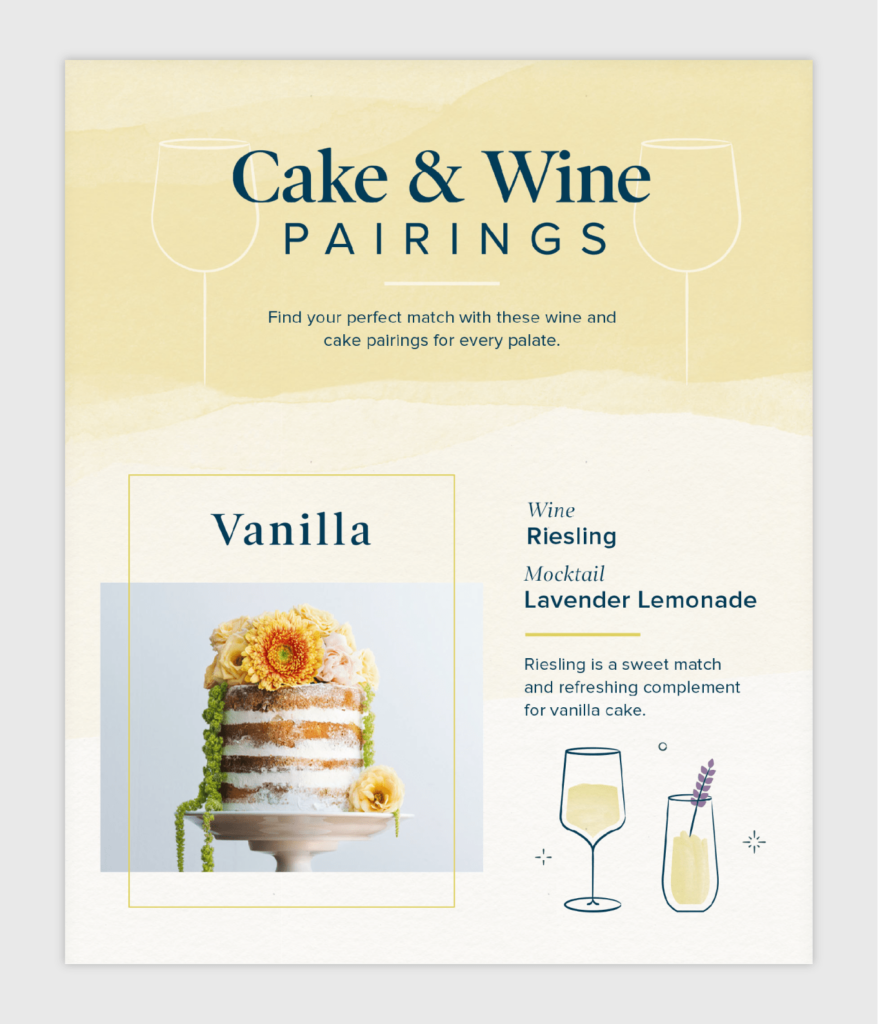 It's not always necessary to use custom illustrations in your infographic. This one uses photographs to display different types of wedding cakes. With a couple of high-quality pictures and interesting copy, your next infographic will be a piece of cake.
Why we like it:
Use of photographs
Harmonious color palette
37. 7 Self-Care Tips to Combat Financial Stress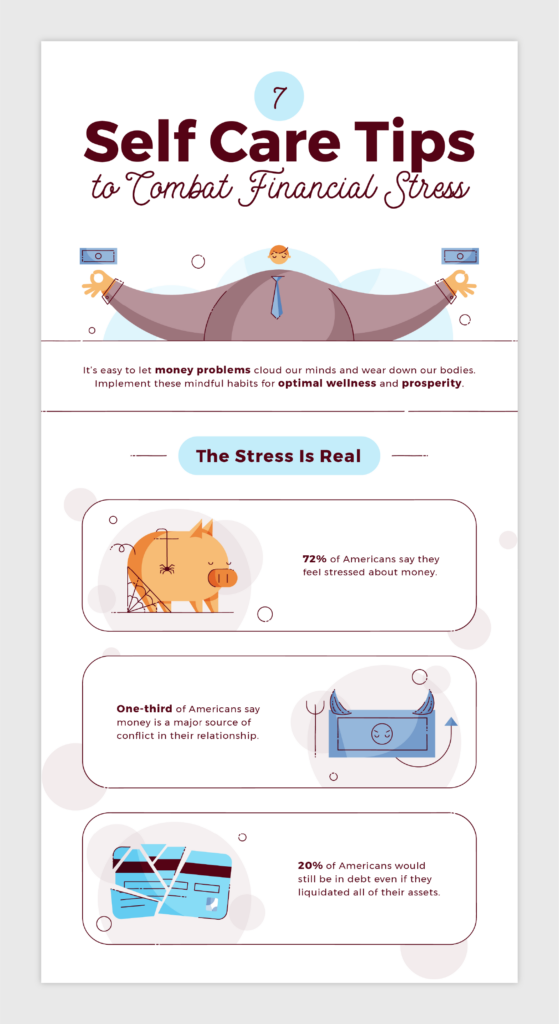 This infographic by Self is another example of how to use a left-right format. Not only does this format create balance visually, but allows the viewer to enjoy reading the copy and admiring the illustrations one at a time.
Why we like it:
Balanced order of elements
Top-bottom hierarchy
Listicle style
38. 12 Scents to Increase Productivity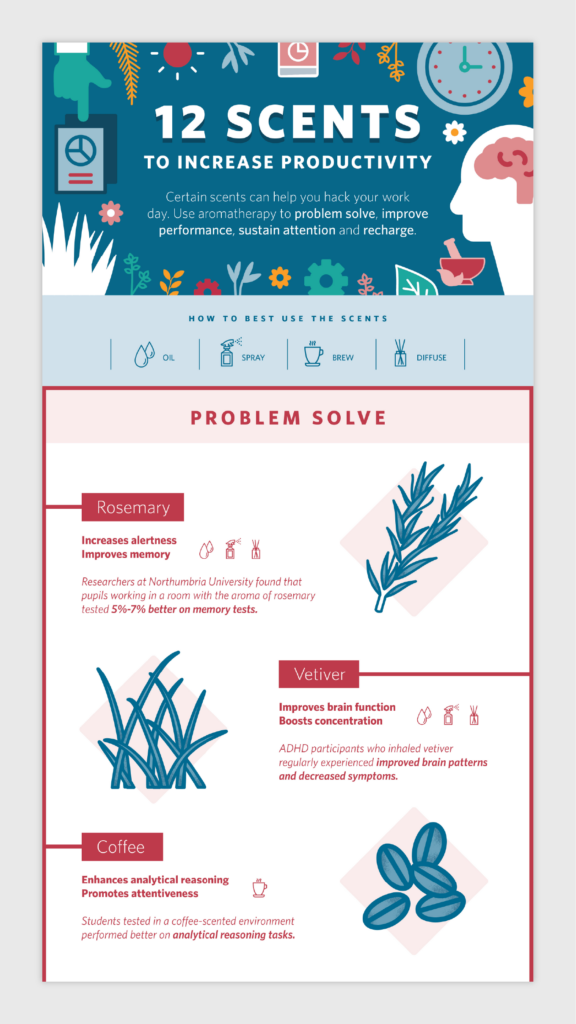 We love this infographic simply for its use of icons throughout. FragranceX uses small icons to mark how each scent can be used. This is an interesting technique to avoid adding too much text in your visual.
Why we like it:
Use of icons
Calming color palette
Balanced order of elements
39. Personality, Productivity and Planning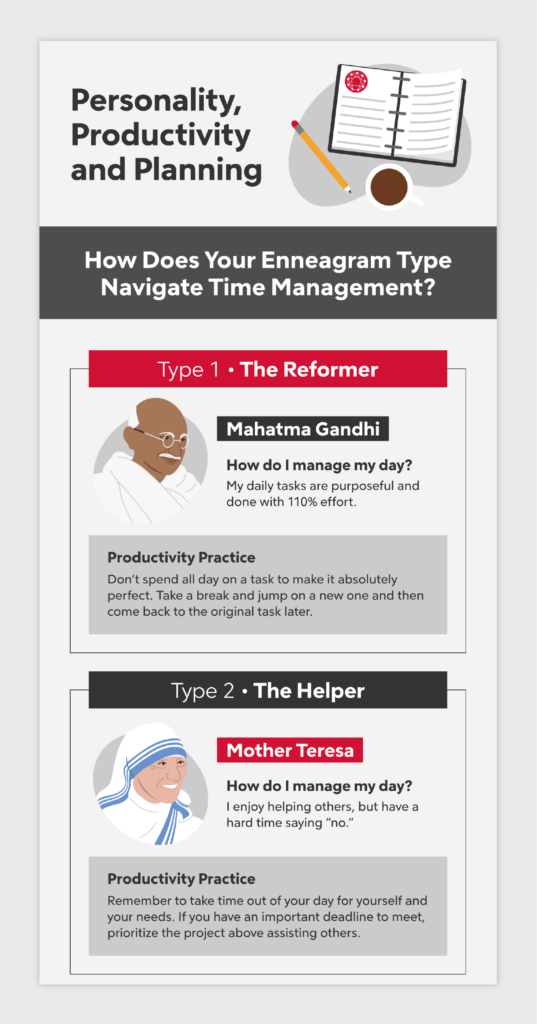 Which Enneagram type are you? This infographic organizes home layouts based on the nine types, along with illustrated celebrity profiles that add life and color to the visual that could be seen as a bit bleak without them.
Why we like it:
Unique profile illustrations
Repetitive order of elements
Comprehendible text
40. Introvert's Guide to Job Interviews
This infographic by Saving Spot splits up the interview process into three steps: before, during and after. This infographic adds a unique twist by including a list of vocabulary words used to describe introverts. This element helps to split up the sections with heavier copy.
Why we like it:
Triadic color scheme
Understandable hierarchy
Insightful tips and how-tos
Infographic Frequently Asked Questions
Looking to get started on your infographic design, but still have a couple more questions? Here are some answers to help you navigate your infographic endeavors:
How Do You Create an Infographic?
Infographics are a great way to display information to your target audience, with or without an accompanying blog post. Here are five steps to take to create a simple infographic:
Identify your audience: This can be established with your brand audience, but can also be decided by the type of data or information you plan to collect. Ask yourself these questions:
– Who do you think would benefit from the information?
– Who would most likely share this infographic?
Collect your information and data: Spend time collecting reliable data and information, either through public data portals or in-house data studies.
Choose your infographic template: Select which format you think would be the most effective in displaying your information, such as a flowchart or timeline.
Choose an infographic template software: Use an online creative design platform like Canva or Adobe Illustrator to create and customize your infographic. Incorporate icons into your infographic to elevate your design.
Download and share: Download your infographic and share away. We recommend downloading your infographic as a PDF file.
What Are the Seven Types of Infographics?
The seven types of infographics are:
Data visualization
Flowchart
Geographic
Interactive
Comparison
Timeline
Informational
How Long Should an Infographic Be?
The length of your infographic will vary depending on the content of the infographic and the complexity of the data you plan to include.
You should determine ahead of time how you see your infographic being shared — like social media, for example — to gauge dimensions and sizing.
What Makes a Bad Infographic?
Here are a few things that can easily make your infographic turn a bit sour:
Headlines that are too long
The wrong type of infographic format for your data
Too much design, not enough data or vice versa
Overly complicated data visualizations or comparisons
Using a clashing color scheme
Hard-to-read font
Using header font for your body copy
What Type of Information Is Best Suited for Infographics?
It can be hard to decide what infographic format is best for your data or information, so here are a few examples to compare your collection to:
Survey data: Data visualization
Geographic or locational data: Geographic infographic
Events over a certain period: Timeline
Step-by-step process: Flowchart
Decision-maker: Flowchart
Tips, skills or practices: Informational
Now that you've gotten all the infographic goodness you could ever need, you're probably ready to put your creative skills to the test. Browse our icon collection for some illustrative inspiration!