If you're looking for a more personalized approach to gift-giving this holiday season, Zazzle is a one-stop shop for just about any piece of merchandise, home décor, and other accessory that you can name.
Best of all, Zazzle uses Noun Project's powerful Icon API, so when you use their custom design tool, you can instantly drag and drop any icon from our robust icon library straight into your window without having to leave your workflow.
What You Can Make with Zazzle
Zazzle is all about creating fully customized products with ease. While many artists and brands host distinctive designs on Zazzle's marketplace, the possibilities are truly endless when you build a design from scratch – whether that's instantly uploading an existing art file to print on mugs, notebooks, t-shirts and more, or using the custom builder to create an original design right on the site.
Chances are, if you've seen a piece of printed branding anywhere, Zazzle offers it in their collection. Their merchandise offerings are incredibly vast, including:
Greeting cards and stationary (folders, notebooks, signs and flyers)
Household goods and kitchenware (mugs, water bottles, wall art and posters)
Clothing and accessories (shirts, hats, tote bags, luggage, jewelry)
Electronics (phone and laptop cases, chargers)
Unique gifts (jigsaw puzzles, clocks, and you name it!)
And so much more.
Sign in to Zazzle and start exploring the options. Clicking the menu on the upper left will let you see each of Zazzle's product categories and offerings.
How to Design Customized Holiday Gifts with Zazzle
Every product category has a "Create Your Own" offering. Click any product and click "Customize This Design" to get started with your own blank canvas.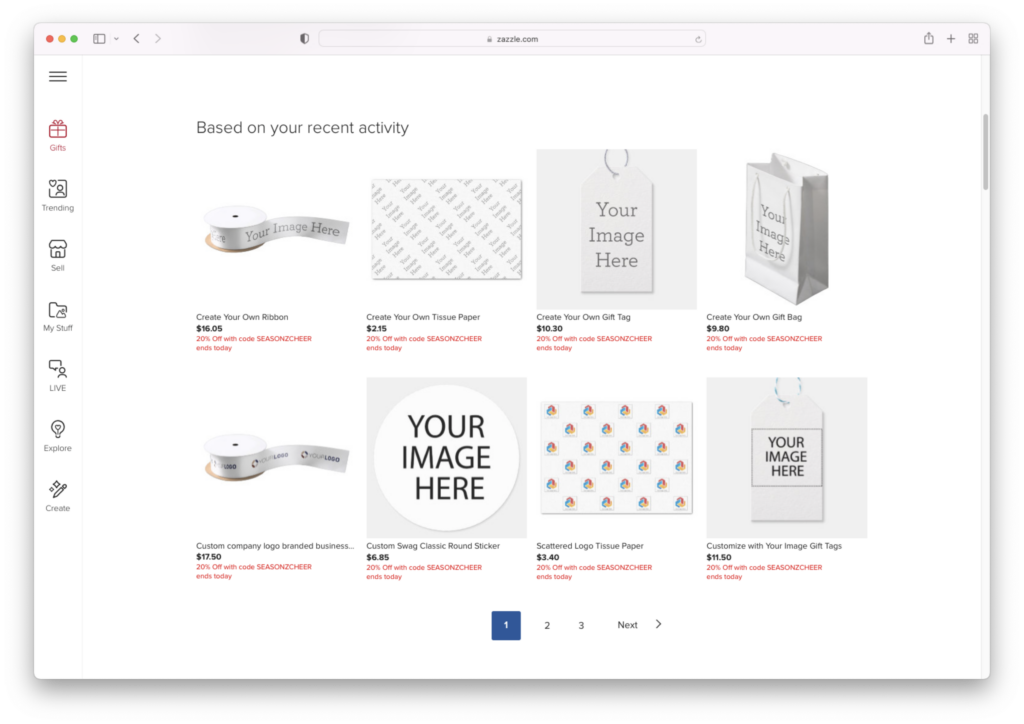 You can upload an existing artwork as a JPEG or PNG if you've created something in another application, but Zazzle allows you to combine text, background colors and images, and Noun Project icons to quickly create your own unique design.
As the holidays draw near, ever-popular gifts include:
Stationary like wrapping paper and gift tags
Mugs and drinkware
Custom apparel like t-shirts, socks, pajamas and more.
Let's look at how you can create a set of gift tags and a repeating wrapping paper pattern!
Create a Personalized Gift Tag with Icons and Text
A custom gift tag is a quick, easy way to add a personalized touch to your gift-wrapping.
Select the "Create Your Own Gift Tag" and click the blue "Customize this Design" button on the right.
Once you've entered this "Create" view, you'll see that from the left-hand menu you can add text, elements, and icons to your design instantly.
Searching for "Icons" will bring up Noun Project's vast library of millions of icons that you can click to instantly add and recolor without having to leave your window!
Try searching for holiday or winter-themed icons like snowflakes, pine trees, penguins or sleighs.
Once you click one, it'll appear on your canvas.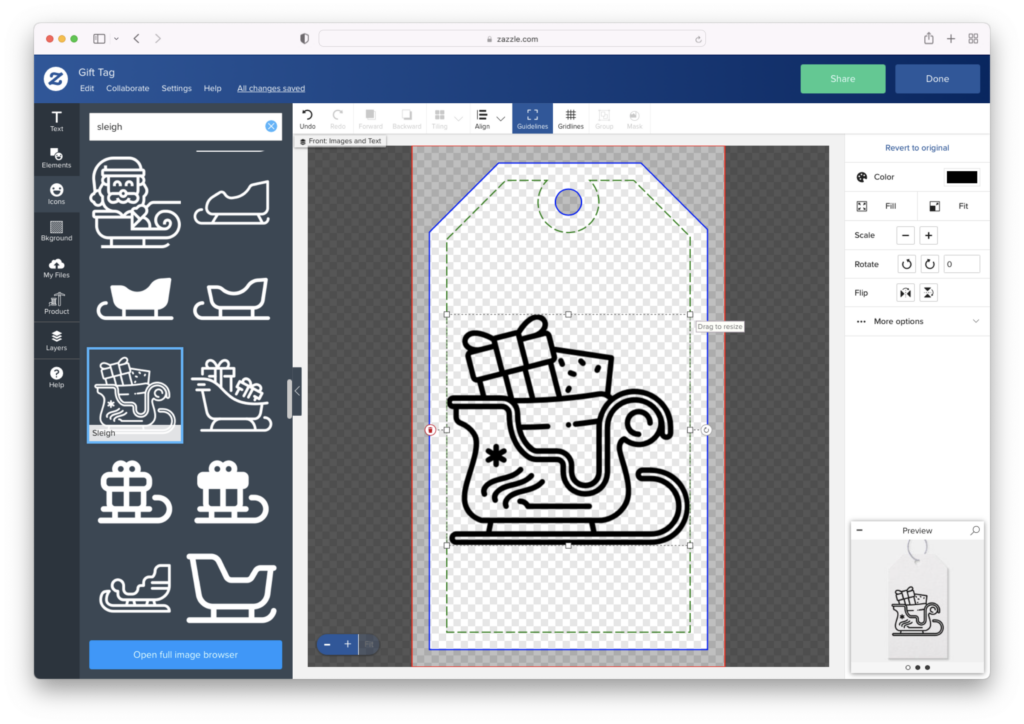 Each icon can be recolored, resized or rotated to your liking.
You can also click "Text" on the left-hand menu to add your "To" and "From" labels. Choose a font you like from hundreds of options – here, I went for a decorative script font called "Holiday" that also matches the stroke weight and style of the sleigh icon itself.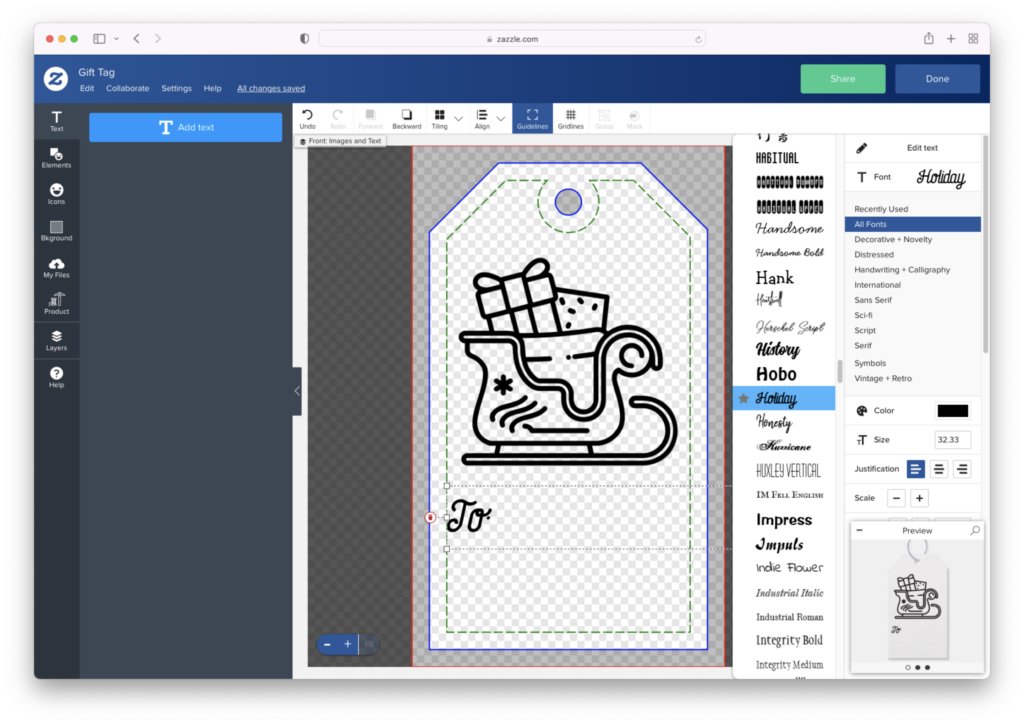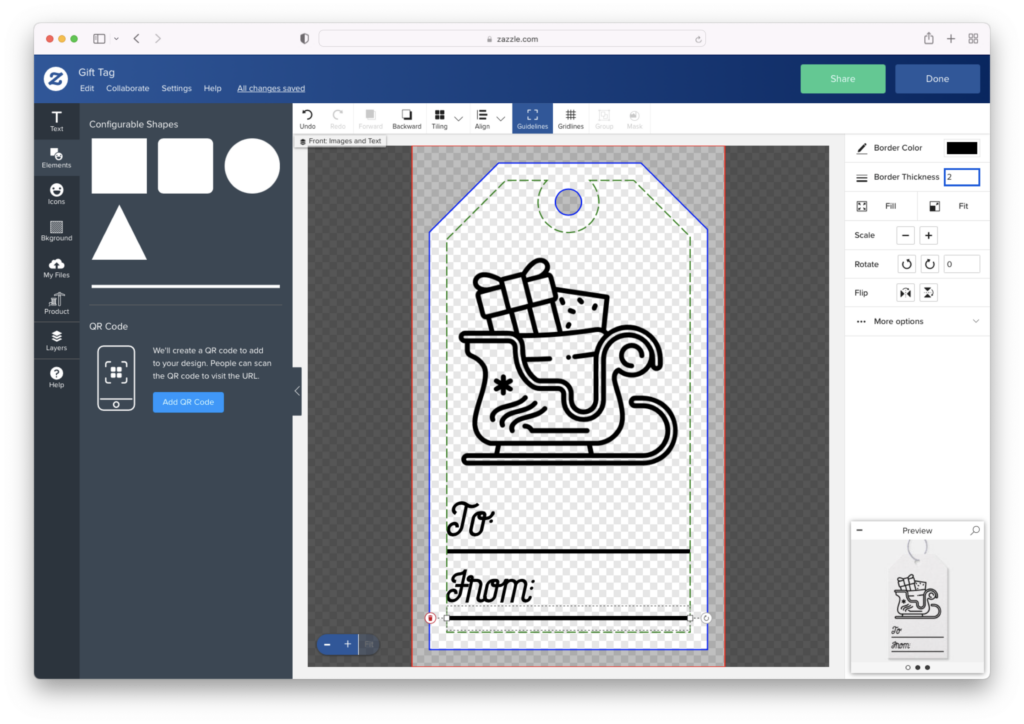 Under "Background," you can also change the background color to make it more eye-catching. You can also select photo backgrounds or textures if you'd like the design to be less flat!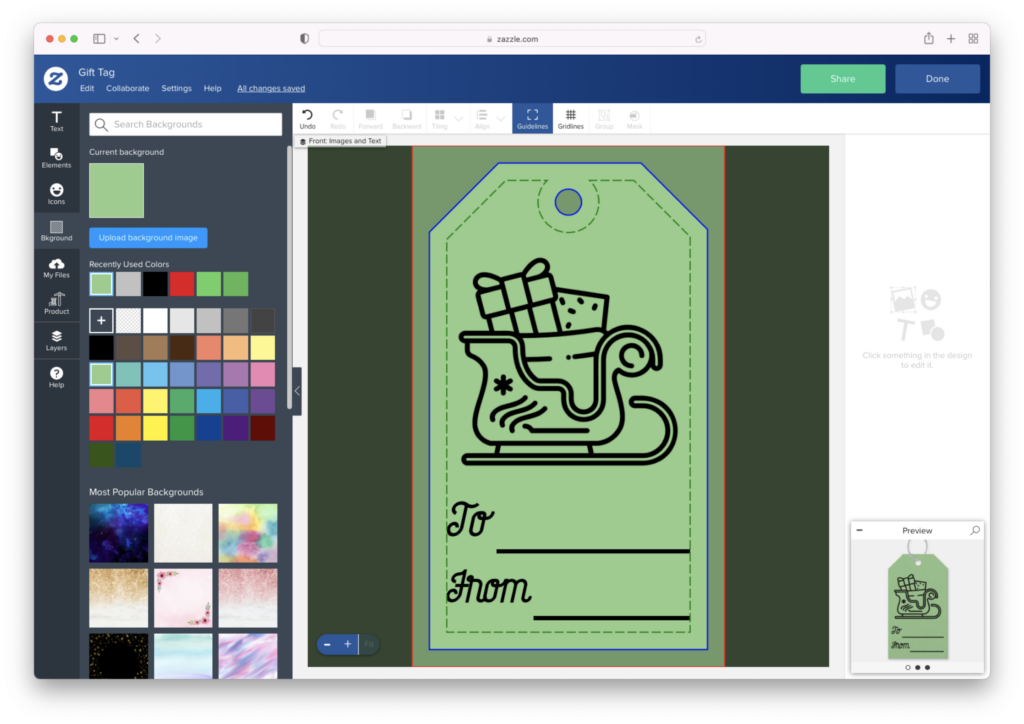 Of course, you can also add your name beside "From" to save time. Mix and match as many icons, fonts, colors and styles as you want!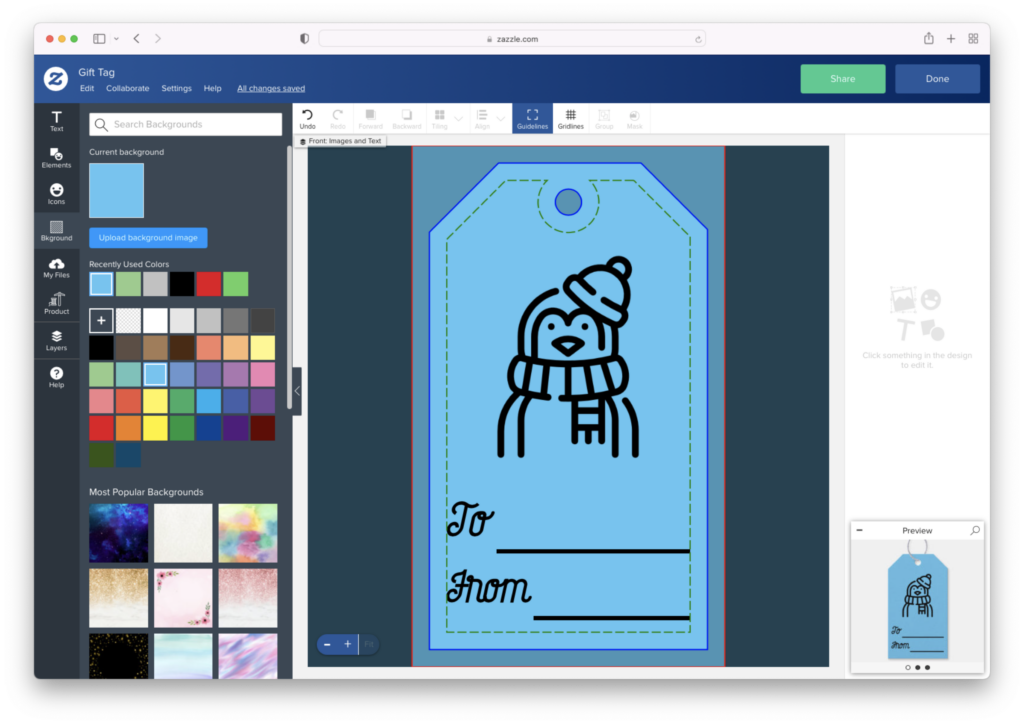 How to make Patterned Wrapping Paper
Let's explore another way to design by making a repeating pattern for a sheet of custom wrapping paper.
Find Zazzle's Create-Your-Own Wrapping Paper and click "Customize this Design" again.
Search for icons such as snowflakes or whatever graphic element you want. The "Preview" in the lower right corner will also show you a small carousel of images to simulate what your final printed product will look like.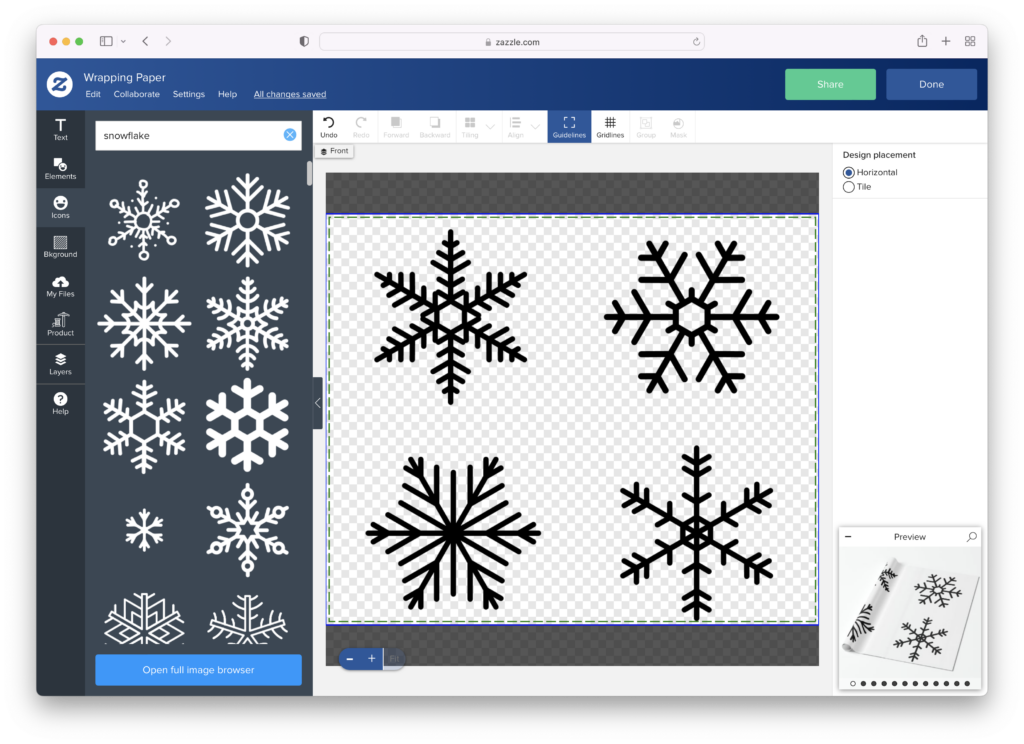 To change your design to be a tile for a repeating pattern, go to Layers -> Design Placement, and on the right-hand menu, click "Tile" instead of "Horizontal."
Now, when you arrange your elements within the square frame, it'll create a repeating pattern that you can view in the preview window.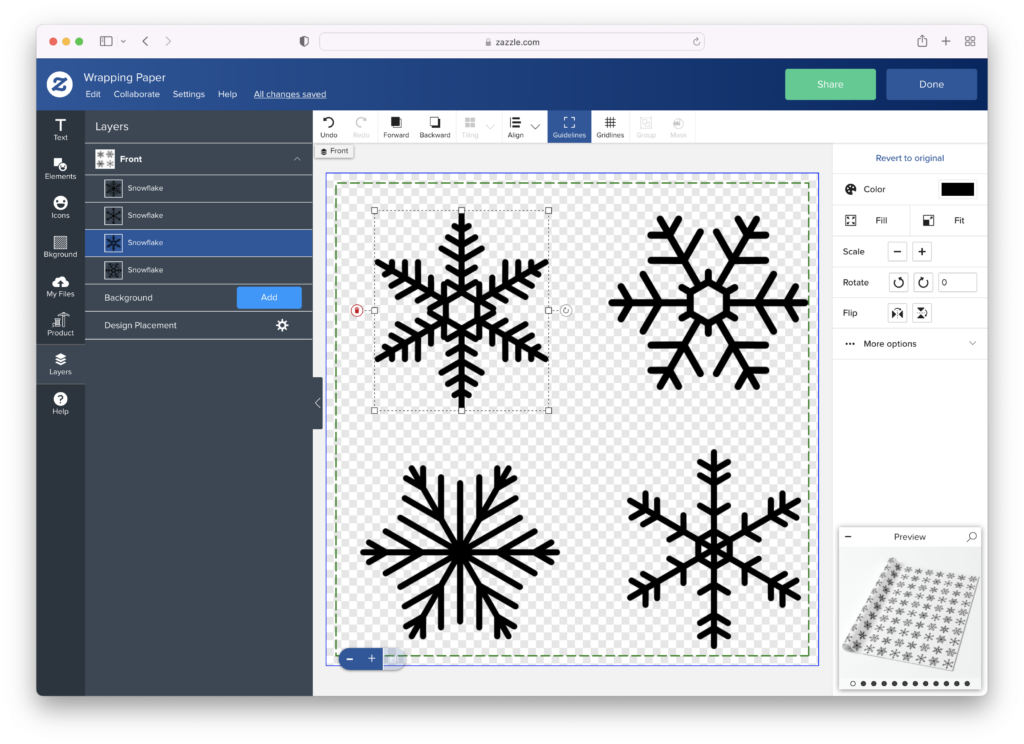 Rearrange your elements to see the pattern results. You'll note that spacing them out evenly will make for a tidier-looking pattern. You can also try staggering icons apart for a less grid-locked look – just as long as there are even proportions of white space on all sides of the elements.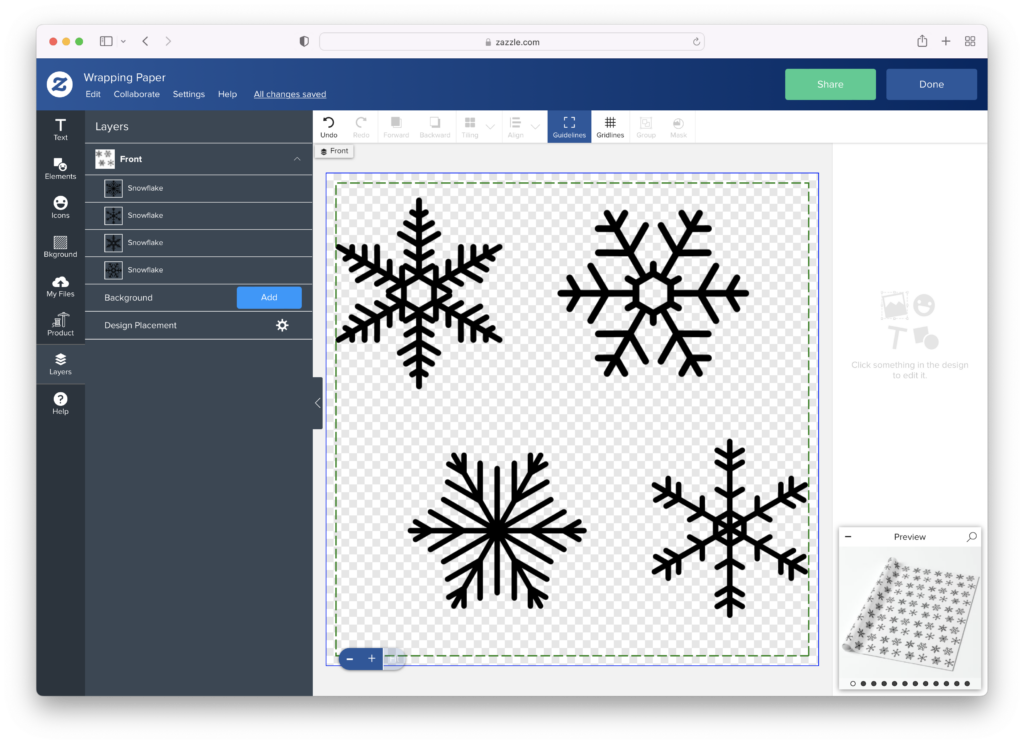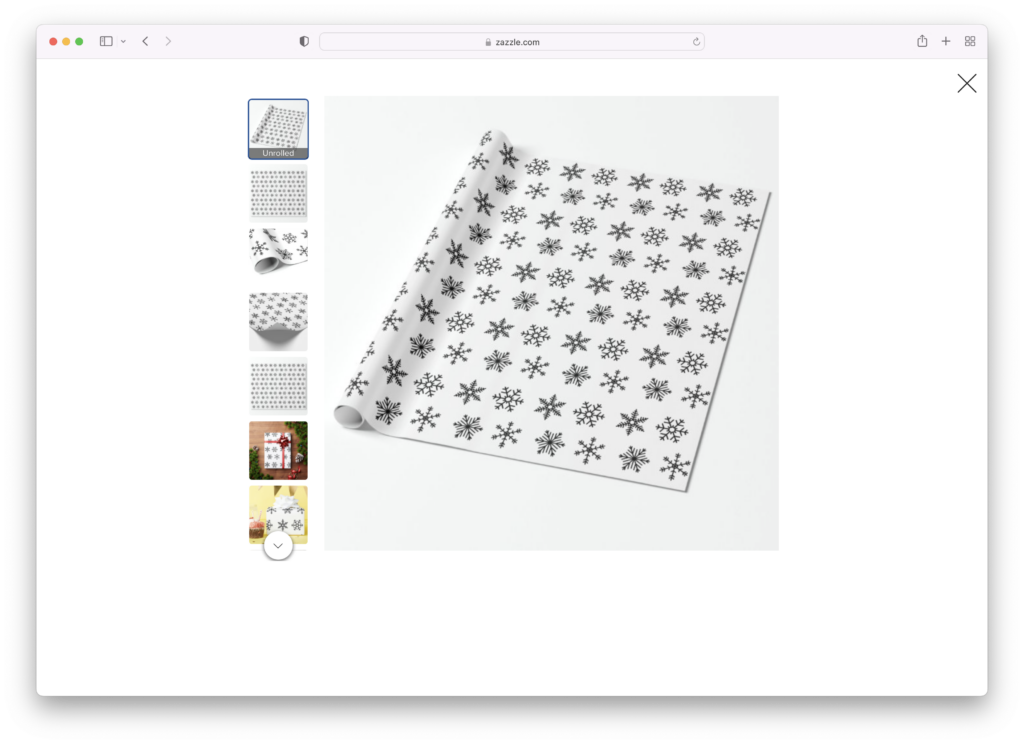 Zazzle also auto-saves your recent designs so you can click "Done" and go back to them later.
Better yet, your custom design is saved so that it can be swiftly applied to a different type of product later – find the "Transfer Design to a Product" section beneath your saved product. You can instantly bring your design elements into a new product and make minor adjustments based on its size and scale.

Try it Out!
Explore the possibilities with Zazzle's custom creation tool – from whimsical gag gifts to decorative accents and more, you can explore a wide variety of products and build your own distinctive designs from scratch.
Looking for more holiday inspiration?
Read our roundup of other Holiday Craft Ideas or get a fresh dose of visual stimulation with our Winter Color Palettes.