An EPS, or Encapsulated PostScript, file is a legacy file format used by graphic designers. It's usually used for printing large projects such as billboards or posters because of its ability to scale to any size while maintaining the file's quality.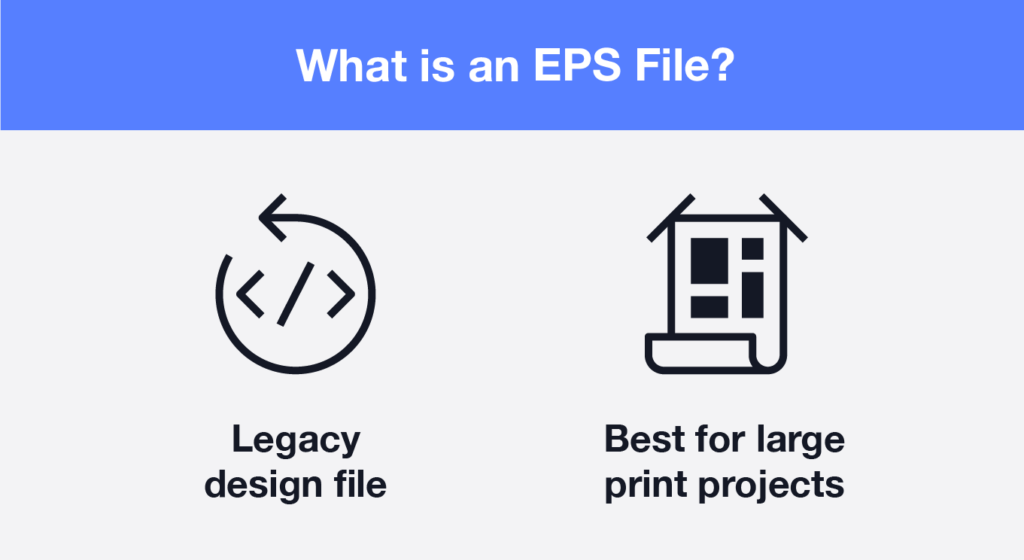 Like any file format, EPS files come with a few pros and cons.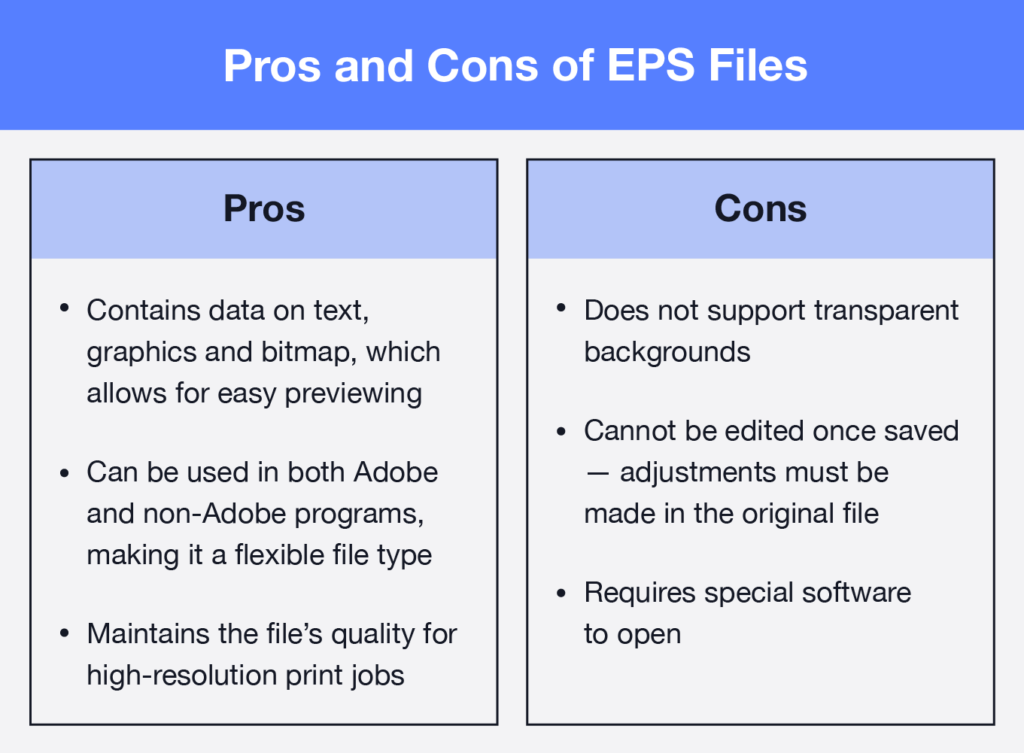 Curious how to properly use this file format in your design? Keep reading to learn more about what an EPS file is as well as how to open, edit and convert this file type.
Is EPS a Vector File?
Yes, EPS files are vector files. This feature is what allows EPS files to be scaled to any size while maintaining high resolution for print jobs. Vector files use mathematical equations to plot the points of your design on a graph. With this equation, vector files can scale your design up or down perfectly.
Raster files, on the other hand, use pixels for storage. Raster files cause pixelation when scaled up, which doesn't make them ideal for printing large projects.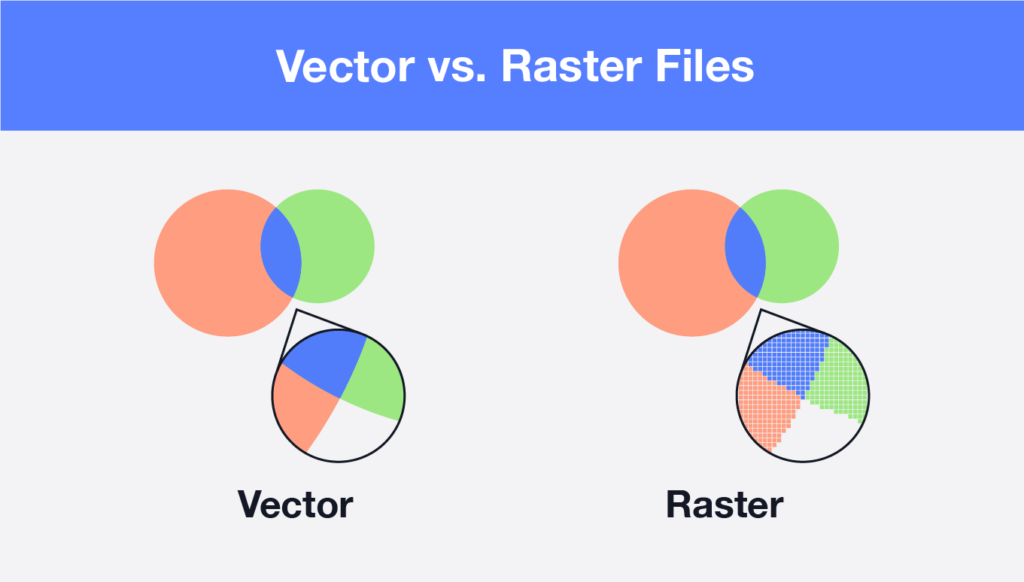 What Is an EPS File Used For?
EPS files are most often used for printing large projects in high resolution. This could include marketing materials like:
EPS files can also be easier for engraving machines to use while maintaining detail and clarity in the final engraved product.
How To Open an EPS File
Opening your EPS file will depend on what computer you are using. Mac and Windows come with different operating systems that will change what steps you need to take.
Whether you're a Mac user or a Windows user, here's how to open your EPS file.
Mac
The macOS operating system has a built-in reader with the Preview app, making it easy for users to open or view EPS files without downloading additional software.
To open your EPS file on a Mac, follow these steps:
Find your EPS file in your Finder app.
Double-click to automatically view and open the file.
Alternatively, you can right-click on the EPS file, click "Open with," and select the Preview app.
Windows
EPS files are not natively compatible with Windows. If you want to open your EPS file on a Windows computer, you'll need to download additional software.
What software will open an EPS file? Any of the following will do the trick:
Adobe Illustrator
Adobe Photoshop
Adobe Reader
CorelDRAW
PaintShop Pro
QuarkXPress
EPS Viewer
Inkscape
Once you've downloaded software that's compatible with EPS files, follow the steps below to open your file.
Click on the "Home" button.
Click "File Explorer."
Navigate to your EPS file.
Right-click on the file.
Click "Open with."
Choose the software you downloaded.
How To Create and Edit an EPS File
To create and edit EPS files, you will need special software such as those listed above. Creating and editing your EPS file may vary slightly depending on what software you are using, but generally the steps are as follows:
Open a new project.
Create your illustrations or import graphics.
Adjust any layers as you see fit.
Click "Export."
Select "Export as EPS."
Wondering how to edit an EPS file you previously saved? Remember that EPS files cannot be edited once saved. Any adjustments will need to be made to the original design file.
How To Convert EPS Files
There are two main ways you can convert EPS files into other formats:
Online converters
Computer software
If you plan to use an online converter, a quick Google search with "EPS file" and the format you'd like to convert to (PDF, for example) should do the trick. Once you've found a converter, be sure to verify the website's safety. Then you can upload your file and convert it into whatever format you choose.
If using software on your computer, make sure the software is compatible with both EPS files and the file type you'd like to convert to, like Adobe Illustrator. Once you've found the proper software, follow these steps:
Open your EPS file.
Click "Save" or "Export" depending on which program you're using.
Click "Save as."
Select the format you'd like to convert your EPS file to.
Which Is Better: SVG or EPS?
When choosing between SVG and EPS formatting, it's best to consider where the design will ultimately live. SVG formats are best for web designs, while EPS formats are best for high-resolution printing.
SVG files store information about the graphic's text as actual text, which helps websites that are trying to rank on search engines. SVG files are also smaller than EPS files, which helps websites boost load times. EPS files aren't optimized for the web, but their detailed storage on color and size helps produce high-quality print jobs. EPS files also store data on bitmap, which makes it easy to view previews before printing your project.
| | |
| --- | --- |
| SVG | EPS |
| Stores image text in code that's crawlable by search engines | Storage of bitmap data to allow easy previewing |
| Small file size boosts load times | Detailed storage on color and size |
| Best for web designs | Best for large print designs |
Have digital designs you're working on? Download any of our icons in SVG format for easy editing and staying web-optimized. Or, choose PNG formatting for projects that will go to print.
Enhance your design with free icons
Knowing when to use the right file type can save you headaches when communicating with your clients and delivering final products. Whether your design is being published online or printed offline, our art-quality icons and photos can provide the perfect complement to your work.