Web-based graphic design tool Canva has become the go-to platform for designers of all experience levels for its ease of use and low barrier to entry. Teachers, students, marketers, designers, brand managers and more turn to Canva as a free tool that lets them swiftly create graphics, branded collateral, and other types of visuals from scratch or using thousands of templates.
Best of all, Canva comes with a robust library of stock photos, illustrations, and of course simple vector icons that you can instantly drag and drop to convey your ideas more quickly.
New to Canva? We've put together this guide to how you can make the most of the platform and use it for different personal or professional purposes.
How to Get Started with Canva
Head to canva.com and sign up with your email address, Google, or Facebook account.
Canva is committed to providing all the tools you need to design for free. Their free tier gives you access to over 250,000 templates for different types of designs, over a million free photos and graphics, and 5 GB of cloud storage.
If you want more out of your experience, Pro versions give you access to even more premium content including stock photos, videos, audio and graphics, more designer templates, brand kits, folder organization, 1 TB of storage, and more. Multiple people on a team can also enjoy these features with a "Canva for teams" upgrade.
Once you're logged in, you'll see multiple options for types of templates to start from.
Any template or element you see that has a small "crown" icon over it is a premium asset that requires an upgrade.
Build from a Canva Template
What do you need to create? In most cases, you can save time by building your graphic from a preexisting template. Canva's templates serve a variety of purposes including presentations, posters and flyers, invitations, social media graphics, and educational materials and worksheets.
Think about what your final output is going to be (print or digital), paying special attention to the optimal dimensions (for example, creating a graphic to be used as a Facebook cover photo or Instagram Story).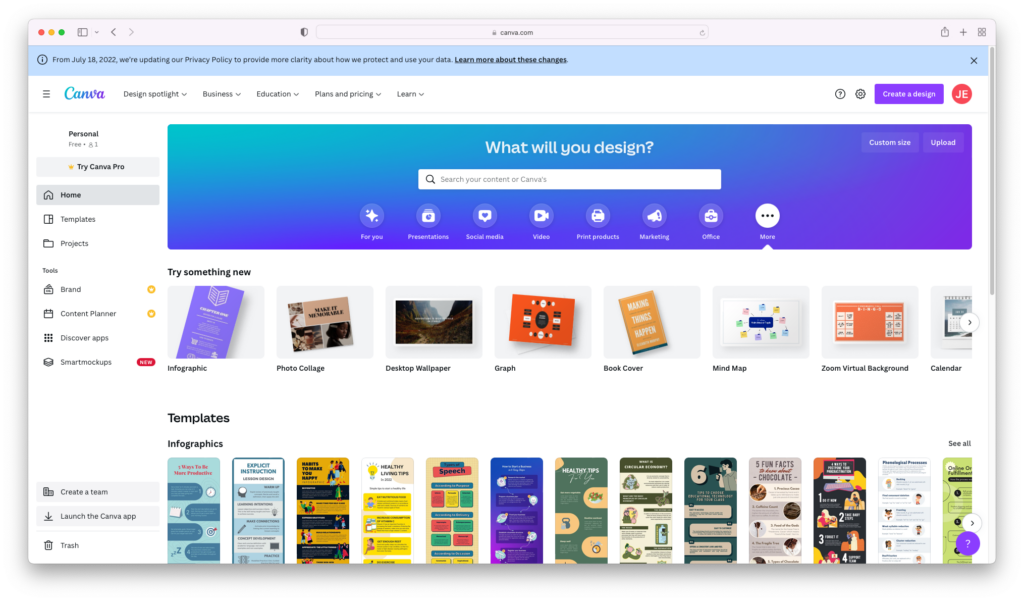 Feeling overwhelmed by the options? Consider what message you're conveying through this graphic. If you're designing something as part of a suite of branded materials, step back to reassess what brand values and aesthetic look and feel you want to maintain: Will your visuals be bright, playful, and child-friendly? Will they be stark, sleek, and futuristic? Will they be retro-nostalgic or perhaps have a green and eco-friendly ethos? Your answers to these foundational visual identity questions will be the basis of every design decision you make, from the templates you choose to the icons, photos, fonts, and colors you deploy.
Use Canva's search bar to plug in keywords for both the types of materials and the types of aesthetics you want to capture, like "neon," "music flyer," "environmental" or "elementary school."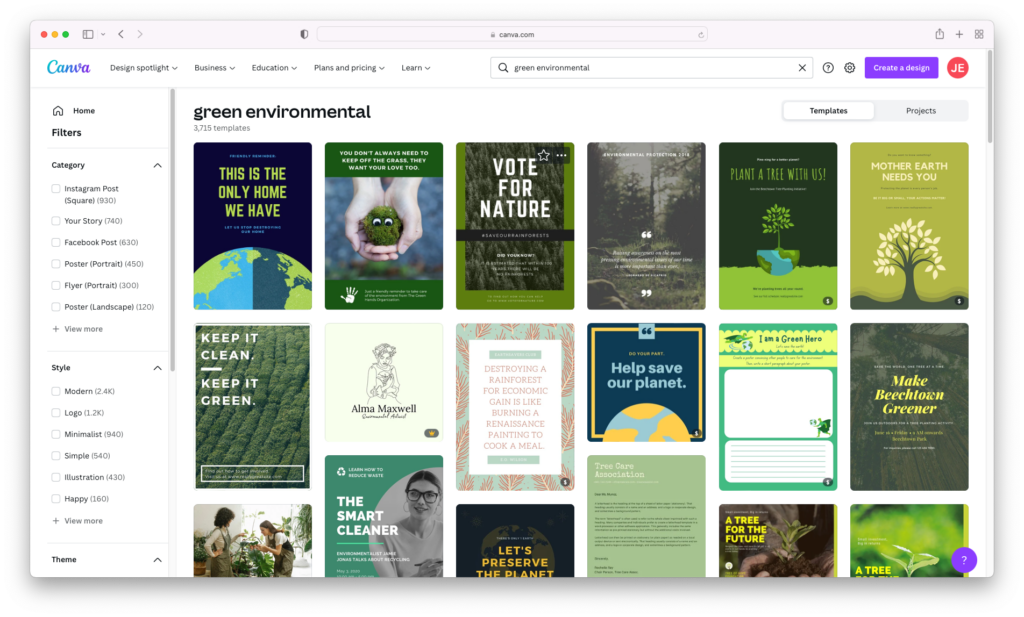 Designing from Scratch
If you don't find a template that looks suitable, you can easily begin combining your own elements, shapes, and colors. If starting from scratch, think about your design as typically having 4 main elements:
Background color and overall color scheme
Shapes, lines, and icons
Text
Other imagery (photos and videos)
Let's look at each one within Canva.
Color
To set a background color, select the blank Canvas (the outline will turn purple when selected) and find the color picker in the upper-left corner. You can select one of the colors in the drop-down menu as a basis to create your piece, or input a HEX value of your favorite color. If you'd like to explore some of Canva's recommended palettes, simply type in a color in the window's search bar and you'll see related palettes that work more harmoniously. This will give a more coherent and aesthetically pleasing look to your composition – and it's recommended that you use no more than 3 colors to avoid a messy and cluttered design.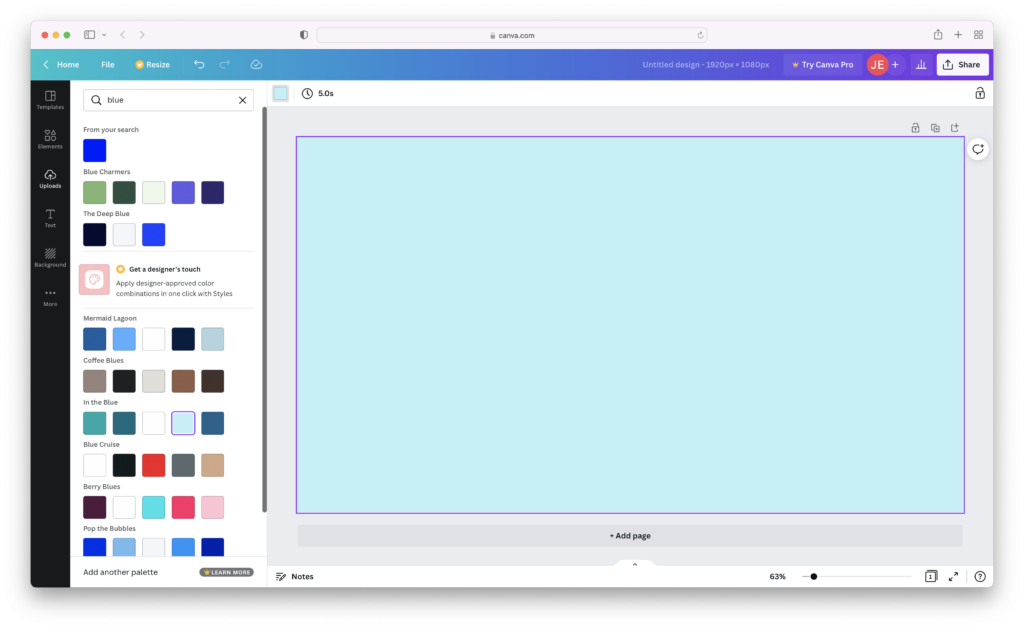 Elements (Shapes, Lines, and Icons)
This is where you can quickly and easily add visual assets to your composition without having to draw them from scratch.
Clicking on "Elements" in the left-hand sidebar will pull up a search that covers just about any kind of visual you can hope to find, from flat icons to animated gifs, colored symbols, photos, videos, and more. You can narrow down your search (say, to just "Graphics" to search icons instead of photos) to filter only those elements – again, bearing in mind that any element with a small gold crown next to it is a premium element that requires an upgrade.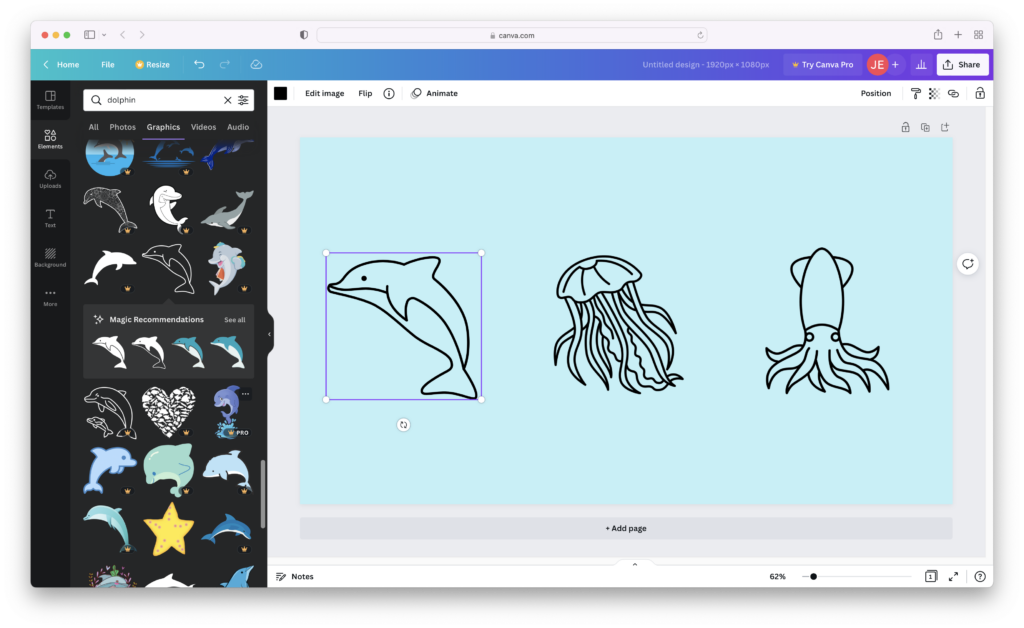 As you add elements to your canvas, you'll find a "Magic Recommendations" tab appears to suggested closely related elements in a similar style and save you time in searching.
Use Noun Project to Add Icons in a Consistent Style
You may want the ease of adding multiple icons in a similar style to your Canva artwork – which can also save time searching through Canva's vast library of elements in different styles.
Of course, it's easy to download icons directly from Noun Project and organize them in a folder on your own hard drive. You can instantly drag and drop icons from your computer onto the Canva screen to add them, or find the "Uploads" button on the left-hand menu and select as many files as you'd like to upload at once.
Want unlimited icons without having to attribute creators? A NounPro account lets you grab unlimited icons, royalty-free, and customize their color and background shape as well.
For an even faster workflow, download the Noun Project Mac App to search icons in a small dedicated window, select a color or enter a HEX value, and instantly drag and drop your icon in SVG or PNG format (hint: make sure your PNGs are a high enough resolution to not look blurry within Canva).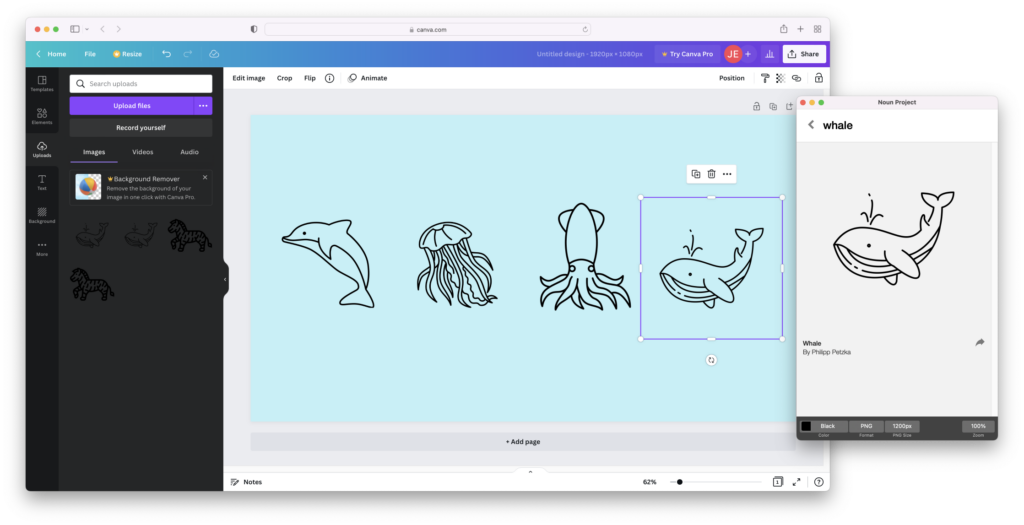 Add Text
Select "Text" from the left-hand menu, and you can add headings, subheadings, and body text. Note that every text snippet can be resized and recolored from the text menu along the top of your work area.
Canva has a wide variety of text options to choose from, which can be filtered based on type. You can not only look up names of your favorite fonts, but search for terms like "Script" or "Sans Serif." Feeling overwhelmed? Canva also suggests font popular font pairings that you can simply click from the left-hand menu to use on your canvas.
Tip: it's recommended that you use no more than 2 different fonts that work well together (possibly 3 if you're using headings, subheadings, and body text). Using lots of clashing fonts will make your composition look busy and detract from the sense of hierarchy.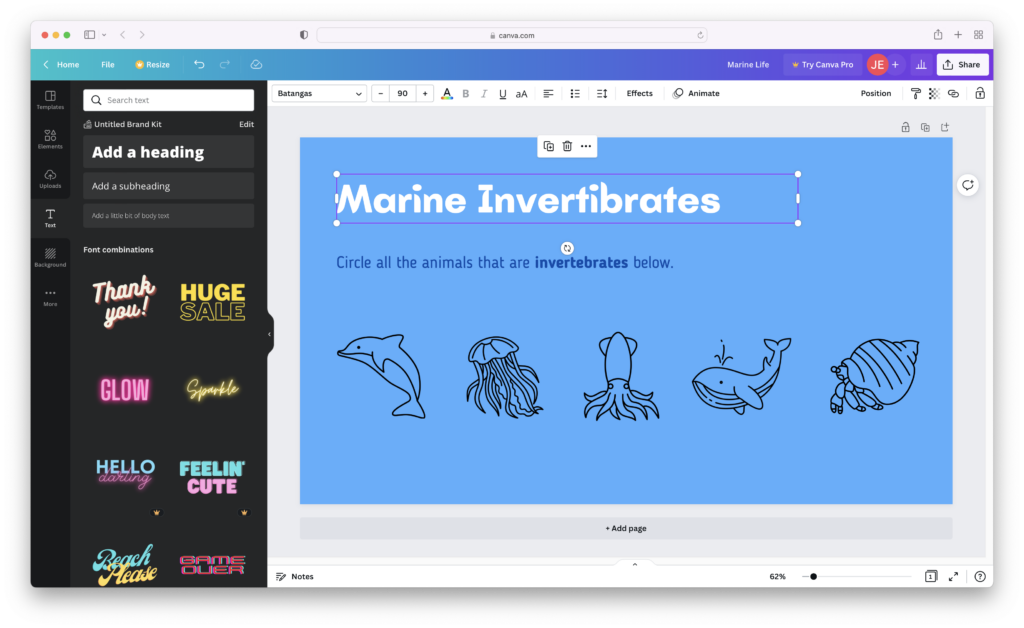 Add Images and Photos
If desired, you can also search for images and photos within "Elements" by searching with the "Photos" category selected, or click "Background" along the left-hand menu to find an image that will occupy the full background.
Search for a relevant photo, but make sure the contrast is adjusted for optimal legibility. If using a photo background, you want to ensure that all other elements – from your icons to your text – stand out with a high degree of contrast so viewers can still easily read them. You can click "Edit Image" on the top menu bar to make basic adjustments such as brightness, contrast, saturation, or even add one of Canva's filters.
Quick and Easy Guidelines to Make Better Designs
If you're modifying a template or designing something from scratch, it's easy to get lost in the possibilities. Whether you're a seasoned designer or a newbie, just bear a few of these design basics in mind:
Hierarchy: make the most important elements either (A) the biggest, or (B) the most high-contrast. Consider what you want the viewer to see first and remember the most, and make sure it stands out.
Clutter: "Keep it simple" is the long-held maxim of graphic design. Don't add too many competing elements that make the canvas appear busy. Think about the order in which you want viewers to "take in" your composition, with secondary elements being more muted and subtle, and primary elements being more high-contrast, large, saturated, or generally attention-grabbing.
Legibility: Pick typefaces that are simple and easy to read. Novel display typefaces might work for a few words on a large scale to make a visual impression, but your body text should always be something more simple and recognizable (like Helvetica) to be quickly scannable and not fatigue the eye.
Consistency and repetition: while you can choose between icons, stickers, gifs, photos, or full-color illustrations, it's best to use several elements of the same type to make a more harmonious composition. In the marine life example above, using simple black line icons to depict the subject matter helps us mentally "group" these items together and therefore differentiate them more easily. Using too many different styles (like combining octopus photos or sparkly dolphin gifs) will add more mental strain in parsing out different types of visual cues.
Need more design inspiration and how-to's?
Check out Canva's Blog for more insights into designing for education, brand management, social media, print marketing and more.
Follow our blog for more creative inspiration, tutorials and DIY projects.