With a bold, iconic style that has graced the pages of magazines, buildings, shoes and more, artist Timothy Goodman strives to create meaningful connections through his work. Over the course of his career he has traveled the world, working with brands like Nike, Apple, Google, MoMA, Netflix, and Target, creating murals that have transformed spaces, and showcasing his work at galleries. Timothy is also the author of Sharpie Art Workshop and I Always Think It's Forever, and co-created several well-known social experiments including 40 Days of Dating (whose TV rights were optioned to Netflix) and 12 Kinds of Kindness.
Themes that regularly appear throughout Timothy's body of work include mental health, manhood, race, politics, heartbreak, and love. In addition to his many creative accomplishments, he is an active participant in the design community, teaching at SVA and regularly speaking at creative conferences and events.
We spoke with Timothy about his career path, the power of connection through art, and the importance of being true to yourself in every endeavor.
Hi Timothy! Tell us about yourself – how did you get to where you are today? When did you first become interested in art and design?
I was raised on the east side of Cleveland, Ohio. My grandmother is an artist, and she was also on the board of the Cleveland Art Museum. I saw her live a rich life in the arts and that really inspired me later on. She and my grandfather were always taking me to museums and to the theater, they would buy me art books and original pieces of art.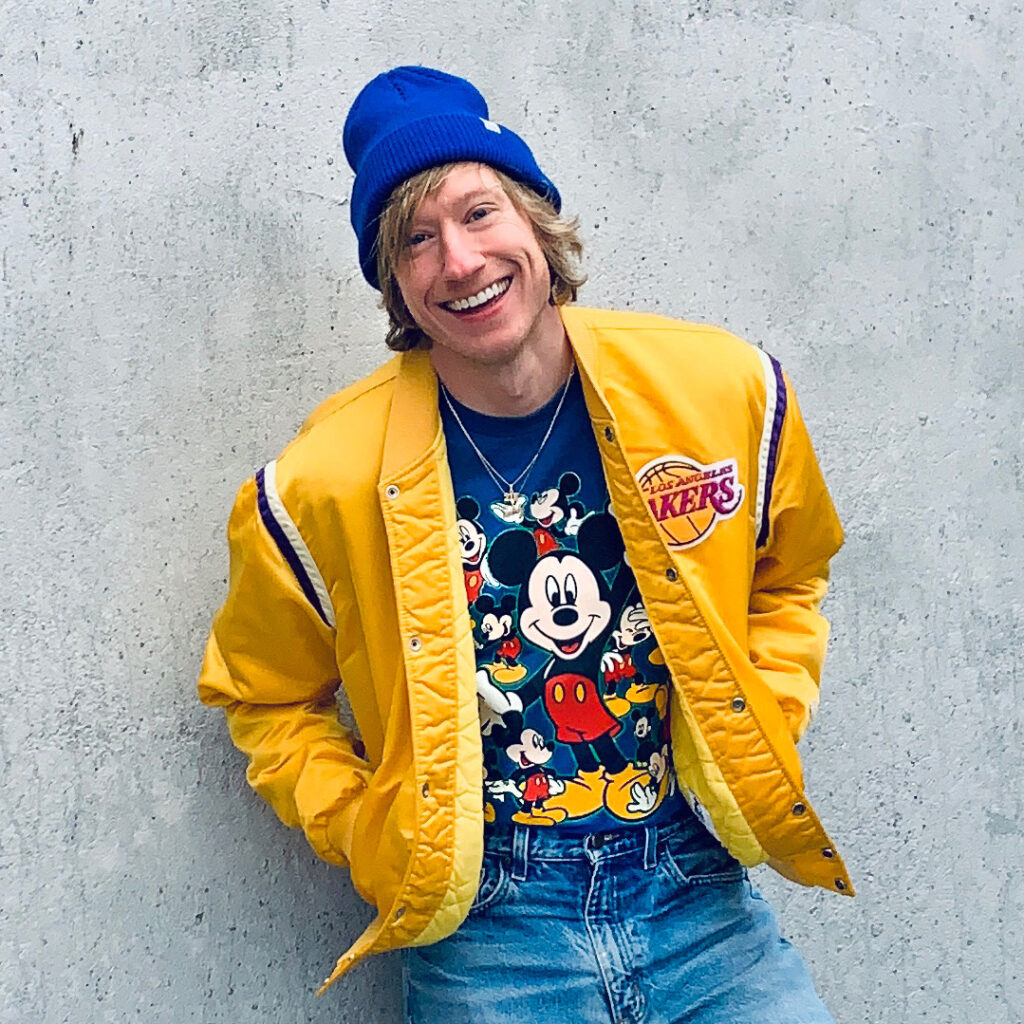 What was the catalyst that led you to pursue art and illustration full-time?
I was a horrible high school student, getting in tons of trouble, smoking weed everyday, skipping classes, getting arrested for dumb stuff. After barely graduating high school, I started working for a guy named Dave, who ran a painting and home improvement company in Cleveland, Ohio. For three years, I worked full-time painting homes and doing faux finishing on walls in million-dollar homes. I became very obsessed with the process of things coming together, creatively. So, I started taking art classes at a local community college for 2 years before moving to NYC to go to design school at SVA. Later, after connecting the dots, I see how much I really enjoy the physicality of creating murals and transforming the way a space feels through my work.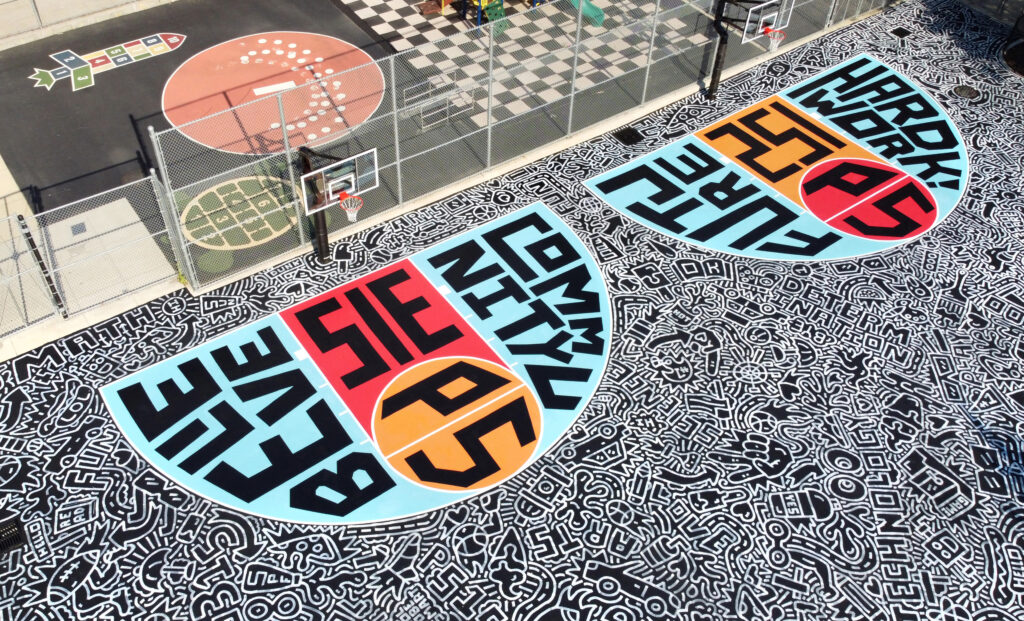 You've mentioned before that you believe the greatest joy as a designer and artist is the ability to connect with another human emotionally through your work. Are there any particular themes you like to explore?
I want to have dialogues about difficult topics such as love, heartbreak, manhood, politics, race and mental health. As designers and artists, I feel we have unique abilities to communicate in ways that haven't been explored before. I also want to make work about New York and New Yorkers. I've lived here for 19 years and I feel extremely loyal to my community, which is why I regularly partner with pro bono organizations and schools to donate murals and do workshops with students.
How do your personal experiences influence what you create?
I've always been inspired by the artists who use their personal experiences, traumas, and heartaches in their work, so I've always wanted to be that kind of artist. I believe that sharing your personal stories is a sort of activism. My focus is always trying to make work that brings me meaning with the hopes that it can emotionally connect to other lonely souls like myself. We shouldn't be ashamed to be lonely – it's often when I feel most human, which allows me to create work in deeper ways.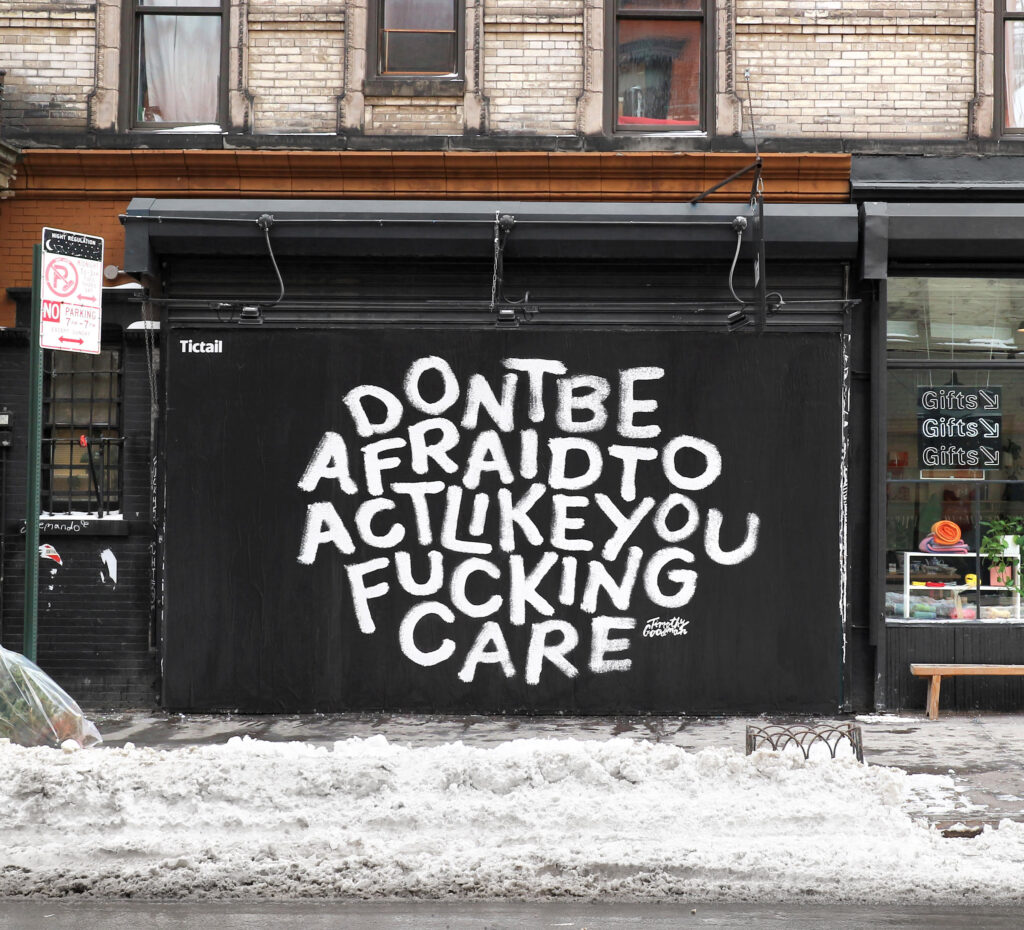 You recently published a new book – I Always Think It's Forever – a graphic memoir that tackles love, loss, and introspection based on a year you spent in Paris. What was your creative process like for this project?
In 2018 I went through a ton of depression and suicide ideation. I came out on the other side of that with a wish to be kinder to myself, to do things I have never done before– both big and small things. I grew my hair, I had a big birthday party, and I planned a trip to Paris to attempt to learn French. While I was in Paris, I fell in love with someone and we had a whirlwind romance. I also kept a daily diary. It was the first time I had a journal in over 10 years. Time felt slower. I felt like I was living the life I was meant to have for the first time in a long time. It wasn't until a year and a half later, after the devastating heartbreak, that I thought about creating a book. So, I began a proposal that took me several months to shape. I think I needed to make this book to find closure.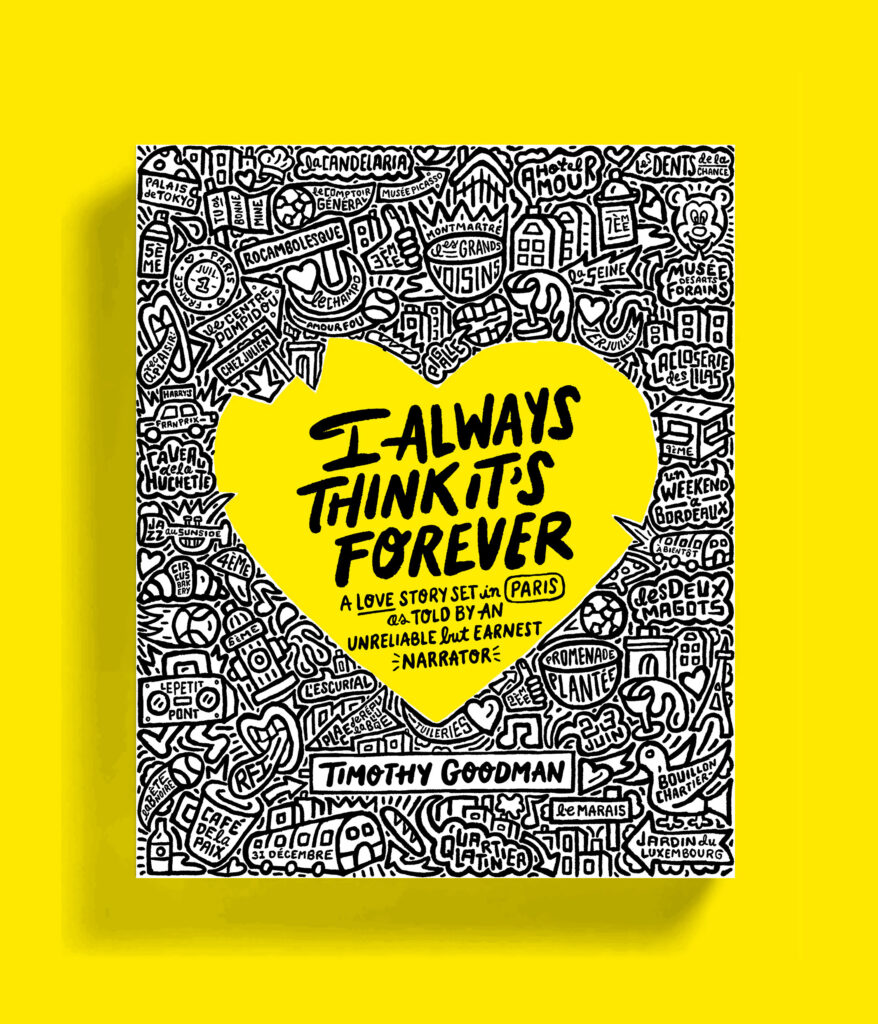 What do you hope people walk away with after reading?
This book is a case study about going after love unapologetically, even at the risk of being hurt. It's for the lonely folks, and it's for anyone who's looking to discover the extraordinary in the ordinary. I wanted to create a book about love, because at the end of the day, no matter how corny it is, that's all we have.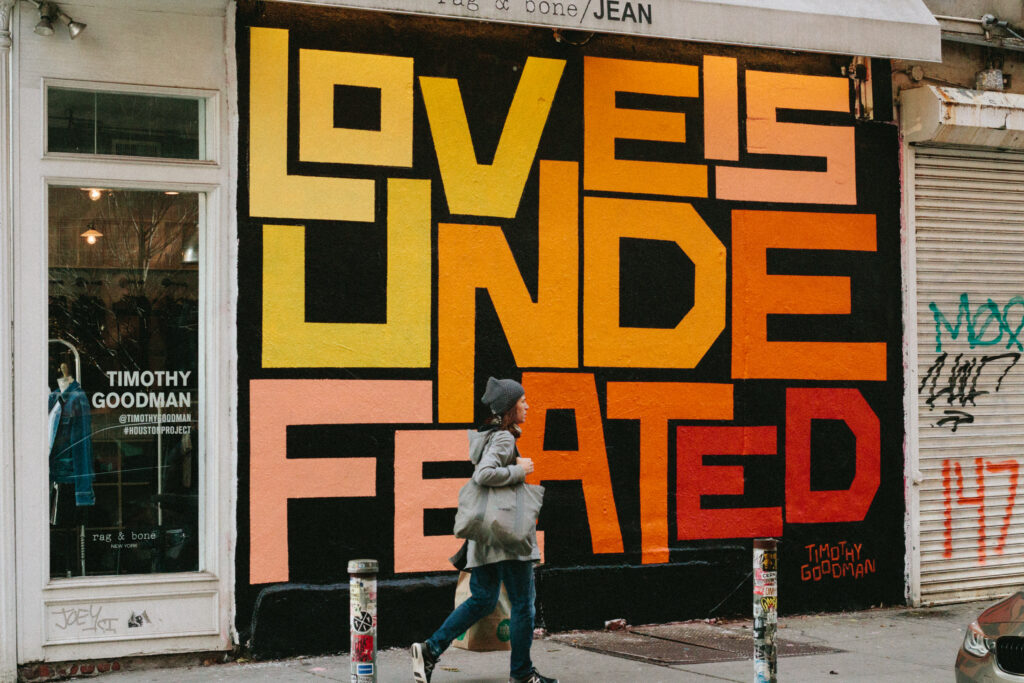 In addition to publishing your book, over the last few months you've also launched a Nike shoe AND illustrated the cover of TIME Magazine. How do you balance your time between client work and personal projects?
Honestly, I don't always balance it so well! The last couple months have been a LOT, to say the least. I launched a Nike shoe with Kevin Durant, my graphic memoir was published, and I've been working a lot. It's all very exciting, but it can really drain you if you don't watch out. Thankfully I have a great support system. I try to get my sleep, drink lots of water, and keep the real ones close.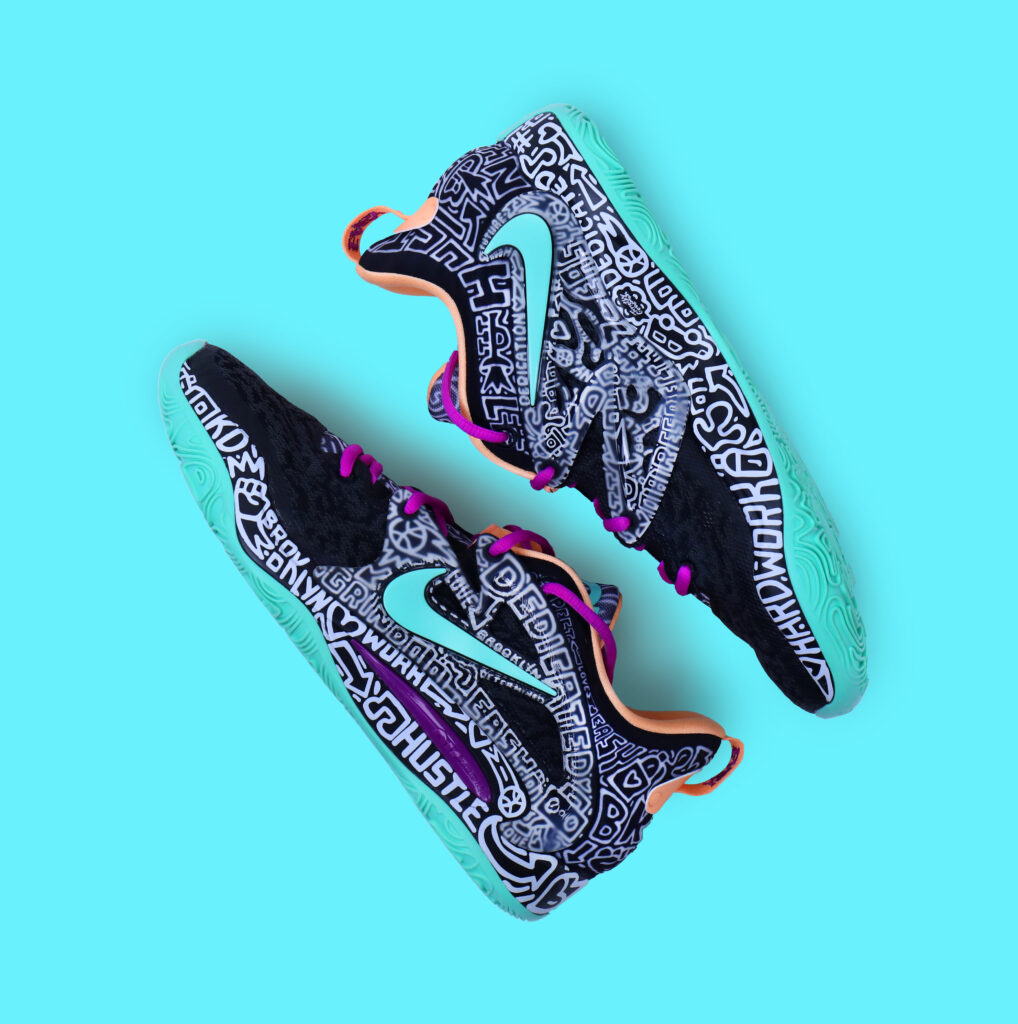 What does an average work day look like for you?
The first thing I think is, "I should go for a run!" Then I hit snooze. I like to eat a little breakfast and watch some political news at home in the AM before I go to the art studio if I'm in town. However, I'm often not in the studio. I could be doing murals on-location or in another city, or I could be speaking at a conference somewhere, etc. I love hotel life, and I love exploring other cities and their customs.
Over the course of your career, what's one of the biggest lessons you've learned?
Keith Haring said "The use of commercial projects has enabled me to reach millions of people whom I would not have reached by remaining an unknown artist. I assumed, after all, that the point of making art was to communicate and contribute to culture." In 2018, I had a global collection with Uniqlo that sold 1 million units in 7 months, and that forever changed how I think about my work. I want to make work for everyday folks. I want my work to be yours.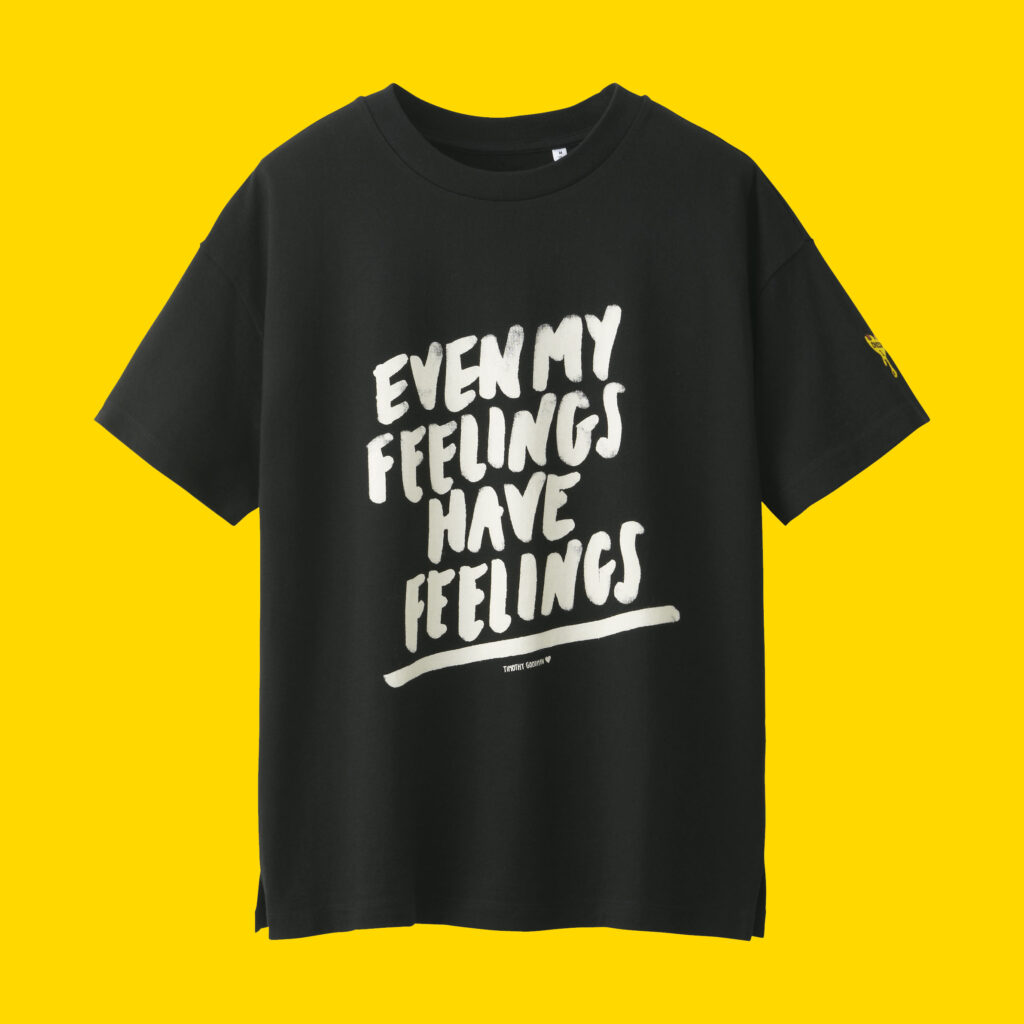 When you're faced with challenging moments personally or professionally, how do you re-center yourself and push forward?
Sometimes I need to cry. Sometimes I need to shut everything off and recharge by myself over a weekend. Sometimes I need to see an old friend who I love.
What are your thoughts on the power of visual language to drive positive change in the world?
I think it can really work if you are really saying something. So many of us have such massive privileges and vast platforms, but how many of us are thinking about those who don't have voices, those who are extremely marginalized, those who are criminalized for who they are? As a cis-het white man, I'm constantly thinking about this. I think all art is political, whether you know it or not.
When you look to the future, what are you excited about?
I'm excited about my second gallery show. I'm excited about my life with my girlfriend. I'm excited about so much personally, but I'm also so worried about the state of our country, about women's rights, about what's happening in Iran, about our planet, etc.
What's one piece of advice you'd give to someone currently on their own creative journey?
Approach creativity as a practice, not as a profession. Also, don't be an asshole to people.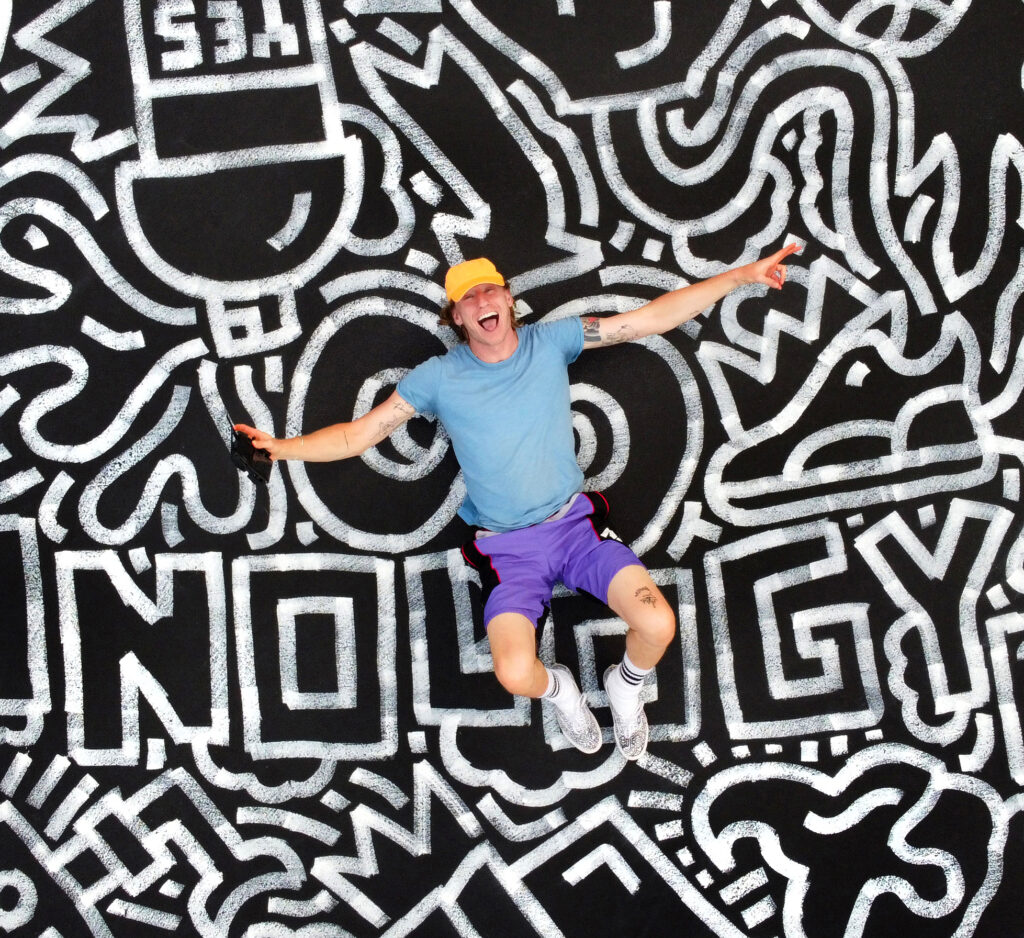 Thank you for sharing with us Timothy! To view more of Timothy's work, visit his website, check out his Instagram, and pick up a copy of his latest book, I Always Think It's Forever.
All images courtesy of Timothy Goodman.